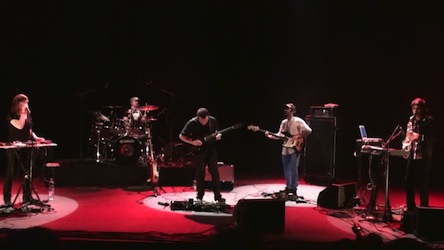 Yolk from France is one of these hard to describe Avant-Garde bands. Their only album to this date was released ten years ago, but their music is still relevant today. 
Valentin Carette answered my questions.
######################################################
Your biography has been covered in your ProgArchives profile so let's bypass the biography details. But which bands were you influenced by and why did you choose that name ?
As teens, we were influenced by grunge, trip hop, classic rock and by bands like Primus, the Residents, Mr bungle, sonic youth,guys like Zappa, Tom Waits, etc etc. But the most noticeable must have been GONG. As young adults, we were a lot more in john zorn, fred frith, contemporary and electronic music, non idiomatic improvisation stuffs, it was great but chaotic. As « mature » persons, Yolk still being really eclektic. My brother Antonin (bass player) is a lot in dubstep, doom, and improvisation for ensemble, Delphine is a lot in Diamanda Galas, veljio Tormis,etc, and have a severe knowledge in pop music even if she still the most experimental side of the band, Adrien is really into sound as a musician and as an engineer plus our common tastes, Fabrice is in love with billy cobham, Pierre Moerlen, Brain and Tim Alexander from Primus since the age of 15 and for my part i listen to my guitar heroes all the time (Fred frith, Robert Fripp, Marc ribot, Trey Spruance, Jack Rose, Dick Dale, Hendrix and a lot more) and have a tendance for extreme metal (meshuggah !), folk, ambient and repetitive, etc …..What we have in common those last 2 or 3 years is an irreducible love for Sleepytime Gorilla Musem with who we met and and play with. I think they are representative of what we like but not especially what we do.
The name of the band was a teenage choice opening the dictionnary randomly (1995). And because i always want to find a sense where there is not, i like to say what we do is Folk with an Y chromosome.
Were any of you involved in any other bands before you started Yolk ?
Not really, experiences with friends yes, but our fisrt stage was with yolk for most of us. Delphine and florence (first bassist) had a classical guitar pop duo. Antonin ans Emilian (ex-violonist) were for a while in the folk band of my father and other personnal projects..
I was in Tiptronic (a legend band from dunkirk), the first band of Marylise Frecheville of Vialka, with Charles Badts on bass and Jeremie Laniez of Milgram on guitar but it did not work but it was fun.It's more the opposite, we had a lot of different projects (still active) after we started YOLK (see last question).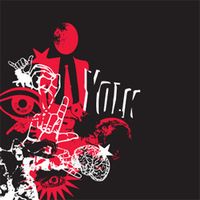 Let's go straight to your album. Please tell us more about Yolk from 2001 (or 2007, according to Amazon, France)
All recordings before 2006 were obscure demo.
The first official album (eponyme) is from 2006 and was released on the french label « Le cluricaun » and was largely distriubuted and sold out now. We are very slow particularly when it's time to record, it's not something we like a lot also because we never have enough money to get a decent studio and we have day jobs and it's hard to find the great period. This one was recorded by ourselves and mixed by the great Fred Norguet. There is a lot of extracts on myspace.
We released ourselves an EP of 30 minutes in 2009 because we don't really need a label anymore except if it's some kind of mimicry, ipecac, rer, cuneiform or someone who is involved in the music we really like. We are on the platform reshape music which is a fairtrade music label we really like:
Some reviews :
During the last eight years, you have been very busy with a lot of things, including other projects. But is there any plans to release a new Yolk album ? What is your latest update and the plans for the rest of this year and beyond ?
 Official, we have some very long pieces (more than 15') to record but i can already feel it will be hard to get them on the desk ! But the new tunes are more focused and there is even one tune with lyrics, a premiere. The style oscillate between RIO stuffs, pop, folk, sonic experimentations and tribal rythmics and more (see next question)
Latest update is :
http://www.reshape-music.com/yolk
which is a cooperative label, you pay for the album and we get famous, feel free to participate ! We also need to find money to get in the studioooooooo !
 Just to give those of us who are unknown with your music a bit of a reference point or two: How would you describe your music ?
I would say it's experimental rock, but it doesn't mean anything for no one ! I, now, feel sick about musical genres, it often close the sense of what you are doing.
It's just good to reassure public and cautious curators. We just play what we want when we want, it's my conception of freedom in music. For my part, music is there to express who you are in the world and create a new space-time every time you play a single note or a noise (and one bilion other things).
But because i really like you; i'll make an effort :
I think our music is near the primal idea of Rock in Opposition to let cohabite pop and and hard experimentations. So it's not a genre it's a state of mind.
The referential of our music should be: heavy rock, progressive rock, ethnical (1rst album), canterbury scene, space rock, textures, improvisation (idiomatic and non idiomatic), experimental, ambient, metal, electronic........
As I understand it, you are quite active live. Your music is not particular traditional either. How would you describe a Yolk gig ?
What do you mean by active ? I make a little jump sometimes but i immediatly stop because i'm sure i'll make a big mistake haha ! No, seriously those times we look like a shoegaze band or something and we have always great shoes so it's cool to look at them during a gig.
We tried to invent a visual story for our gigs but making our music is hard enough. It depend of the gig, sometimes we are really phisically involved, sometimes we really need to focus. We don't want to premeditate. Recently, we play in bresil in ront of 7000 persons, i was scared but i made them clap their hands on a yolk tune haha ! And fabrice came frontstage to make shout them during my special reverse solo of a new tune we have to record and it worked ! At the rock in opposition festival it was just like trembling legs, help ! What happen to us !
It really depends of the public we have in front of us. In france or belgium people are often static. Every time we played in U.K, lots of people were dancing and buying all our t shirts and cd's, in Brazil, it was like stadium concert.
We made a lot of gigs everywhere between 2006 and 2009 but it tends to slow. We want more gigs but it's trully hard, we always hear from curators something like it's too experimental or not enough, GODDAMIT !
Both myself and others has been confusing your band with the Swiss (German ??) avant-garde band with the same name. Is this a problem you are used to and/or how do you handle this problem ?  
We can't deal with it ! The situation is more complex because there is also the new york band, and worst there is a french jazz label with the same name (a good one) and a pop band from paris with the same name.
We choose this name when internet was not in all the house so difficult to check !
You are involved in many other projects too. Please tell us more about these projects.
I have a surf rock band with Fabrice and Antonin of YOLK called scathodick surfers,(
http://www.myspace.com/scathodicksurfers
) we play very often in quite little stage and bars and it's great like that for the moment, we 're going to record this month our first album. We have a great review by Phil Dirt himself on
http://www.reverbcentral.com
.
I have a new acoustic duo with Antonin called « Saint Antonin Noble Val » in which play guitars and basses simultaneously with the drums. More info and music to come.
Delphine and I use to play in Death Tube, our electronic duo, but whe stopped it for a while, i 'll post inedite songs from 2005 soon on myspace :
http://www.myspace.com/deathtube
The project which takes most of my time now (after yolk) is : IDIOT SAINT CRAZY which is my solo project. After severals years, i found the good alchemy between electronic music, Rock and guitar experimentations. It's a more guitar oriented project. I alternate between prerecorded materials and i play my guitar parts on it plus only guitar tunes with the help of effects, and now i feel good playing alone on stage.
To wrap up this interview, is there anything you want to add to this interview ? 
I like your website and i'm glad you contact me again.
Feel free to program us everywhere in the world.
Thank you to Valentin for this interview



Edited by toroddfuglesteg - March 06 2011 at 09:26