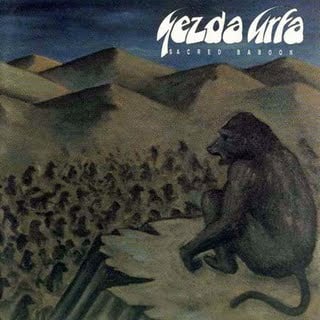 Please tell us more about Sacred Baboon too. Another lost and found album.
Mark Tippins: It has some real interesting passages.  I have to say in all my abundant years, I haven't heard anything quite like it.  I would love to hear Umphrees or Phish do a cover of "Doggie Head."
Marc Miller: Sacred Baboon was intended to be a self-produced album for sale (not a demo) with the intention of drawing attention from record companies if we could make enough sales. In other words, we couldn't get their attention directly, so we hoped that by selling the record ourselves we could demonstrate that we were worth their consideration. We financed and produced the recording ourselves, ran out of money, and shelved the recording. We started recording at the same studio as Boris but ran across a guy with a more modern studio (and probably better rates) (and not in downtown Chicago) and so we switched in the middle of recording. We went from a 16 track to a 24 track and that caused the engineer some headaches. To get the 16-track tape from the original studio, Phil told them Brad had died and we were ceasing the project and wanted the tape.
Both of them were recorded decades ago, released as demos, then hidden somewhere and entered the realms of mythology and then picked up by Greg Walker in Syn-Phonic Records. Please tell us the whole story and what the Yezda Urfa band members were up to in the break between 1981 and the Nearfest gig.
Mark Tippins: No good? I went to school, raised a kid, and got employment outside of music.  I pretty much made my living off of playing and teaching music up until 1990.  I still play around and record things
Marc Miller: The whole story is long. The short story is Boris was released to anyone who would take a copy (record companies didn't seem to want a copy. Such fools!). Sacred Baboon was shelved until it was made available to Greg Walker about 15 years later. After the band dissolved in the early 80's, I moved to New Mexico (that's part of the United States for those who think they need a passport to go there) and have worked for a national laboratory as a network engineer. Brad continues working as a millwright and plays drums in local bands. Phil moved to Los Angeles and writes film scores and computer software. Mark was abducted by a UFO in Arizona and hasn't been seen since (I'm not sure of the accuracy of that. Maybe it was New Mexico). Unfortunately Rick Rodenbaugh passed away two years ago and will be missed.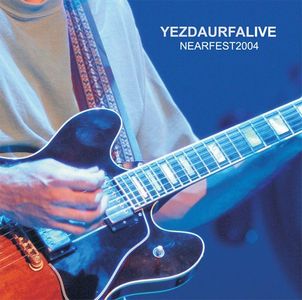 Both Boris and Sacred Baboon were eventually unleashed from the realms of mythology and onto CDs and Yezda Urfa came back together again with a homepage and a gig at Nearfest 2004. This gig was released as a live album last year. Please us more about this live album and the gig.
Mark Tippins: I wish we could have played some small venue before jumping to that after 25 or so years. It was a memorable experience that ushered me out of my 40"s.  
Marc Miller: We had tried for about 10 years to get the band back together to play at Greg Walker's Progfest, but Greg ended the festival series, and we gave up on the idea of a band reunion. Then in 2000, I was contacted by Chad Hutchinson of NEARfest, asking if Yezda Urfa would be interested in a reunion performance. I checked with the band members and we had one "no" so I told Chad we couldn't do it. Then I was contacted by a fan in 2003 after he returned from NEARfest 2003, suggesting that Yezda Urfa should perform at next year's festival. So I again contacted the band and again got one "no", but this time, rather than giving up, we decided to go on with a new member. The gig was a fantastic experience, a dream come true. I wish we could do another one. Or ten. The live album took six years to produce and release due to technical issues and other realities. Although the songs on the live album are the same as on Boris and Sacred Baboon (except for L.A.) they were arranged as hybrids of the two albums, making them somewhat unique. Please buy a copy!
So, do you have any plans to do anything under the Yezda Urfa name this year or in the future ?
Mark Tippins: You never know, but I think I am the biggest drag to the process.
I am making a living outside of music.  I am showing my youngest how to play guitar.  He is already a pretty good drummer. Music comes and goes for me now.
Marc Miller: No, nothing planned.
What is the Yezda Urfa members up to now ?
Mark Tippins: I am making a living outside of music.  I am showing my youngest how to play guitar.  He is already a pretty good drummer. Music comes and goes for me now.
Marc Miller: I have been musically busy over the past few years. I have taken up the guitar. I play bass in a progressive/alternative trio. Got offered to join a Bluegrass band today but I think I'll pass.
To wrap up this interview, is there anything you want to add to this interview ?
Marc Miller: Thanks to all our fans.
Thank you to Mark & Marc for this interview