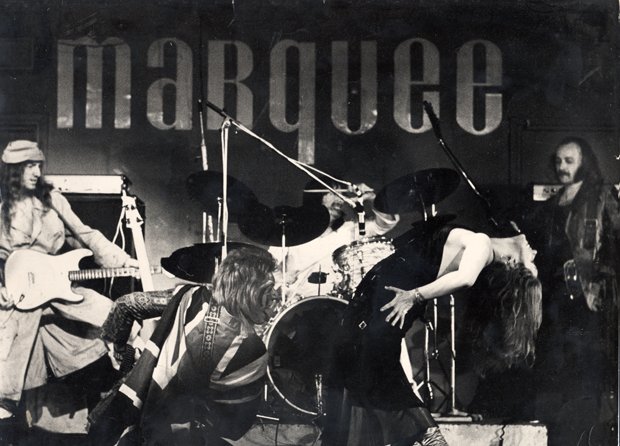 Fusion Orchestra was a highly talented progressive rock ensemble from the UK that did tight but not over-worked heavy prog with an honest, classic but unique sound. Singer/flautist/synthist JILL SAWARD, apparently the axis of the group, leads with a high squall and quite good flute, and paralleled the vocal sound the Wilson sisters would cultivate. Though unlike HEART, JILL SAWARD, DAVE BELL (drums), COLIN DAWSON (guitar), DAVE COWELL (bass), and STEN LAND (synth, guitar, horns) did a very complex and multi-layered music with many roads into jazz-fusion, folk, and Celtic.

The band is actually very much alive as Fusion Orchestra2 and is gigging in England and also hopefully further afield too. Their album is also widely available as a digital download through Amazon too and a CD version is perhaps on the cards too. Colin Dawson fills in the blank spaces with his answers to my questions.
##########################################################
Both our own Fusion Orchestra biography and the one on your homepage are quite extensive so let's bypass the formalities. But were you involved in any other bands before you started up Fusion Orchestra, which bands were you influenced by and why did you choose that name?
I got my first guitar – a beaten up old acoustic – at the age of 14. At the time, rhythm and blues music, I mean real rhythm and blues – guys like Sonny Boy Williamson, Elmore James and Muddy Waters – was pretty popular. A lot of British bands were playing R&B: for instance, The Rolling Stones, The Bluesbreakers, The Pretty Things and The Animals, to name a few, all played music sourced from black blues artists. They were an influence on the early bands I was in while still at school. And I played in blues bands that also covered some soul music – Eddie Floyd, Jo Tex and the like.
Later, came blues-rock – Hendrix, Cream, Ten Years After and Deep Purple, as well as Pink Floyd and psychedelic music. Later, I got into Jethro Tull, Yes and Colosseum. Much as I loved the blues, I knew I wanted to move on to more ambitious material. What those bands were doing became more appealing. I still remember the point at which I said to Fusion Orchestra co-founder Stan Land: "Let's quit what we're doing, and form a band to play our own music."
Stan and I started to write together and what resulted was a mixture of rock and trippy music with the occasional leaning toward jazz. It was certainly a fusion of styles; I suppose adding 'orchestra' was a little grandiose but as a group of musicians playing together on a variety of instruments, we loosely fitted the definition. I think the name was my suggestion. We were able to give it more credibility when Jill Saward joined and added her multi-instrumentalist talents to the band.
Fusion Orchestra managed to get a huge following, but you also got banned from many British towns. What was all that about?
Well, specifically, we were banned from Swindon Town Hall by the local authority, which controlled the venue. We stood by our music but we liked to put on a show as well. Jill was quite raunchy on stage – and our original closing number 'Hunchback' was a bizarre composition about a sexual encounter in a cave with some kind of congenitally deformed being. Let's put it this way, Jill kind of acted out some of the scenarios suggested in the lyrics.
Some advanced publicity material somehow alluded to this and the local authority received some complaints that the Town Hall was going to be used for an 'obscene' performance, which was nonsense. It was suggestive, possibly, but certainly not obscene.
But the story was reported on the front page of the Swindon Evening Advertiser, which was all good publicity. The local authority mandarins relented after reassurance about the act from our management and, if I remember rightly, we played to a packed house! I don't think anyone complained.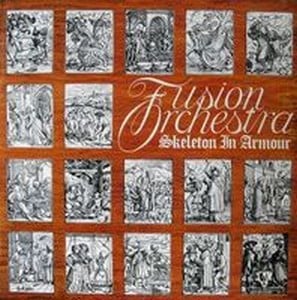 You were eventually signed on EMI. Let's move straight to your one and only album Skeleton In Armour from 1973. Please tell us more about this album.
EMI was the largest record company in the world and being offered a contract with them seemed a pretty big deal. In hindsight, we might have been better off signing to EMI Harvest, which was their rock/prog label. I'm not sure that the record producer assigned to the band really got what we about. He had produced some albums of rock music played by orchestras, so perhaps they thought he'd be right for us as we had we had the word 'orchestra' in our name!
Nevertheless, we spent around a month at Abbey Road cutting the album and recorded tracks in all three of the building's studios.
A vinyl album needed to be around 45 minutes and because our numbers were typically quite long we needed only four main tracks. We drew most of the titles from the music we were playing live. As well as the four main numbers, the album has a version of our single release – the more commercial When My Mama's Not at Home – and some short filler tracks which were not intended to be taken seriously. Sonata in Z was the obvious choice for the first track – we usually opened our stage performance with it and it showcased much of the band's style in one number, with some tight ensemble playing, and rocky and jazzy sections, too. Guitar, piano, flute and harmonica all take solos – there's even a 16-bar drum solo towards the end. We were packing everything in, that's for sure! It was the first major thing we recorded at Abbey Road, but I can't remember how many takes it took.
Track 2 is Have I Left The Gas On? At 8 mins and 41 secs it's shorter than Sonata but still has about four different sections to it. The intro, which is reprised at the end of the number – that was almost a Fusion Orchestra 'trade mark' by the way – includes saxophones playing the riff. To this day, I'm not sure if this enhances the number but it was the record producer's idea.
One of the things I like most about this track is the rather unsettling celeste section in the middle. It suggests to me derelict funfairs or haunted playgrounds with something sinister going on. But the song is most remarkable for Jill's clever lyrics and how she fits them into the melody.
The title track was work in progress when we began recording the album. I'd written the intro theme and come up with a chord sequence for the main verses. Jill took these away and days later arrived at a recording session with the lyrics for 'Skeleton In Armour'. The song was immediately adopted as the album title track. Dave Cowell added bass lines for the middle instrumental section, over which Jill played Hammond organ. Choosing this as the title track led to the idea of using the Hans Holbein 'Dance of Death' woodcuts for the album sleeve.
Talk to the Man in the Sky – the other major composition on the album – closes side two. It's another 11-minute-plus epic, which I co-wrote with Jill and Dave Cowell. It's probably my favourite track on the album; I like the way the moods shift throughout.
The thing I dislike most about the Skeleton in Armour album are the trumpet fanfares at the beginning and end. Not our idea and something added by the producer.
EMI didn't really get behind the band in perhaps the way a specialist rock label would have done. An old friend from those days, with whom I recently made contact again after 35 years, had worked for Phonogram. He told me that he'd brought Brian Shepherd, the A&R man from Vertigo, to see Fusion Orchestra at the Marquee. He was pretty positive about the band. He had signed Black Sabbath, Black Widow and The Sensational Alex Harvey Band and really got behind the acts he'd taken on. He was introduced to our management while we were on stage but our manager apparently found the idea of Abbey Road more appealing and we promptly signed the deal with EMI.
I can't help wonder what might have happened had we taken a different route and signed with Vertigo, Island or Charisma.
Physical versions of this album are pretty hard to find these days (although the likes of Amazon offers it as MP3 download). Are there any plans to re-release Skeleton In Armour on CD and/or LP?
EMI re-released the album for digital download in 2009 and it's available from most online digital music stores. EMI made and earlier release on CD in Korea and Japan a few years ago, and there was also an unauthorised CD on sale from Legendary Progressives, a German record company for some time.
As for a new release, I know of a company that is in negotiation with EMI's licensing department for the rights to re-issue the album. And Italian specialist label Black Widow Records was keen to put out the album as a limited-edition vinyl pressing. I'm not sure if that's going any further.
I've also just been contacted by a Greek record label asking whether they can get a licence to produce a vinyl version, so who knows?
A new compilation of obscure prog rock recordings from Audio Archives called Heavy Prog Fallout contains one previously un-issued live recording of the band made a few months before Skeleton In Armour was recorded has been released. It was a 'bootleg' so the sound quality isn't brilliant; but it's interesting, to say the least. The catalogue number is AACD058.
Who were the creative forces in Fusion Orchestra?
In the early line-up, I co-wrote with Stan Land and Mick Sluman. After Jill joined, she, Mick and I began to produce the band's material. When Dave Cowell replaced Mick, he soon began to contribute and helped take Fusion Orchestra into more ambitious territory musically. Likewise, Paul Jennings co-wrote with Jill and me when he replaced Dave on bass.
In terms of the band's stage act, every member contributed ideas.
Fusion Orchestra split up and a long silence followed. Then a website and Fusion Orchestra 2 pops up. Please tell us more about when why and with whom you set up Fusion Orchestra 2 and what you have been up to.
Well, the first thing I have to say is that Fusion Orchestra 2 wasn't my idea. In fact, I almost had to be talked into it! I'd been playing in bands with Ben Bell, an outstanding keyboard player, for around eight years. Despite the fact that he wasn't born when the original album was made, he had a copy on CD and surprised me one day by saying how much he liked it. Then, I discovered that Skeleton In Armour was still much in demand. I even heard from some people who were much too young to have seen or heard the original band that they loved the music.
And it did appear that, in general, prog was making a comeback. After years of rap, dance and manufactured X-Factor type music, some people were seeking out something more interesting and less predictable. If there was going to be a good time to form FO2, it had probably arrived.
Ben Bell and I faced two major tasks. We needed to set up a Fusion Orchestra website before we could make sense of progressing with FO2. And we needed to learn or, in my case, re-learn the album material. I hadn't played it for years; with some of the parts, I needed Ben's help – he has a very good ear – and I'd completely forgotten some of them.
Once we were pretty competent with the album material, we recruited bassist Nick Daniel and drummer Dan Shooter, both of whom either Ben or I had played with before. They had other commitments, so it was on the basis of getting things moving and so we could perhaps deal with the most difficult task of all – auditioning for a female singer who could do justice to Jill Saward's remarkable vocals.
As you might imagine, this wasn't the easiest of tasks. I can't remember how many vocalists we heard but I know that after hearing Jo Hollands sing only a few bars we knew that she was the right singer for FO2. Not only was she incredibly enthusiastic about the music, she had Jill's phrasing off and was able to reach the notes that Jill hit. Aside from that, she is a talented singer, musician and songwriter in her own right and Ben and I have co-written with Jo on all the band's new material.
Jill Saward
was a big part of the success Fusion Orchestra had. She became quite a big name in the 1980s as a member of
Shakatak
, a band that is still very much alive and hence she is not involved in Fusion Orchestra 2.
Do you have any contact with her and the other original members not involved in Fusion Orchestra 2?
Yes, we keep in touch. Jill and I exchange emails from time to time. She now lives in Sardinia when not touring with Shakatak. I got together with her, Mick Sluman, Stan Land and Dave Bell a couple of years ago (there are some reunion pictures on the Fusion Orchestra website gallery). We are planning to all meet up again this year and it's always great fun to spend time together. As you'd imagine, there's never a shortage of things to talk about! And they all want to see FO2 perform.
Dave Cowell joined FO2 towards the end of 2009. He hadn't played bass for years, so we spent a good deal of time rehearsing with him while he honed his playing skills. But after about a year, some differences had emerged, and he chose not to continue with the band.
As Fusion Orchestra 2, how is the gigs scene in your area these days and do you have any problems getting gigs?
There's no question that the UK music scene is very different from the early '70s when Fusion Orchestra was active. There was an abundance of pubs and clubs that featured rock music and nothing else. In addition, colleges and universities offered fantastic venues for rock and progressive bands to perform in.
And festivals, even the major events such as Glastonbury and The Isle of Wight, were solidly rock music festivals. There's no way you'd get artists like Shirley Bassey, pop groups, hip-hop or rappers on the bill! You knew exactly what to expect. And almost all bands were playing original music.
At time of writing, because of the line-up changes and other delays we have experienced, we are still to play our debut gig. But we have to choose our venues carefully. It has to be a certain size for FO2. Many of the pub-rock venues are too small and many of the audiences expect a diet of rock covers anyway, which is clearly not what we're about.
We'll be looking for promoters who understand what we're doing, as well as festivals that feature prog rock. It is possible that we could promote out own shows.
What are your plans for this year and beyond?
This year, playing as many live gigs as possible. We'll most likely be seeking some representation; and we need to recruit sound/lighting crew. We are also keen to record an album of the new material.
Beyond, we aim to keep writing, recording and playing live.
A big thank you to Colin Dawson for this interview



Edited by toroddfuglesteg - March 11 2011 at 10:52