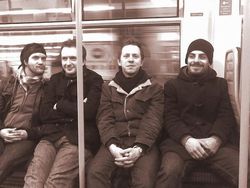 Humanfly is an experimental/post-metal progressive band from Leeds, United Kingdom.

The band's music could be described as a mix of post-metal, psychedelic post-rock, and sludge. As said by themselves in their website, the group offers "vast, epic, metallic journeys through huge NEUROSIS-style heaviness and PINK FLOYD via MOGWAI atmospherics." HUMANFLY, however, has the riff as central focus on their music. Vocals are used only sparingly to add to the doom effect.
The band released their first full-length, "II", in 2007. Their style of post-metal gained positive reviews from most of the metal and doom community.
I got in touch with the band and John answered my questions.
####################################################
When, where and by whom was your band born ? Did any of you, past and present members, play in any other bands before joining up in your band ? Why did you choose that name ?

Back in early 2000 we got together on the back of my old hardcore band "canvas" break up. Our bass player, mat, was still in JR at the time. I struggle to remember exactly how the name came about other than it was suggested by a good friend and we went with it.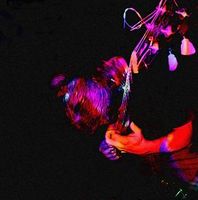 Over to your two albums. Your debut album II was released in 2007. Please tell us more about this album.

That wasn't actually the debut album, in 2004 we did an album called "a god among insects" it was a hectic anti-rockstar angry at everything kind of record. The album 'II' came out a few years later where we had matured as a band and were interested in soundscapes and atmospheric sounds as well as big slabs of riffs hence the floyd and sabbath comparisons, the albums concept was loosely based on war and how mother nature will always have the upper hand in all scenarios.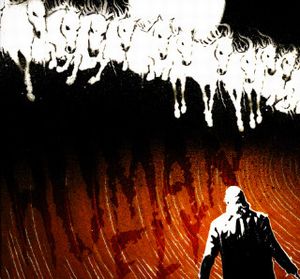 Your second album Darker Later was released in 2010. Please tell us more about this album.

Darker later is the heaviest record to date and is very diverse as each song greatly differs from the one before. It tells the story of an alternative England where the nationalist party have come into power and each song works as a separate chapter in this crazy world. We were lucky enough to get the vocal talents of rose kemp on the final epic song "heavy black snow". We are really pleased with how it turned out.

Your music has been described as a mix of Black Sabbath and Pink Floyd. But how would you describe you music and which bands would you compare yourself with ?

I wouldn't want to compare my band with another. The idea is to have our own unique sound. We experiment and jam as much as possible and hopefully the output becomes exclusive to us. We still get occasional comparisons to other bands, which is sort of acceptable as it's very difficult to be truly original.

Leeds is a socalled newborn city with a vibrant live scene, according to BBC. Is it easy to get gigs for you in Leeds, Yorkshire and your part of England now ?

Yes it's really easy for us to get local gigs. We have been a part of this growing scene in the last 10 years. We have seen local bands come and go but we have somehow managed to survive, probably due to our close relationship as a band and all the good local friendships we have built around us.

What is your latest update ? What is your plans for this year and beyond ?

We will be playing friction festival in Berlin in April and will be on a uk tour in May supporting earthtone9. Will hopefully be doing more touring in the summer and we hope to record again by the end of the year as we have been writing loads of new songs in recent times.

To wrap up this interview, is there anything you want to add to this interview ?

Fight the power.
Thank you to John for this interview
Their PA profile is here and their homepage's here