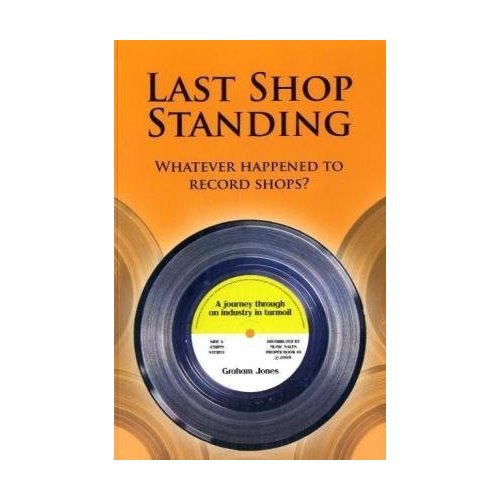 An interview with Graham Jones, the author of Last Shop Standing and a co-owner of Proper Music Distribution, UK's largest independent music distributor.
Last Shop Standing is a book about the disappearing (?) independent music record shops in United Kingdom. A development United Kingdom shares with the rest of the world. Although Graham Jones is no Ernest Hemingway, this book is an excellent read which also asks us in ProgArchives (and other music lovers) a lot of good questions. This makes this an important book. It is also an epitaph over my childhood and teenage years in and around independent record shops. I know others here share this experience.
I got in touch with Graham Jones for his views on the music industry; past, present and the future.

###############################################################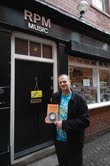 The book is about the decline of the British independent record shops. But I have heard from Scandinavian readers & reviewers of your book that the excact same thing is happening there. Is this decline a world wide trend now or is there other factors in force in for example USA ? In short; why should our readers in USA, South Africa and Chile buy your book ?
The arguments in Last Shop Standing apply to every record shop in the world so wherever any music fan lives they will relate to the tales in the book.
You were there when music went digital with CDs and perhaps a can of worms was opened. At that time, the music industry were only occupied with greed and to quote a Norwegian review of your book; "stuffing Colombian agricultural products up their noses". But in your view; why are the music industry in this potential terminal decline ?
One of the greatest mistakes the music industry made was the way they handled the illegal downloading site Napster. At the time Napster had 26 million people registered on the site downloading tracks without paying for the privilege. Napster was thriving as there wasn't a legal way for consumers to download music. Here was a golden opportunity for the industry to embrace the technology by working out a deal with Napster to give them access to their customers instead the industry decided to sue Napster's customers and do everything to get them closed down. They thought downloading was a threat instead of a golden opportunity.
The second mistake was how they handled legal downloads.
In 2003 a delegation representing the 5 major record companies held talks with Apple's Steve Jobs. The outcome now looks a fabulous deal for Apple but a disaster for the music industry. Here you had a situation were both parties needed each other.
The music industry needed a large organisation to launch a legal downloading site, whilst Apple needed to strike a deal to be able to utilise the thousands of songs on the iTunes site. After much negotiation Apple had access to the songs owned by the 5 major distributors and the agreed price of a download would be 99 cents. Here is where it went wrong. If the music industry had struck a deal that benefited both parties I believe the music industry would be a lot healthier and that downloading would be even more popular. If they had struck a deal that for every iPod and MP3 player sold the music industry would receive a percentage then this would have been excellent news.
With 300 million i-pods sold even if it was just $3 then that would have generated an extra $900 million dollars to invest in artists. Imagine if it was a levy of $10 then the astronomical sum of $9 billion would have been raised. The reason why legal downloading was slow to take off was that people had been illegally downloaded for free to suddenly expect them all to happily pay 99 cents per track was off putting as often their was no great price difference between buying the physical album and a downloaded one. If the music industry was receiving a levy from every iPod sold it would have meant they could have a lower price per downloaded track. They could also afford to have given the artist an increase in their royalty percentage and at a stroke everybody would be happy.
The artist would have earned more money.
The music fan that would be more likely to pay for downloading as it would be a lot cheaper.
The music industry would receive more income. Both Apple and the music industry would have the same goal: to sell as many i-pods and downloads as possible. Of course things would have been easier if they had details of Napsters 26 million customers with their buying habits. They could have contacted them with offers and discounts. Instead of grasping this opportunity and embracing Napster the industry scored what I believe was the biggest own goal ever with Apple booming and the music industry struggling to make a profit.
The follow up question to you as one of the owners in the largest independent music distro in the UK is not unexpected: Where do you believe the music industry is heading and what is the solution to their problems when even EMI Records is regarded as a toxic asset ?
The industry has changed for ever. You can't go back and rewrite history. Digital will continue to grow and so will vinyl but CD sales will continue to fall. My argument is always that independent record shops should be part of the way we purchase music. I think music will continue to fragment and the major record companies will struggle. Although not as important as it once was music is still an important part of our lives but it is just the way we listen to it is changing.
Following on from that question; there is some rather obscure progressive rock titles out of print now which may entice some of our readers to start up a record label, shop and distro to licence them and get these titles back on the market again. What is your advice to them ?
To survive as a distributer or a record shop you need to have a niche. A progressive rock specialist is perfect. In Last Shop Standing I interviewed Muse Music and progressive rock fans from all over the country travel a long way to pay him a visit because he is a huge fan, and expert on the subject and to share his passion.
I am one of those who looks back with fondness on my many hours as a customer and too talkative nerd in my local independent record shop. But increasing work pressures in today's work market and the pressures from the media on each of us to stay fit and healthy (= time consuming fitness regimes) means visits to independent music shops are very rare. Do you believe the era of independent record shops are now gone for good or is there any ways back for these music outlets ? I am also taking into account the two-clicks services Bandcamp and Gemm is offering now which has partly filled this gap in the market.
Although 600 record shops closed in the UK between 2004 – 2009 last year we had as many record shops open as close. It is market forces where the strongest survive. They are all great shops. Record stores need to stock product that is different from supermarkets, stock a great range of vinyl, have bands play instore. Support new music and local bands. Stock books, music accessories, serve coffee and become part of the community. You want people of the town to use it as a meeting place.
Just to end on a more personal note; what is your favorite bands & albums and what is your views on progressive rock and websites like our website ?
I thought your website was superb.
Favourite single – Radar Love by Golden Earing
Favourite album – Revolver by The Beatles (I am from Liverpool so I am bias)
Thank you to Graham Jones for this thought provoking interview

The book (a sturdy paperback) can be bought from most online bookstores like for example Amazon

The Last Shop Standing's two homepages is here & here



Edited by toroddfuglesteg - March 15 2011 at 17:03