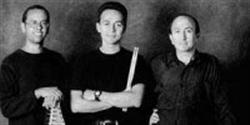 Philharmonie is a French trio (that become a quartet in September 1993 when the drummer Jean-Louis Boutin joined in) formed in 1988 by Frédéric L'Epée, the guitarist of SHYLOCK fame. Between the foundation of PHILHARMONIE and disbanding of SHYLOCK he attended conservatory where he studied harmony, fugue, counterpoint and composition.
Philharmonie later split up. I got in touch with Frederic from Philharmonie through his new band Yang (see own interview). This is the Philharmonie story.
###############################################################
When, where and by whom was Philharmonie started ?
Philharmonie began in Nice in 1987. I wanted to create an electric guitar band in order to obtain a specific kind of sound : bright, shiny, clear, with interlocking parts and no possibility to distinguish an instrument from another.
At the begining we were 5 guitarists. I arranged the Vivaldi's 4th concerto Concerto in F minor (The Winter) to work on unity and homogeneity of sound.
The particular sound I was searching for has been achieved with the pieces "Campanile", "Autumn", and "De l'Aube à midi" that should have been recorded all three on Beausoleil (actually "Campanile" has been forgotten this night)
How much of Shylock was brought over into Philharmonie?
In my opinion nothing. Shylock was a symphonic rock band and when I founded Philharmonie, I was very far from that. I wanted something more intimate, though more brilliant.
Why did you choose that name ?
The etymology of this name is "love of harmony" and has become a gathering of musicians playing instrumental music.
How was the music scene in France at that time ?
Before to bring the band together I was far form the music scene, only interested in founding a family and learning composition techniques.
When we started concerts, in the Nice area, things went pretty well, as people there already knew me as former Shylock member and a a guitar teacher. But when we decided to play elsewhere in France, it has been simply impossible.
Most Philharmonie's concerts have been done abroad.
This is an archive based interview also intended for the fans you get well after both you and I have passed away so let's go straight to your albums. Please give us your long or brief views on your albums, starting with.......


Beau Soleil from 1991
Compositions from 1987 to 1989
Beausoleil is the 1st achievement of the sound I had in mind when I founded Philharmonie. It has been self-produced as the band was totally unknown at this time.
Of course, even if I founded the band with a certain idea, I was not the only composer. Philharmonie was a collective composition band.

Les Éléphants Carillonneurs from 1993

Compositions from 1988 to 1990
The next step in our work. The song of the same name is the 2nd and last achievement of the first Philharmonie period, and in the same time begins the "interlocking" period.
We were trying to act as one single instrument, sharing notes of melodic and harmonic constructions (qv the song "Philharmonie").


Nord from 1994

Compositions from 1990 to 1992
This album, often considered as a "transition" album (even by me) seems, in retrospect, to be the heart of Philharmonie's musical production.
It has been composed for a large part returning from our first Noth European tour (Belgium, Germany, Denmark).
It is a story of our journey, impressions of which have been lasting a long time after our return.
It starts (after "a sacrifice", opening the album) with "To the North", ending with "From the North". Impressions of profundity, grey weather, warm hearted feelings,
along with a deep feeling of sadness because at that time occured the Gulf War (1990-1991).
The song "Prelude, March and Laments" is about this event, 20 years after which laments are still lasting.
At this time, we had met Jean-Louis Boutin with whom we made an attempt to create a rock band. But, be met with the impossibility to find a suitable singer, we gave up, integrating Jean-Louis to Philharmonie.
(Most of the songs of North have been composed without drums.)
In this album, "Morphine in walrus skin" initiate another stage of the band, more melodic. This song is the closest one to a classic chamber string trio composition.

Rage from 1996

Compositions from 1992 to 1994
The first album composed with drums. After the rock band try, music has become more powerful. Of course, with drums addition, we were afraid to lost some subtilty, but Jean-Louis was a fine drummer, so it did not become really harder.
From this time we made less and less concerts, the few we made localised in the Nice area, everything became more difficult, even rehearsals, as Bernard and Laurent were more and more involved in their own family life.
The title of the album, "Rage", has been choosen in one hand because of a volontary increase of violence in our music, in the other hand a real feeling of helplessness rage.

Le Dernier Mot from 1998
Few months after the release of Rage, Jean-Louis leaved the band, and few weeks later, a big car accident forced me to stop everything for a 6 months long period.
After this time, when we met again, with Volodia on drums, things were different. Laurent did not feel as committed as before, and withdraw. After some concerts with the new line up, Philharmonie broke up.
But music has always been composed a long time before album's release, even during these upset moments, so after we stopped, I proposed to Cuneiform Records to release the last album, and we recorded it after the split of the band.

How is the availability of the Philharmonie albums these days ?
I think that except the 1st one, Beausoleil, and the last one, Le Dernier Mot, both out of print, they are easy to find, on Cuneiform Records and Wayside Music, for the U.S., ReR for U.K. and Europe, and of course on many online stores.

How would you describe Philharmonie's music ?
I would describe it as a resonant interlocking of guitars as if they were one. Often gentle and non dissonant, a bit less of both in the end.

Why did Philharmonie break up and how much of Philharmonie did you bring over to Yang ?
As I've said before, after the hiatus provoked by my accident, thing were not as obvious than before. Even if Volodia Brice was an excellent drummer, with subtlety and power, and a wonderful fellow, Philharmonie was not the same.
Nevertheless, music was still present and it kept on coming easily. We made new songs and rearrange some of the old ones for the trio. We performed some concerts in the Nice area, then Volodia had to choose between Philharmone and another band with a lot of concerts planned. He stopped and Bernard choosed to withdraw too.

In this internet age where there is a lot of us looking for exciting music from the past, has there been any interest in Philharmonie in the recent years ?
As for Shylock, long ago after the band broke up, Philharmonie still get new audience. We sometimes integrate one song of Philharmonie in Yang performing set, and the audience always reacts very pleasantly.

What is your best and worst memories from Philharmonie ?
When we were 3 in tour, we had a lot of fun together, always in the same wavelength. But the worse memory is equally the best:
One day in Copenhagen, the programmer of the venue were we had to play one night has completely forgotten that we had a show.
We played (the fee was paid), but without any promotion. This night, we played in front of 5 persons.
This is for the worse memory. The best one is that this same night, these 5 guys loved our show, loved it so much that they came all together on a table in front of us and really supported us. We made 3 encores ! I still remember it as our best performance.
How do you want Philharmonie to be remembered and do you have any plans to do anything more with this name and the music left behind ?
I would like Philharmonie to be remembered as some kind of rock chamber trio, each note that we played was really meant to be played.
I think that I will not re-use the name Philharmonie, but it is possible that some of the songs of the band could be performed by a new "formation" in the future.
There are some unrelease peaces and some performances in audio and video that should be one day available online.

Is there anything you want to add to this interview ?
When I listen to music that I've made a long time ago, most of all if it was collective composition, it is like if I was listening to someone else's music.
As I was writing this interview, I've been listening to some Philharmonie's music, to stimulate souvenirs.
And I really enjoyded it !
On that positive note;
thank you to Frederic for this interview