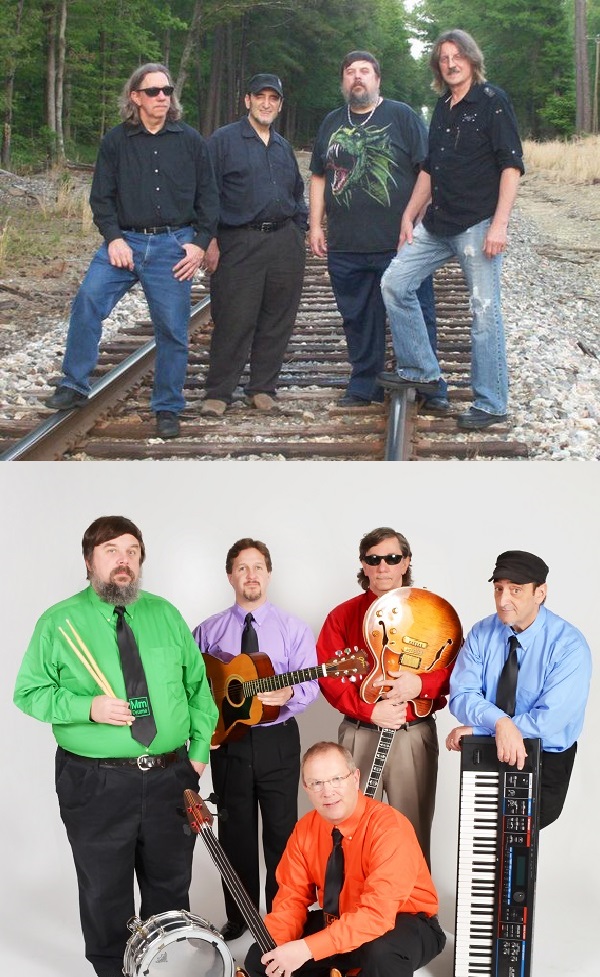 US outfit KINETIC ELEMENT is the creative vehicle of composer and keyboardist Mike Visaggio, and was formed in 2006. At that point in time he had just finished creating his first solo album, and was looking for additional musicians to be able to perform his works in a live setting. They have so far released one album. An album that has got a lot of very positive reviews.
I got in touch with Mike Visaggio and the band answered my questions.
########################################################################
When, where and by whom was your band born ? Did any of you, past and present members, play in any other bands before joining up in your band ? Why did you choose that name ?
Kinetic Element came into existence in 2006 here in Richmond, Virginia (USA) when, nine months after putting my solo CD out, and me having spent those nine months looking for guys to form a band, the drummer who played on three of its tracks, Michael Murray, came to me and said he wanted to get out of his classic rock cover band and play something more challenging. He recruited a bass player who had never played prog and was in fact a refugee from punk rock, Matt Harris, and the three of us had pretty good chemistry as we started working on the Starship Universe compositions, so we decided we were a band. No guitarist, as for all the many guitarists we knew in Richmond, nobody was interested in prog, so we said heck, there have been keys/bass/drums bands before, we're one too.
About our previous bands, I had played in a couple of classic rock cover bands in Richmond starting in 2000 after being out of music altogether for 15 years, and had a prog-style classic rock band in the early 1970s when Yes was breaking out, called Randori and another one called Innervision in 1982 (both in New York City where I grew up). I also played six years and made four albums with a singer-songwriter named Billy Falcon between 1975 and 1981. Michael had played in Scraphog around here, and I cannot remember the names of Matt's bands. So none of us had really done anything that people know about.
The Kinetic Element name came about because although I had been trying to recruit a band to perform my music, Michael was not having anything to do with being in "The Mike Visaggio Band" so I asked him to come up with a name, and he did, and we went with it. The great thing about Kinetic Element is that it's a real term in the art world, specifically sculpture. Some sculptures have moving parts which are called kinetic elements. By the way there is a terrific dance troupe in Toronto that goes by the same name in the plural form. I wish I could convince them to dance to our music.
For those of us unknown with your music; how would you describe you music and which bands would you compare yourself with ?
I will defer to the critics who describe it alternately as neo and symphonic prog, and who compare us to Yes, Emerson Lake & Palmer, early Genesis, and Transatlantic. Needless to say I'm extremely flattered to be mentioned in the same breath with those guys although I'm not going to come on out and say "we're the new Yes" when you have Flower Kings, Transatlantic, Ajalon, Mars Hollow and Mystery and so many incredible symphonic bands out there. We just play to our strengths which are ensemble playing, orchestration, songwriting and arrangement.


Your one and only album so far; Powered By Light was released in 2009. Please tell us more about this album.
There were originally three songs that sort of coalesced with each other, stuff I had written 40 years ago and were just jangling around in my head for all that time that I dredged out when I realized that now I had a band and I had to have some material. We just began experimenting with these ideas during 2007 and I began to see how they would fit together into pieces of music whose lyrics revolved around the concept of the joy at being a child of God. Soon we had "The Powered by Light Suite" recorded at a good garage studio by Mike Ferrell, which was sort of shopped around and offered for sale as a CD-R at our gigs just to show people we were up to something.
We didn't (and still don't) own any recording equipment because we can't afford it, have no place to set it up and would have to learn how to use it (which none of us have time to do) but I was hoping to find a backer or a label to get us into a studio. We were playing these songs live as the keyboard trio, and got lucky to land an opening slot for Circa: at a place in the Washington DC area called Jaxx in May of 2008 during ROSfest weekend. Well a lifelong friend of mine named Bill DiLiberto came down from New York to see this show, and after we got done he was kind of excited and told us that when we were ready to go into the studio, to let him know and he would bankroll the recording. We were all pretty amazed and began to put the rest of the pieces together in the second half of that year, when Matt had to leave us for greener pastures in his "real" career.
Meanwhile we managed to land the Prog Day festival Pre-Show gig opening for Speechless, and we had no bass player! So a bassist friend of ours in Richmond, Tony D'Amato, a real proghead, decided he would do the show, learned all our material in a month and did a bangup job at the Pre-Show, after which Michael and I offered him the bass spot, which he accepted. We were working on the final piece of Powered by Light when guitarist Todd Russell found us on a Craigslist ad for a singer (which we did not find) and contacted us about auditioning. Well Todd about blew our minds, he is a real Steve Howe/Steve Hackett kind of player, plus he has a Ph.D. in music, and he loved the music, so he joined in November of 2008 and we began doing gigs as a quartet.
Todd totally transformed what we were doing, as he took some of the synthesizer leads and made beautiful guitar melodies out of them, added wonderful chord textures and sounds, and I realized we were ready to get into a studio and make the entire Powered by Light album. So I called Billy and we booked Sound of Music Studio in Richmond starting in May 2009 and got their best engineer, John Morand, to record and produce the CD. He worked wonders with my voice, which has always been our critics' main objection to our sound, and we made a very good CD, so we thought. We started hawking it at Prog Day 2009. We've been marketing it the best we can with no budget to speak of, and have sold about 300 of them, mostly thanks to relentless online activity and our distributors Syn-Phonic and CD Baby but we are doing some on Kinesis too. We have gotten reactions about 80% positive, which when you consider how many people are pretty much done with symphonic prog, I think is quite good.
You are currently working on new material, I have been told. What can we expect from this new material ?
It is way behind schedule because when Tony left us in October 2009 we focused our attention on trying to get a replacement. We didn't really start on it till the spring of 2010 and with all the distractions of going through four bass players who didn't work out, we really haven't done what we could have done during that time. We do have one new piece done. It's more neo symphonic prog, what else? The lyrical content will probably not be as God-focused as Powered by Light was although I find it hard to escape Him. There's a little bit of Celtic mood in this piece but it's still got the odd time signature, the wailing guitar, the rocking 6/8 time, and some bagpipe sounds if you can believe it. Another new piece is about half put together. We do not expect to change our musical style.
Besides of this new material; what have you been up to since the release of your album and what is your latest update ? What is your plans for this year and beyond ?
I guess our two big highlights were: (1) landing another appearance at the Prog Day Pre-Show on 9/3/2010, when a great bass player from Nashville named Jaymi Millard played with us. It was probably the best show we'd done up till that point. Then (2) Mike Potter offered us a spot opening for Edensong at Orion Studios in Baltimore, the second time we'd played there, and by then we had resigned ourselves to playing as a trio, with me playing keyboard bass, and it really went down very well. We covered ELP's Fanfare for the Common Man with quotes from Abaddon's Bolero and Tarkus thrown into the shuffle jam along with some tremendous Steve Howe-ish guitar soloing on chord changes not in the ELP version and it was received very well, along with the Powered by Light music and a cover of Question by the Moody Blues.

We're pleased to announce that we believe we have found our singer after five years of putting up with me singing, he's a guy named George DeCola from here in Richmond. We're putting togther a bunch more sort-of-prog-leaning classic rock covers so we can play out in town here, but we will not lose our focus of working towards making another CD of originals ... but we are going to need financial help from somewhere to make that happen. There's spme interest from very good bass players too, and I am believing that we will be a quintet soon. When the opportunity comes I'm confident we'll be able to walk through the door.
To wrap up this interview, is there anything you want to add to this interview ?
Please buy our CD! Aside from that, all I can tell you is that as long as people keep giving us feedback that tells us we're touching their hearts with this music, we'll have the intestinal fortitude to keep going. I'm thankful to God and to all the people who have supported us the last five years. If you like symphonic prog I think you will find something to like in our music.




Thank you to Kinetic Element for this interview



Edited by toroddfuglesteg - December 22 2011 at 02:26