The long lasting friendship of Stefan and Per goes back to the early 80's when they were about seven or eight years old. Their meeting, however, had nothing to do with music. They were both on the same handball-team and has been friends ever since. Growing up they found that they shared a burning passion for music and formed their first band in their teens. The emphasis on the music was hard rock and heavy metal and the band played some live shows at school happenings and such. Two albums followed.
I got in touch with the band and Per answered my questions.
##################################################################
When, where and by whom was your band born ? Did any of you, past and present members, play in any other bands before joining up in your band ? Why did you choose that name ?

Salva started as kind of a solo studio project by me (Per Malmberg) in 2003 in Gothenburg, Sweden.
The members of Salva have been playing together in different ways, shapes and forms (mostly hard rock/heavy metal bands and cover bands) since the late 80's but I had had a growing desire over the years to start playing the music that is closest to my heart and after occasional dabbling in my home studio I decided to give it a go.
I started writing and recording what was to become "A handful of earth" and realized that I could use some help with the guitar solos and synthesizer solos so I asked Stefan and Johan to help out.
They got involved and since I prefer the band format, I asked them to join the band.
The Salva-name came up when I found out that the initial name for the band, "Panta Rei", was already taken.
Salva is to save in Spanish, salvation or absolution or something to that extent in Latin and of course lotion, creme or balm in many other languages.
There isn't a great deal of thought behind the name. It just sounds nice and works in a lot of languages.
We want to be the soothing lotion for your tormented soul. ;-)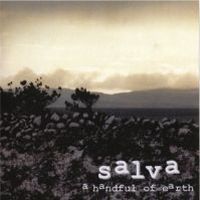 Over to your two albums. Your debut album A Handful of Earth was released in 2004. Please tell us more about this album.

Well, like mentioned I started recording it in 2003 in my home studio prompted by my desire to experiment with my music. I gave myself free reign when it came to what I would do musically. All ideas and influences were welcome and that resulted in the album being pretty broad and varied in spectrum but maybe lacking a bit of musical focus.
The drums were obviously programmed (although I played all the percussion live), mainly because I didn't have access to a drummer or the know-how to record live drums.
Instead of trying to make the programming sound like real drums I experimented with adding all kinds of effects to the drums like distortion, wah-wah etc.. The result was, in hindsight, so so but I worked with what I had at my disposal at the time.
Johan and Stefan came on board pretty quickly adding some nice solo-work.
Stefan is a great hard rock guitarist with an amazing feel and we are totally in sync when it comes to melancholy guitar leads and I think he has an awesome emotion when he plays.
Johan is the closest thing to a virtuoso on his instrument out of all the people I've played with through the years.
He is also a neverending source when it comes to ideas and alternative takes and outlooks on music.
I wanted some kind of theme for Salva's records and since the lyrics on the album tended to be about fears and personal short-comings I decided to have each album focus on one emotion or part of the human psyche.
Just to have a bit of fun with the thematics it was also decided that each album should represent one of the four elements.
We're not aiming to be overly pretentious or deep or anything...it just makes it a bit more fun and I know I like when bands I listen to have some sort of thematics behind their work also.
"A handful of earth" was tremendous fun to record and the end result was absolutely ok with some good songs but I can't help wanting to re-record it some day with a full band.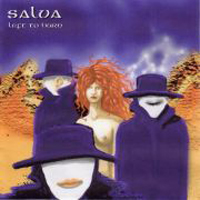 Your second album Left To Burn was released in 2007. Please tell us more about this album.

"Left to burn" was a tough album to record.
The composing went smoothly and the whole writing process was pretty much done in a couple of months.
Lasse (drums) and Fredrik (bass) came on board and we were all totally psyched about being a full band.
However, recording live drums turned out to be a tricky thing.
We started out paying for studio time to record the drums in a professional studio and then do the rest in the home studio but somehow it just didn't work out. There were technical problems, sound problems etc. etc..
We finally decided to do it on our own.
Now, I'm not a master technician and everything I know about recording, setting up mics, mixing etc. I've learned in a "trial and error"-fashion.
We managed to get the drums on tape but from focusing on the drums and the drum sound so much, I managed to somehow mix the drums so freaking high, volume-wise, in the final mix that it bugs the crap out of me when listening to the album now.
Anyway, what's done is done, eh?
The music on "Left to burn" was more of a band effort, more focused and perhaps a bit more thought through than on the debut.
Stefan contributed a bit to the writing which was great fun for me.
We had also purchased a lot of new equipment adding new and exciting sounds to the music (mellotrons, moogs etc.).
The theme for the lyrics this time around was anger, rage and disappointments. My original plan was for the music to go with the lyrics and take on a more aggressive edge but while writing it just didn't turn out that way.
I guess you can't always control what comes out.
In some ways "Left to burn" is a bit more symphonic than "A handful of earth" but at the same time it might also be a bit more conform.
Anyway, the end-result was pleasing composition-wise but sound-wise it leaves a bit to be desired, at least to my critical
ears. ;-)

What have you been up to since 2007 ?

A lot of non-band-related stuff, I'm afraid. Then again, I guess we are all at that age and point in life.
Stefan has gotten married and now has two kids. He has built a house, started his own company and then closing the same to take on other tasks within another company.
Johan has also gotten married and has two kids. He has also built a house but hasn't started or terminated any companies.
Fredrik has set up his own company within the entertainment industry and has also been the tour manager for the Swedish band Fibes Oh Fibes on one of their tours. He has also moved to Stockholm and back and...where he lives right now is a bit uncertain.
Lasse is married since before, has two kids and has moved to the suburbs. He's keeping busy with his day-job in the clothing industry.
Myself, I have gotten married, bought a house in the country-side, re-built my homestudio and in June we are expecting our firstborn child.
Apart from all this personal stuff we have actually just finished recording our new album "Thirst" which I am at the moment mastering and designing the cover for.
We are really thrilled about it and it will be released within the next few months.

How would you describe you music and which bands would you compare yourself with ?

It's a tricky question to answer because when it comes to music genres there are as many different opinions as there are people.
I guess our music falls under the prog rock umbrella.
Then again some people wouldn't agree because they might think we don't push the envelope enough.
And yet again there are some people who will only consider something prog that sounds exactly like it did in 1973 for example...and how progressive is that? ;-)
If I had to come up with some sort of name for our music I would call it symphonic hard rock.
The problem with the genre term progressive rock is that it's not only a name for a genre but it also indicates how the music should be.
Then again I have no problem with someone calling our music prog rock.
Most of the music I listen to is labeled prog rock so I'm fine with that.
Our main goal is to make music from our hearts, music that we like and feels exciting to us, music that offers and demands a bit more than your average pop/rock song on the radio and music that offers a bit of adventure.
As to who we might be compared with or sound similar to, I leave that up to others to judge.
I hope we have a sound that is our own.

How is the scene in Sweden now and is it easy to get gigs for you there now?

On one hand the scene has been blossoming for quite a while in Sweden, at least when it comes to bands playing this kind of music. There is a lot of talent up here in the north within prog music.
But if we are talking about the live scene then I'm afraid it's not that great.
There are local prog rock societies that try to arrange festivals etc., like the Gothenburg Art Rock Society (GARF) who puts up the annual "Slottskogen goes progressive", an outdoor festival in a big park here in our hometown.
There are also some good venues where the more established bands (Like The Flower Kings, Opeth and Pain of Salvation etc.) usually play when on tour but I wouldn't say that Sweden is flourishing with places where undiscovered talent can play.
Prog rock is, even though more accepted these days, still far under the radar when it comes to media and mainstream recognition.
As far as Salva is concerned we are not what you would call a touring unit at the moment.
There are, I'm sorry to say, too many obligations outside of the band and not enough time or finances for us to do any extensive live playing.
Stefan and I are always dreming about taking Salva on the road though and who knows....one day it might happen.

What is your latest update ? What is your plans for this year and beyond ?

The main thing right now is to get the new album out. It's been too long!
I know bands always claim that their latest release is the best thing they've ever done but this new album blows everything we've ever done out of the water.
I'm really psyched about this album and I can't wait to hear how people will respond to it.
And finally, we have a good sound! (I'm learning ;-))
Beyond that...well, knowing myself, I will probably start writing a new album as soon as we release the new one. (To be perfectly honest, I already started)
We hope we will get the chance to do some live shows in the future also but we need some good offers.

To wrap up this interview, is there anything you want to add to this interview ?

I want to urge everyone to check out our new album "Thirst" once it's out because I think you might like it.
I also want to take the opportunity to thank you for your interest in Salva and setting up this interview. It's been an honour.
Take care everyone! Prog on!


Thank you to Per Malmberg for this interview