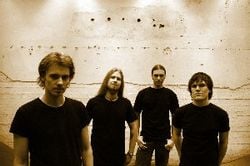 MEMFIS was founded in Sweden in 2003 by Mattias Engström (guitar and vocals), Johan Boqvist (guitar and vocals), Carl-Johan Lindblad (drums) and Christian Öhberg (bass).The band recorded 2 demos in 2004 and then secured a deal with Dental Records.MEMFIS released their full-length debut "The Wind-Up" in 2006.

Johan Boqvist decided to leave the band after the recording of the debut and was replaced by guitarist Daniel Grahn of BRIMSTONE.After some heavy touring to promote the album the band went through another line-up change in 2006.Bassist Christian Öhberg choose to leave the band but waited until MEMFIS found a suitable replacement in bassist Henrik Eriksson,formerly of ZKILLEMAN.
MEMFIS' music is sophisticated,complex,melodic yet also brutal progressive death metal in the same vein as OPETH and FARMAKON and are highly recommended.

I got in touch with them and Mattias answered my questions.
#######################################################################
Your biography has been covered in your ProgArchives profile so let's bypass the biography details. But which bands were you influenced by and why did you choose that name ?

I was listening to bands like Opeth, Burst and Mastodon when we started Memfis in 2003, which is pretty obvious if you listen to 'The Wind-up'. The name Memfis, with the same spelling, comes from the ancient Egyptian city. I liked it, in a estetic way, for its spelling.

How was the music scene in your area when you started up your band ?

Not so big, Kristinehamn is a small town. But there was a bigger scene in the 90's which inspired me to play guitar and to write my own music. It reached ev erything from death metal to alternative rock and grunge. The most inspiring band from that actually scene where Burst, who I mentioned before.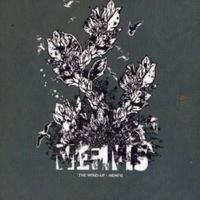 Your debut album The Wind-Up was released in 2006. Please tell us more about this album.

The album consists of two demo recordings, made in 2004. The Wind-up is a concept album, both lyrically and musically. The lyrics deals with mankind's effect on our planet and what we are doing to ourselves. The songs are tied together with soundscapes or small compositions between the actual tracks. The artwork are made by our friend Henrik Franklin.

For those of us unknown with your music; how would you describe you music and which bands would you compare yourself with ?

I would describe our music as "alternative progressive metal". It's a mix of different scenes and genres. Progressiv e influences from bands in the 70's like King Crimson and Camel to modern acts like Mastodon and The Mars Volta. When I grew up I listened a lot to Metallica, Megadeth and some Swedish death metal like Entombed. The alternative side comes from bands like Radiohead, Melvins and Soundgarden. It's hard to give a direct comparison with other bands.

What have you been up to since 2006 and what is your latest update ? What is your plans for this year and beyond ?

We recorded a new album in 2008 together with Fredrik Reinedahl (Burst, Solstafir, Abandon etc) in Bohus Sound Studios. Got into a legal dispute with Dental Records, which lasted until last october. For now we are working on to get it out in some way this year. Will also do a gig in Copenhagen this June.

To wrap up this interview, is there anything you want to add to this interview ?

Three songs from our new album can be heard at our myspace.


Thank you to Mattias for this interview
Their PA profile is here and their homepage's here