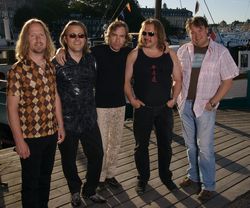 The MAZE OF TIME story began in October 2001 when guitarist, composer and lyricist Robert I. Edman grew weary of being the hired gun, playing other people's music as a designated guitarist for various productions. With a couple of other musicians, he was at one point well on his way to the US west-coast, but opted out as the headroom for originality and thinking-out-of-the-box musical experimentation was nonexistent in the mainstream pop-scene. Edman gathered two old friends to form an investigative trio in Stockholm, Sweden - bass player Janne Persson and drummer Thomas Nordh - to elaborate on a string of newly composed songs. In the search for additional players adventurous enough to take the less-travelled roads of progression and beyond, the trio was extended by keyboard jockey Alex Jonsson and, for the first five years, with guitarist and vocalist Christer Lindstroem. With the MAZE OF TIME line-up complete the journey began. Two albums followed.
I got in touch with Robert for the story so far.
#########################################################################
Maze Of Time was formed by some studio musicians who wanted to play their own music. That's according to our biography. But it is not clear which bands/artists and projects you were involved in before setting up Maze Of Time. Would you be kind enough to enlighten us here ?
Studio musicians sounds a bit over the top : - ) But we had our fair share of playing in different coverbands with your typicall top 40 hits and plaing on different company commersials (is that the right name for it?) And of course our bass player jan played with a famous swedish band called Grace in the 80`s and toured in sweden with them and made some music to a film called "stockholmsnatt". Me and the drummer thomas has been playing our own music in differnt lineups since the early 80`s
Why did you choose that name ?
Well it wasīnt taken : - ) And we liked the underlying meaning of the name, we all try to find our way and find time to do everything we want to do, itīs a constant struggle isnīt it? and i later found out that Jon anderson wrote about it earlier in some lyrics ! and that for me who likes yes very much is very fun and mystic.
How was the music scene in your area when you started ?

When we first started in the early 80`s it was great, no problems to find a place to rehearsh in and a lot of small rockclubs for gigs and party : - ) We had a big hardrock/metal scene in stockholm during that time with Europe and Yngwie Malmsteen`s Rising Force and man they could really play their asses of ! In fact the singer i had back then had a big brother who was singing with Rising Force at the time, we used to party with them sometimes : - )
At the turn of the century when i started Maze i had just found out that it wasnīt just me who liked and played progressive/symphonic rock, in fact there were many good bands in a very "growing" scene, bands like Flower kings, Anekdoten, Galleon, cross etc etc and that made me really confident that this is the way to do it, finally i should say.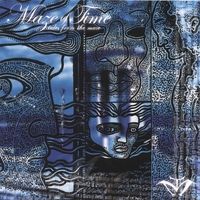 Over to your two albums. Your debut album was Tales From The Maze from 2006. Please tell us more about this album.

Yes, we wanted to make the album the way our heroes did back in the 70`s so itīs pretty much live in the studio with the band playing together with a few overdubs, but no clicktrack or computers. I think it turned out pretty well,sounding warm and analogish and we learned very much during those sessions what we could and should do better next time : - ) But i really like the feel of the album, a bit dreamy...my faves are Distant tomorrow with that mystic middlepart that Alex creates on the keyboards and Ocean of dreams with itīs epic feel from the 70`s especially the intro. And of course Here and now which for me was the starting point for the band, one of our best songs yet i must say, itīs got that positive, flowery, sunny feeling that i like so much.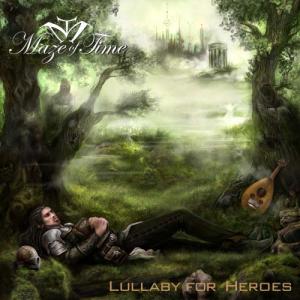 Your second album was Lullaby for Heroes from 2008. Please tell us more about this album.
Yes, the first album with Jesper on vocals. To me he is the perfect progressive singer with a lot of drama in his voice and he can really vail if you want to. My old friend Christer left the band for new adventures and i handled all the guitars myself. I think it got heavier and more dramatic this time and a bit darker as well. Chemical sleep part 1 and 2 really takes us down in the dungeons : - ) I also think that our engineer/mixer man mike did a really good job on this one, making it one part modern and at the same time keeping that old analog feel that we like. We also managed to do a shorter and more commersial edit on the song "Lullaby for heroes" Thatīs on you tube by the way. Iīm very proud of the lyrics on this one !
You are currently working on you third album. What can we expect from this album ?
Yes we are soon ready to enter the "over the hill" studio once again for this third chapter and iīm very glad that our record company art performance productions in amsterdam makes it possible. This time itīs full speed ahead and nothing to leave untried, itīs harder, darker and both scary and beutiful at the same time. There is some progmetal, mahavishnu/return to forever fusion and a nice flirt with zeppelin and purple in a new moder way. But first of all itīs gonna be a great Maze of Time album
How is the creative processes in your band from coming up with an idea to it's being recorded ?
I usally make pre-demos on the songs in my homestudio and then everyone takes it home and put their own style to it. Later we meet in the rehershal studio and arranging it together. Sometimes it stays very much like the demo and sometimes not, they all have a lot of ideas: - )
For those of us unknown with your music; how would you describe you music and which bands would you compare yourself with ?
Itīs a bit eclectic, a lot of different styles combined together. Itīs something there for everyone to enjoy or at least for us who playīs the music : - ) I can describe it as a menu where you got your basic coocking ingredients 1 part 70īs heavy rock like zeppelin and purple 2 parts of vintage prog like yes,genesis,pink floyd and 1/2 a part of more avangarde bands like king crimson and gentle giant and 1/2 part of west coast bands like Toto and Journey and of coarse all the swedish music we grew up on ABBA for example. Something like That : - )
You have been doing some gigs in your homeland Sweden. How is the gig scene there now ? Is it easy to get gigs now ?
No not in our genre, it sucks! but we will keep trying.
Besides of the new album, what is your plans for this year and beyond ?
We are going to focus on live gigs after this album, i think weīre gonna have a release party and gig in amsterdam sometime in the fall. We also hope to get together with other bands and make some cocerts together. I already have new material written for another maze album so we hopefully will keep on doing this for a while.
To wrap up this interview, is there anything you want to add to this interview ?
Yes if someone out there reads this and wants to help us with bookings and mangement donīt hesitate to contact us.
Thank you to Robert for this interview

Their PA profile is here and homepage is here