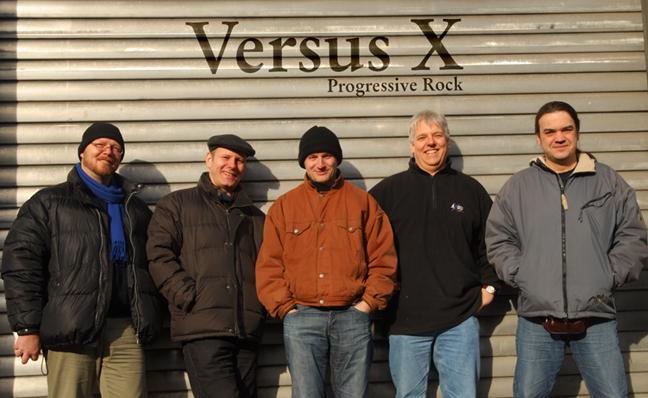 German VERSUS X plays symphonic and intricate progressive rock in the vein of the best bands of the seventies (KING CRIMSON, ELP, VDGG, .) with influences of classical music, heavy rock, jazz-rock and the music of contemporary classical composers. The songs are lenghty with fantastic arrangements and great musicianship.
They have so far released four albums. I caught up with Arne for their story.
#########################################################################
Your biography has been covered in your ProgArchives profile so let's bypass the biography details. But which bands were you influenced by and why did you choose that name ?

Our Influences are very broad, from the more obvious ones like Genesis, Yes, Jethro Tull, Gentle Giant, ELP, UK, Dream Theater to the more obscure like Zappa, Univers Zero, Thinking Plague, Igor Stravinsky, Dimitri Shostakovitch, Edgar Varese and also some Jazz and Jazz Rock like Bill Bruford and Alan Holdsworth.
The name was derived from a Book about physical chemistry, where some parameter was plotted "versus x". This name may be interpreted as "against the mainstream", which we actively try to avoid.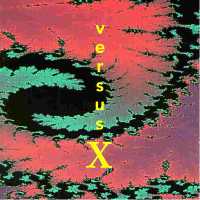 Let's go straight to the first album. Please tell us more about Versus X from 1994

That was our first piece of cake. Our keyboarder Ekkehard Nahm just joined the band and half of the songs were originally solo tunes from Arne Schaefer, "Apogee tracks" so to say. The longer songs were the first collaborations between Ekki and Arne, who are the main composers of Versus X. At that time we did not have a bass player, so Arne took over bass and guitar on the recordings. Live we played either with bass or with guitar in that days. This album has just been re-released on Musea Records in a remixed and remastered version.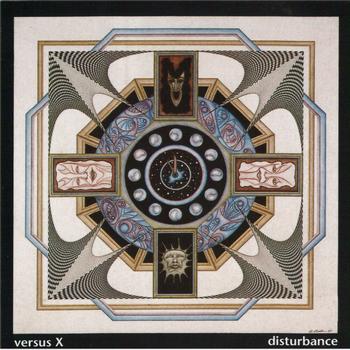 Please tell us more about your second album Disturbance from 1996

That was our main breakthrough in terms of our characteristic musical style. Everything came together what could be called the typical Versus X style. Three long songs with many breaks, time changes and dynamic variations. Bassplayer Stephan Dilley had joined the group, providing us with a fuller sound. The first track on this album "Curtain Call" is one of our live favourites we play on almost all concerts.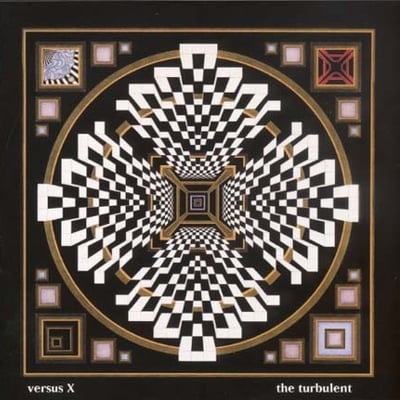 Please tell us more about your third album The Turbulent Zone from 2000

Original drummer Stefan Maywald and bassplayer Stefan Dilley had to leave the group because they got new jobs located too far away from Frankfurt, where our base is. They were replaced by Uwe Voellmar on drums and Joerg Fischer on bass. These two musicians provided a quantum leap in terms of playing accuracy of the rythm section. Uwe's drumsolos were famous among the fans. On the Turbulent Zone album we further developed the Versus X style and also introduced some acoustic guitar sections and a shorter ballad type song. The opener is another one of our favourite tracks called "Cutting the Veil", which is always very well received by the audiences of our concerts.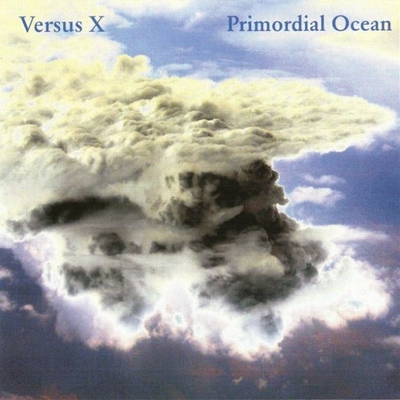 Please tell us more about your fourth album Primordial Ocean from 2008

Again we had to change the rythm section for similar reasons as before, but we got more than capable musicians for replacement. With Thomas Keller on bass, keyboards and second guitar we composed and recorded the most complex music so far and the reactions in the media were rather positive. This album still features Uwe Voellmar
on drums, who had to leave us shortly before the album was released. He was replaced by the very experienced and capable drummer Thomas Reiner who had played in various prog bands before and plays a somewhat different style. Thomas likes to support the melodies of the songs by emphasizing them on various percussion and cymbals and he also provides a consistent groove whereever possible.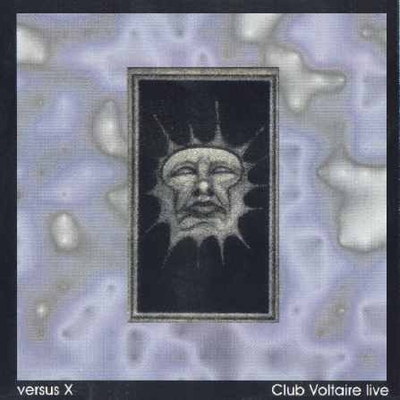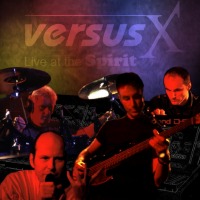 Please tell us more about your live albums Club Voltaire Live from 1998 and Live at the Spirit from 2002


This live album was released after the "Turbulent Zone" album, including excerpts from one of our concerts at the Spirit of 66 in Belgium. This is a great club and we have a strong fan base there, which you can hear on the CD. It's almost unbelievable hearing people sing along with our sometimes strange melodies and odd rythms. Live, you can also feel a raw power which is not that present on the studio CDs.

You have just released a live DVD and you are working on a new album. Please tell us more about these new projects.
The DVD is mainly for our fans, who can buy it on our concerts. It will not be distributed through Musea like our CDs. It was recorded last year in a small club in Germany and allows a closer look on our performance in a chamber music atmosphere. Some excerpts of this DVD can be watched on youtube.com. You can find the clips when
you type in "VersusXProg". The DVD is only available in the PAL format, so our american fans should check the clips on youtube.

How are your creative processes from coming up with a theme/riff/idea until you got them down onto an album ?

Usually Ekki and Arne are collecting ideas for a while until they find time to throw them together and see how they can be developed. Our songs are composed on the piano, because Ekki is capable to immediately perform and memorize different themes. He had 12 years of classical piano lessons and writes most of the complicated instrumental parts whereas Arne is providing the song type parts, draft vocals and various riffs while keeping the overall supervision. After a while a "red line" of the new song is crystallized and brought to the band in order to test
how the ideas sound with the whole band. Then several modifications are made until all members are satisfied with the result. Then Arne writes the lyrics for the song and it is rehearsed to be played live. When we have enough material for a new CD we record, mix and master the music in our "home studios". The recording and mixing
process is governed by Andreas Tofahrn, who is a full member of the band and also cares for all technical aspects and live sound.

Just to give those of us who are unknown with your music a bit of a reference point or two: How would you describe your music ?

Very complex progressive rock, composed in the classical stye and sound of 70ies bands like Genesis, Yes, etc., with strong classical influences, but also with some more modern ingredients from heavy rock, film music and avantgarde rock. However the spirit of our music is very close to the famous longtracks like "Close to the Edge" by Yes or "Thick as a Brick" by Jethro Tull. For those bands in the 70ties these longtracks were the peak of their "progressiveness". For us, such songs are the basis from where we start. We are convinced that long and complex rock songs with many stylistic influences provide a huge reservoire of musical possibilities, without the need to reproduce stereotype mainstream clichees. For long tracks we always need to create bridges and intersections between original musical ideas, which requires a lot of creativity in the process of composition but will reveal an
emotionally deep and lasting product which can stand the test of time.

What is your experience with the music industry and the new internet music scene ?

Since we are not professional musicians we cannot afford investing much in distribution and merchandising. Therefore we are lucky that we can distribute our music through Musea Records. Apart from this we use the main possibilities of the internet like websites, music downloads, youtube, etc. for promoting our music.

What are your plans for the rest of this year and next year ?

We have composed two new longtracks for the next album and played four concerts by the end of the 2010. Now we will focus on composing new material, so that the next album will not again take 8 years to be released.

Besides of Apogee, are any of your members currently involved in any other bands or projects ?

Yes, Thomas Keller and Thomas Reiner often play with other musicians and bands, but their main focus is Versus X. Thomas Keller has released an interesing Prog album with the band Flexable, which is available through our online shop. He composed most of the music on this CD.

To wrap up this interview, is there anything you want to add to this interview ?

We are always wondering why not more of current prog bands try to create music of the same quality as the classic albums of the 70ties. Maybe there is not enough reward for the effort it takes or the people don't want to dig so deep anymore while listening to extract the gold that is present in good prog compositions. We try to keep up the magical spirit of the great times of progressive rock and to throw out the mainstream as far as possible, which you don't find in those classic albums but which is usually heard in the music of new prog bands.

Thank you to Arne for this interview

Their PA profile is here and homepage's here