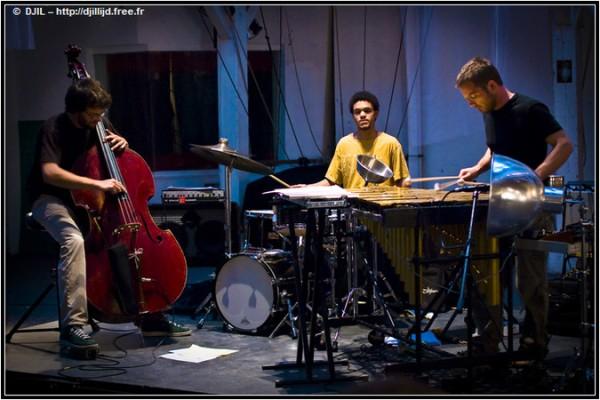 MeTaL-O-PHoNe is French experimental avant-jazz trio, founded by vibraphonist BENJAMIN FLAMENT. Besides of his work in this trio, he is member of such French bands as Radiation 10, Les Bonbons Flingueurs, White Light 4tet. Other band's members are Belgian-born bassist JOACHIM FLORENT (co-founder of JEAN LOUIS and Radiation 10) and drummer ELIE DURIS (Paul Lay Trio). Based around vibraphone sound, they play minimalist avant jazz rock, influenced by Steve Reich, free jazz and prog metal.
I got in touch with them and Benjamin Flament answered my questions.
#######################################################################
First of all; when, where and by whom was your band born ? Did any of you, past and present members, play in any other bands before joining up in your band ? Why did you choose that name ?
Benjamin (vibes) & Joachim (bass) started playing together in 2005 and worked together with a couple of drummers (first Anne Paceo then Antoine Brouze in D'jab trio). As their music was evolving they met Elie and decided to call the band metal-o-phone which sounded close to the music we play. A metallophone is a general term describing instruments made of tuned metal bars including vibraphone, glockenspiel but also gamelan.
Which bands were and is your main inspirations ?
Indeed is gamelan music from Indonesia a strong influence over our music but we've been listening a lot of different stuff from repetitive music, alternative rock to free jazz. I could say Miles Davis, Steve Reich, Pink Floyd, Fred Frith, Zu, Henry Threadgill among others.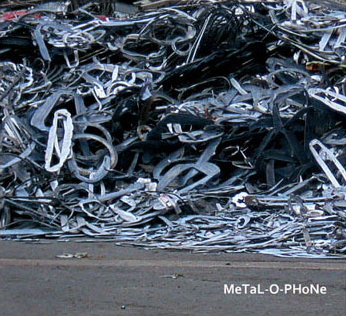 Your one and only album so far; MeTaL-O-PHoNe was released back in 2009. Please tell us more about this album.
It's been recorded in late 2009 in a theater transformed in a studio in the town of nevers, france. Mixing was realized in border studio, Bagnolet and mastering at manley mastering in paris a few months later in 2010. It was then released in september 2010. This is the second issue of coax record, a label which gathers several paris based bands playing in the alternativ-jazz-post-rock field.
For those of us unknown with your music; how would you describe you music and which bands would you compare yourself with ?
Very difficult to associate with other bands since vibraphone is a pretty rare instrument in modern music including the jazz field. Our music is a mixture of rythmic structures and rock influenced riffs with harmonic distortion and gets developed through improvisation and evolution of melodic patterns with a predilection for extatic athmospheres and noisy highlights. Could be somewhere between Reich's music for 18 musicians, magma and balinese music
What have you been up to since the release of your album and what is your latest update ? What is your plans for this year and beyond ?
We're all working with other bands. Joachim's main project is Jean Louis, Elie plays in various jazz projects as Paul Lay trio, Benjamin plays in Hasse Poulsen new quartet. However Benjamin & Joachim work on the release of the first cd of their psychedelic bigband called radiation 10. Our plans as a trio for this year is touring (we have maybe 20 upcoming gigs in europe in 2011). As concerts go on we get to play some new music and perhaps record it sometime.
To wrap up this interview, is there anything you want to add to this interview ?
Yeah, thanks for your interest in our music guys. Hope we'll get to play in northern america somehow!
Thank you to Benjamin for this interview