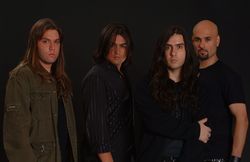 SHAMAN (or SHAAMAN - the second "a" came in 2005 and dropped in 2006) is one of the biggest names of the Prog Metal scene in Brazil today. The band was formed on the second half of 2000 by André Matos (VIRGO; ex-ANGRA and VIPER), Luís Mariutti (ex-ANGRA) and Ricardo Confessori (ex-ANGRA). At the time, they didn't have a guitar player, so Hugo Mariutti was called just to help on the writing process. They have also called Fábio Ribeiro (BLEZQI ZATSAZ) for the keyboards (dividing them with André Matos). The result was so positive and successful that he became part of the band, fitting perfectly to the sound the band was looking to achieve.
I got in touch with the band and Ricardo Confessori answered my questions.
##########################################################################
Your biography has been covered in your ProgArchives profile so let's bypass the biography details. But which bands were you influenced by ?
There are new bands, New Metal, hardcore metal, interesting stuff. i always search for new things to listen to , to influence my music. but of course we re still influenced by maiden, zeppelin, metallic ands we will always be……on the prog side, i say ELP , Rush, Marillion, Yes and Genesis…..
Shaman contains ex members of Angra. Why did you break out of Angra and what is the story here ?

That was a long ago, eleven years precisely..... I am actuallly back to my first band, Angra, I was invited to be back to Angra, after they looked after other drummers that applied to the job… i think the chemistry still works between us, and that's good.F. Andreoli, bass player from Angra, plays with in another band with Thiago, singer of Shaman, called Karma . So i have to say we are just a bunch of friends , trying to make the metal scene better,richer even for us as for other bands which are there to come…. Nowadays we realized we got to stick together , to make a stronger scene in Brasil, and worldwide… and that's apply to german bands, italian, english, whatever…. For the moment it is possible to play with Angra and Shaman at same time, it is not a problem.But i have to work on a schedule, where everybody knows everybody else's tour dates.

You also changed name to Shaaman for a while. Why that name and why did you change back to Shaman again ?
It was something to do with numerology - our 1st singer and manager believed in that, and wanted the name to be written with double "a"…but, after both departure from the band, i decided to go back to original name…..
This is an archive based interview also intended for the fans you get well after both you and I have passed away so let's go straight to your albums. Please give us your long or brief views on your albums, starting with.......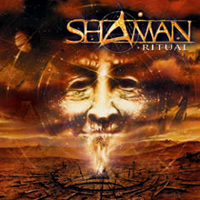 Ritual from 2002
Debut album - 1st line up We called our music as mystic metal at the time of the release, cause there were lots of atmospheres, etnic stuff… We here brought some of our ideas we had created for Angra, and use them in Shaman, so you can say it was a continuation of Angra… the albino was produced and recorded in Germany…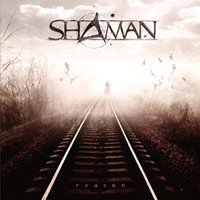 Reason from 2005
The big change that didn't last…..Here, we wanted to sound complete different, and modern…we cover one song from Sister of Mercy (which i think it was fine) , dark and gothic atmospheres, slow songs , few solos and lack of virtuosity…. produced by a german producer(Sascha Paeth) - half here in Brazil, half there.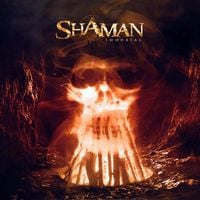 Immortal from 2007
New line up Debut: Here we tried to go back to Ritual, with the etnic atmospheres, speed songs and groovy drums and percussion…more solos , instrumental and progressive metal….also more aggressive 100% produced in Brazil by the band.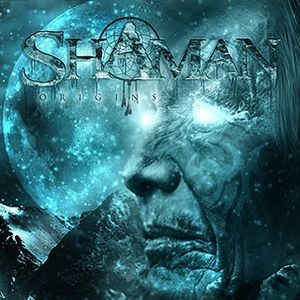 Origins from 2010
Nothing was planned in this album, We are so free now musically, we create when we feel like, and recorded so….. that makes everything different, more creative and unpredictable. Also Leo, our guitar player, comes from hard rock scene in Brazil, and that makes a big difference on the instrumental and guitar solo parts.Fernando, our bass player, is a grate song writer, and that to increased the level of song writing in the band.. here we are more virtuos and progressive than ever, very fast and really aggressive sometimes..100% produced in Brazil by the band and mastered in New York by Universal Mastering.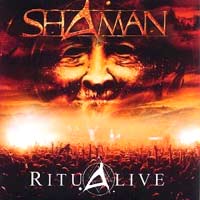 .....and your live album RituAlive from 2003 (also on DVD)
Good live on. with Helloween and Ed Guy as guests……great production, and audience….
How would you describe your musical development from Ritual to Origins and how would you describe your music ?
Well, in fact i think the band is much more solid musically nowadays, and mostly cause now we produce ourselves, we are not into the german way of making music anymore , which were mostly a way of old members seeing Shaman, and mostly because of insecurity of walking with our own legs, something i always believed in… We are so free now musically, that we flirt with trash, power, progressive, new metal, almost anything , you name it. Also the voice of Thiago aloud us to use trash sounding guitars when he is able to scream in a trash way, or melodic, he is so flexible with his voice……we create when we feel like, and recorded so….. that makes everything different, more creative and unpredictable. Also Leo, our guitar player, comes from hard rock scene in Brazil, and that makes a big difference on the instrumental and guitar solo parts.Fernando, our bass player, is a grate song writer, and that to increased the level of song writing in the band..
You have released a lot of albums and have done some gigs both as Shaman and in other bands. What is your experiences with the music industry and the gigs promotors ?
I believe cd will be used just for transport media purposes, and CD and CD stores will be only for collector's……..i have myself too many cd's to fit in my apartment, and i need to transfer the music for mp3, and put all cd's in boxes to free the space…..so that's the future.but I think that's for the good. I think that pretty soon music will only exist as a mp3 format and this is good in a certain way, cos you still will have a chance to deal your music with big companies… Phones, Computers, whatever…
Maybe we still can be paid for our music, or maybe I'm being just too optimistic about it…
Your band is big in Brazil, but perhaps not that big outside your homeland. Is there any plans to really conquer the rest of the world too ?

It is not so easy to do that , and we are honestly doing our best, musically i mean….It is the same for american bands, they keep touring in america, cause it is much easier to them, …. or an european band…..They often come to Brasil or south america to loose money on tours, but they got to do it….the same to us, that is why we go not do often to tour europe, cause you need a budget for that……and You need a good management to conquer the rest of the world, and we don't have one at the moment….by the way, we are looking for one, if you will know someone, please advise us!!!!
What is your current status and what is your plans for this year and beyond?

Our plan now is touring Brasil , south america and Europe in 2011…promoting our cd Origins wherever we can…..
Is music your main occupation in life or do the Shaman members have "normal" daytime jobs too ?
Yes it is, nobody has normal jobs, only crazy music jobs ….. in my side , Angra will play often this year…… i am not the only one to have more then one band/project, to be honest, all guys from Angra and Shaman have at least one more project, and we deal ok with that. We have our priority once at the time, and we work hard to accomplish that. Touring is always a problem for Shaman, we have a very busy life, most of us work as producers, in universities and music schools we represent music brands, so it is hard to find time and good tours to fit in. it was much easier when we were younger, and not so much engaged in so many things……….
To wrap up this interview, is there anything you want to add to this interview ?
Thank you very much, i hope to see you North Americans soon in a possible Shaman tour…see ya!
Thank you to Ricardo for this interview