Anasazi is a progressive-metal band formed in France in 2003.

In the words of the band's founder, Mathieu Madani, "the story of ANASAZI began the day I saw the last episode of the 'X-files', season 2. It was in 1995 I believe, this episode was entitled "anasazi" which meant in the old Navajo language: 'the ancient ones'."
The rest of the story is told by the band in this interview. Enjoy !
When, where and by whom was anasazi formed ?
Mathieu Madani (voice and guitars) : anasazi was formed in 2004 with Frederic Thevenet. He asked me to create two songs with him for his birthday (the famous 40 years) in May. We immediately began to work on the creation of 2 songs.
At that time, I proposed him to make a concept-song with a story which would proceed on several songs. "At the end of my new world (Part I)" was born…
The name "anasazi" was found in 1995, by watching the second season finale of the X-Files, a show that I was fond of.
What was and what is your musical philosophy ?
Mathieu Madani : i love listening music, i still buy each month a dozen of CD's and still curious to discover bands through my day job, CD/DVD seller in a small independent store.
There's no limit when you write your own music, the only limit is you and this is pretty exciting to face the blank page of a song.
Christophe Blanc-Tailleur ( bass ): working to make music as good as we can and share it with the most people we can.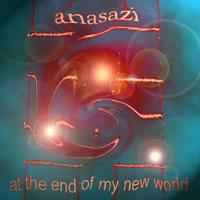 To start with; please give me your (long or brief) thoughts and lowdowns on.......
At the end of my new world (part I) from 2004
Mathieu Madani : it's the first project i've ever done by my own, we made it on a 16 tracks recorder with a small rythm box. It's a little bit naive but it was made with the heart.
"At the end of my new world (part I)" is a story divided in 8 songs for a length of 35 minutes.
At the end of May 2004, we burnt 10 CDs to be given to Frederic's friends.
 Facing much enthusiasm from our listeners, we decided to have a circulation of 100 more and feedbacks were 99% positive. People who knew our music adhered easily to our small universe and those who discovered progressive metal were carried away by emotions.
In the late 2004, we gave it for free on a web page and peer-to-peer network and the story goes on since this day...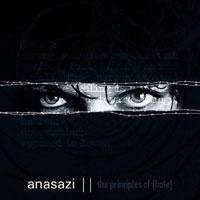 The Principles of [Hate] from 2006
Mathieu Madani : after the first EP, I was very excited by a new project. For this record, Christophe Blanc-Tailleur joined the band as a bass player and brought music through computer and all its possibilities even if the same gear was used for this record.
We wrote 9 news songs that I recorded by my own for the guitars because Fred was too busy with his work, so he left the band after the mix session.
We had our first interviews and reviews for this album that was released in February 2006.
ArioN designed the cover and booklet and Pince made us a nice website to offer our music still freely.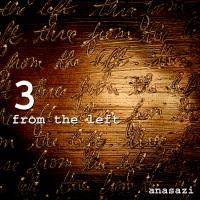 The EP 3 From The Left from 2007
Mathieu Madani : After that we began working on a new EP of 3 songs but we evolved into a more professional way to record with the latest software on computer and a better drum machine with real samples. Romain Bouqueau has joined Chris and I. Even if the songs were already written before Romain's arrival, the music has turned into a more dramatic and darkened style than ever with a heavier sound on guitar.
We released this EP in March 2007 and everyone around us has been amazed by our new sound that Chris has done by mixing the EP.
Christophe Blanc-Tailleur : "3 from the left" is our first production using a computer to record and mix it. It was an E.P. and we just tried to do the best sound we could by our own hands.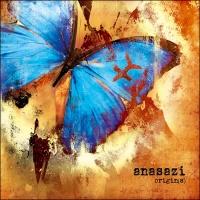 Origin(s) from 2008
Romain Bouqueau : For origin(s), the base idea was to make a collection of unrelated prog songs. Some tend to be more metal, others to be more pop or ambient. Our three previous creations had a strong unity and time had come to take material from all that we could create together and put it on a CD.From this perspective origin(s) was a success. We knew some people would say it was too diverse and not so prog in the traditional way but we don't fear criticism as we make our music primary for ourselves (and give it for free on our website). Some ideas from other styles (tribal, acoustic or electronic) have emerged at some points but we couldn't produce everything. We always try to stay independent and keep our identity.
Christophe Blanc-Tailleur : we record and mix it by our own but the mastering was made by Brett Caldas-Lima from Tower Studio.
Romain Bouqueau ( keyboards ): I think origin(s) is also the album with the most aggressive sound. This is due to musical orientation, but also to the higher level of the production and the mastering . This opened us the doors of a new metal audience and some new media. The high point was when we were published on the sampler CD of a famous French magazine (Rock Hard). This gave us many contacts.
Mathieu Madani's album "ma spirale et moi..." from 2005
Mathieu Madani : this is a record I've made by my own in french, a pop music that I needed to do, because it's a music that I like too. It's not as far as I can write for anasazi, but it was just a one shot in french.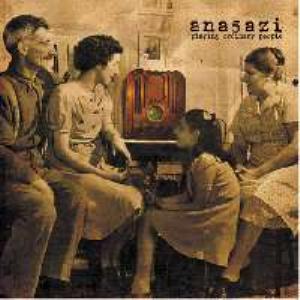 Can you tell us about you fourthcoming album "playing ordinary people" due to release around march 2011 ?
Romain Bouqueau : Our next production is created in a very different way. This is also a set of songs but it's more homogeneous and the songs are more popular (which gave the name of the album with its acronym P.O.P.). There was a real direction. The album was based on some ideas from Mathieu for a solo project... some of them really fitted to a new anasazi album. Finally we composed many other songs and only 12 will be released on the album.
Christophe Blanc-Tailleur : Some others will be finished and released for Christmas 2011 as a gift. That's interesting to see some themes being present in different songs as a reminder. From this point of view, the epic song What If (16 minutes) is a great sum up of the album and of anasazi's music.
Romain Bouqueau : I'm really proud of this new album and we hope people will give it a warm welcome. Once more there was no artistic compromise for this, that's what we felt when we composed. We should thank all the people that make these records possible, beginning by Gregory Migeon which made an incredible work on both "origin(s)" and "playing ordinary people".
Christophe Blanc-Tailleur : The sound will also be even better while we're still auto-produced and Bret Caldas-Lima will also make the mastering.
How would you describe your music and who would you describe yourself with ?
Mathieu Madani : it's a combination between metal, prog and pop music.
I guess anasazi's music is a melting pot of what we love : Pain of Salvation, The Beatles, Dream theater, Porcupine Tree, Spock's Beard, Marillion, Tool, Megadeth, Metallica, Anthrax, Pink Floyd, Anathema, etc...
On every album, we are trying to progress and not to copy what we've done by taking some risk in our production and arrangements and composition
What is the lyrical topics on your albums ?
Mathieu Madani : for an example with "origin(s)", "mr twilight" is about being stuck into a video game and having difficulty to make the difference between the game and reality.
"lucid dream" is about being stuck into a dream, with the voice of the subconscious.
"suffocate" and "the shore" talk about love and being separated from the one you loves. "far, beyond love" is the point of view from a mother who lost his son in a car accident and face the look of her murderer.
Romain Bouqueau : "the last man" is a fiction about the end of the world. "justify" is about ecology. It was not a usual theme for us, as anasazi's lyrics use to talk about love, emotions, telling stories... and here is a more political field. We just wanted to say how important it is to live in harmony with our environment...
Mathieu Madani : "hive mind" is more about sociology, conformity, saying that revolutions now take place within the system. "nobody's listening" confronts ourselves to death. "sleep" talks about the fear of closing your eyes at night. For the new album "playing ordinary people", each lyrics are very autobiographic and personal except on one song.
All your albums are self-released and available as free downloads and streaming. Please tell us why you went down that route and the pro/cons of doing everything yourself ?
Christophe Blanc-Tailleur : Our goal was to be known by the most people we can and being free is the best way for that. Trying to be profitable with your first production is an error and a "barrier" to your carrier.
Mathieu Madani : we all have a day job, so I presume that it's a chance for us because we can act as we want with no concern of rentability. By doing everything by ourselves, of course, we are limited for the recording and production but this is not what is going to stop us.
You have just released a new album called "Playing Ordinary People". Please tell us more about this album and why it has been offered for free.
Romain Bouqueau : at the time this interview is released, "Playing Ordinary People" should indeed be available! As Mathieu said, anasazi is a kind of mix between prog, metal and pop music. With origin(s) we had revealed a more metal side... With hindsight it was indeed a kind of homage to our origins with some strongly influenced songs. "Playing Ordinary People" is very different from this perspective because it focuses more on the pop side of anasazi and is more independent. The very first reviews we get show that anasazi has really stepped up in terms of composition and sound... People are touched by our emotions, and that's the greatest reward.
Become a great band is a long way to pass through
Ten years ago, bands was playing live to support their albums. Now it is the opposite. Bands are releasing free or regular albums to promote their gigs. Is it fair to say that your albums are used as promotional material to get live gigs and what do you think of the viability of today's music scene ?
Christophe Blanc-Tailleur : You're right, but playing gigs are not more easy than before ! It's hard to find good gigs and not waste of times.
Romain Bouqueau : the musical landscape is moving fast, with more competition. Touring is another side of the job, but we don't earn money from our music today. At anasazi we don't make plans about touring in a professional way, but we obviously think about playing in front of an audience.
Is there any gigs and/or festivals you remember with great fondness ?
Do you have any regrets in your career ?
Mathieu Madani : not yet, creating music is very fun and the only limit is us. We can share it with some people, that's all we want to do.
Romain Bouqueau : it's hard to have regret with anasazi when you get so much reward from the people!
How do you see the future of anasazi as a band ?
Mathieu Madani : I guess as soon as we will finish the recording of the EP, that is made of unreleased songs from "playing ordinary people", and while Christophe will be mixing it, I will sit in front of a blank page with my guitar and begin to imagine the great lines of a next album. There are so many ways I want to explore. Beside this, we will rehearse with a full band and turn a new page in our career, anasazi on stage.
Christophe Blanc-Tailleur : this will be a challenge for us to give anasazi a real face on stage. We're so excited by rehearsing with a full band and we had welcomed on board a new drummer Jean Rosset and a second guitarist Sebastien Garcia.
Mathieu Madani : the chance for us is that Jean a very good singer too.
What is your five all-time favourite albums ?
Mathieu Madani : it's a damn difficult thing to do. With no particular order, Dream Theater "Awake", Megadeth "Rust in piece", The Beatles "Abbey road", Tool "Lateralus" and "Ark – Burn the sun". That's killing me to let Pain of Salvation, Spock's Beard, Pink Floyd, Pantera, U2, Queensrÿche, Oceansize, Porcupine Tree, Metallica, Slayer, Prostest the hero, etc... on the edge of my five all-time favorite albums, but this is the game.
Romain Bouqueau : There would be a Queen album -- A Night At The Opera being definitely a must-have. Dream Theater also made a bunch of good things, my favorite being Awake: the album which gives me darkness and strength when I need it... Porcupine Tree is a band which introduced me a new universe, a link between pop and prog, it is really a great inspiration for all of us! In Absentia is very spontaneous, I love it! I wouldn't be fair if I didn't quote any album from Oceansize "Frames" as these guys just come from another planet ! I know there should be only one slot remaining but I need to give some more space to traditional prog with some modern stuff like Transatlantic "Bridge Across Forever" and rock'n roll with The Who "Who's Next"... just thinking of "Baba O'Reilly" is giving me the shivers!
Christophe Blanc-Tailleur : for me Steve Vai "Passion & Warfare", Tool "10.000 Days", Rammstein "Mutter", A Perfect Circle "Thirteen Steps and OSI "Blood".
Anything you want to add to this interview ?
Thank you to the band for this interview