When, where and by whom was your band born ? Did any of you, past and present members, play in any other bands before joining up in your band ? Why did you choose that name ?
The band was born at the end of the '90s from an idea of mine, that came throughout the years from my love for '70s prog rock, the msuic that I grew up with. Even if we were more or less kids at the time, me and the other two founder members of Mangala Vallis used to have a band back then, and we did compose material though we never recorded any album. In 1989 I became the drummer of one of the biggest mainstream rockstars in Italy, Luciano Ligabue, an artist that sold millions of copies and played hundreds of live shows; then I played for six years in the most important alternative band in Italy, C.S.I. (not active anymore). These experiences led me to acquire a deep knowledge of the sonic universe and its inner mechanic. So I was a fulfilled professional player, but the only piece missing in my personal mosaic was to make that adolescent dream come true, since I never lst my taste for prog rock; so in 1998 I contacted Mirco Consolini and Enzo Cattini, respectively guitarist and keboardist of my old band, and I asked them if they wanted as much as I did to get back to what we left in the '70s. The name Mangala Vallis, that stroke me as soon as I read it, comes from the novel Sphera by Michael Crichton and is one of the biggest canyons on Mars' surface.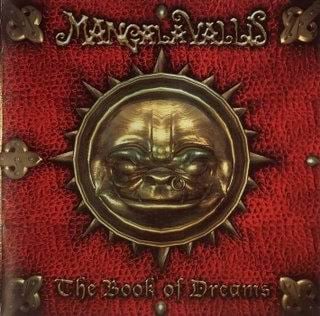 Over to your two albums. Your debut album The Book of Dreams was released in 2002. Please tell us more about this album.
"The book of dreams" had a very long gestation and a lot of material was dismissed before we picked what became the album. It sums up all that us three are in out intimate musical feelings, the music we love. A few tracks were written in the '70s and was rearranged. Globally we meant to keep faithful to a concept of writing and sounding as in the '70s, to stay close to our roots. Also choosing the instruments was very severe, we only have Hammond, Synth Minimoog e Mellotron on that album, the real ones! No sampled sound on our debut album.
The story told in the concept come from a myth of our era: Jules Verne, and tells the story of man as in one of his novels' fantastic travellings.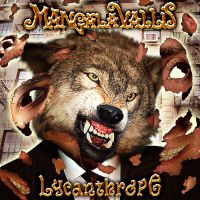 Your second album Lycanthrope was released in 2005. Please tell us more about this album.
With "Lycanthrope" mant things had changed in the band, Bernardo Lanzetti (ex P.F.M. E Acqua fragile) was no more a guest but he had become a real member of the band, and this was a very important development for us all. It is a more complex album, less direct than the first, and it tells (Bernardo wrote all the lyrics in English) of a man who decides he's done with the habits of a programmed life, a "politically perfect" life, and that he wants to get back to a more primordial and instinctive existence. Thus his transformation in wolf is not as in horror movies, but on the contrary, it is a peaceful and even saving moment of his life, a comeback to is original essence, the primordial man who listens to his heart.From this record on, Riccardo Sgavetti on the bass and Nicola Milazzo on the guitars become fixed members of Mangala Vallis.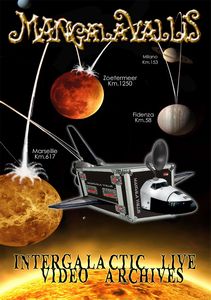 A DVD called Intergalactic Video Archives was released in 2009. Please tell us more about this DVD.
"Intergalactic..." is the most beautiful display of what we are like live. It is a document, that we kept rough on purpose, in a good sense. We did not do any audio post production, just a little balancing of the volumes since the filming came from different recordings. It is a perfect picture of our live universe.

You have chosen to sing in English instead of in your mothertongue. Why English vocals instead of Italian vocals ?
Because our way of writing music fits in better with English. We wrote one track in Italian, and I love it: it is part of the rock opera Canossa, a project that we made together wiht other prog Italian bands, but we never ended up writing a track with similar characteristics, maybe it will be so in the future, but not in the next album for sure.
Your music has been described as a mix of Genesis and Spock's Beard. But how would you describe you music and which bands would you compare yourself with ?
I think that we could not get any better definition, since those are our actual influences. Genesis are what we have in common, thinking of the past, and Spock's Beard are surely a band that we love among new prog. Personally I have a great admiration for Neal Morse, but also for Steven Wilson: they both are geniuses. Surely you can tell listening to our two albums. But many new things happened musically speaking in the meantime, so our sound evolved.
What have you been up to since 2005 and what is your latest update ? What is your plans for this year and beyond ?
As I said before, in the past few years many things happened and the band had to find a new balance. Two years ago I founded a label with Cristiano Roversi of Moongarden, the label's name is Distilleria Music Factory (
www.distilleriamusicfactory.it
) and we made a number of productions. In the meantime Enzo, our keyboardist, left the band because he had too many personal engagements and Cristiano stepped in as his substitute. Destiny then called me as drummer of Moongarden, summoned by Cristiano, to tour on their new album "A vulgar display of prog".
All these things brought Mangala to dilute enormously the making of our third album. Nowadays also Nicola and Cristiano are involved in the composition and for Nicola it's a first. So surely the new album will be different. It will be a concept again, though we originally didn't plan on this. The music are all written already, and I have an idea about its concept that I like a lot. We wish to finish it for the end of 2011.
To wrap up this interview, is there anything you want to add to this interview ?
In the meantime we'll release an album that has a lot to do with us, though with a separate identity: a project called "CCLR": Cavalli Cocchi, Lanzetti, Roversi, an album that saw the involvement of many great guitarists such as Steve Hackett, Aldo Tagliapietra(Le Orme) and Tony Sidney (Perigeo).
To be released very soon!
Thank you to Gigi Cavalli Cocchi for this interview