SCARLET UTOPIA is a spin-off group. Some members of Cologne psych rockers SILVERHEAT (Scarlet Rose on vocals and Jean d'Auberlaque on guitar, fx, synth) decided to make one step further - right into space. So the band was born as an amalgamation of musicians who prefer to spice up their indie rock roots with some sophisticated psychedelia. Besides the two they have Stephen James Tefkey on bass, an old friend of Scarlet and Jean ever since the eighties heyday. Stephen was member of LEMON INCEST, indie psych rockers which had also Jean on guitar in the old days. Drummer Peter 'the Saint' Sherman (THE 4 HORSEMEN) completes the group.
I got in touch with the band and Jean d'Auberlaque answered my questions.
Your biography has been covered in your ProgArchives profile so let's bypass the biography details. But which bands were you influenced by and why did you choose that name ?
During our first Sessions "Utopia" appeared as a matching moniker. The primordial greek word stands for something like "indefinite place". That roughly describes what we wanted to do: merge different influences we have assembled over the years and create a unique and distinct sound. Finally we added some colour, and SCARLET UTOPIA was born.
Concerning our influences you only have to read our Songtitles: Spiral Galaxy or Black Sun for example. It is safe to say that Hawkwind are very important for us. We also love dark wave Bands from the late seventies and early eighties, but also Can or Sabbath. Quite a bunch.
For those of us unknown with your music; how would you describe you music and which bands would you compare yourself with ?
How to describe music? Depends on what your own faves are – because people always compare new stuff to the soundtrack of their lives. Some german magazine christened it "psychedelic doom", UK's Classic Rock Magazine called it "swirling symphonic Space Rock". Mhm. What can i say? We are apologists of the Groove. There are several of spaces in the web where you can listen to our music for free. So – Dear Reader – give it a try!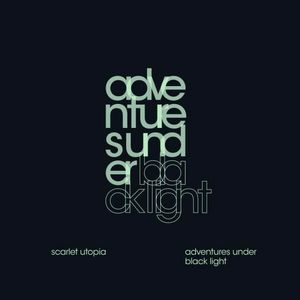 Your one and only album so far; Adventures Under Blacklight was released in 2009. Please tell us more about this album.
Adventures under Black Light was recorded in 2009. We entered Skyline/Stattwerk Studios in Düsseldorf with our long-time mate Mathias Black, who is a member of Karl Bartos' Band. Mathias supervised the recordings as our engineer and producer. Me (Jean d'A) and Mathias did the mix – or better said: i drank coffee while Mathias did the Job.
We worked with two drummers on the set, because the Saint - our regular percussionist - unfortunately broke his ankle when we only had to record two more tunes. We played all live, including lead vocals. After some takes we usually decided which ones best. Vocals , some rhythm guitar and samples got overdubbed later.
Omega Space Walk was a first take, Black Sun a second. The voiceovers during Omega were done by our drummer , the sampling was my responsibility.
After the Sessions our dear friend Patrick Keuthen designed the cover artwork. Around August 2009 the private Pressing of the record was finished.
In September Classic Rock Magazine contacted us to participate on a Sampler – the monthly covermount CD, in this case called "Space Rock – 15 interstellar Tracks" The tune Supernovae, which wasn't used for our record was perfect for that disc. They loved it – and finally we got some recognition in the United Kingdom.
What have you been up to since 2009 ?
Eroc, the well known german drummer of Grobschnitt fame, who is also a mastering expert, listened to our record and loved it. He was impressed by the music, the vocals and the recording, but also stated, that the mastering of the album needed some improvement.
He suggested to contact Hans Bier from Nasoni Records. So Eroc finally opened the door to a cool record deal for us, because we love what Nasoni stands for. Finally Hans and Carola retained Eroc to master the Album – and us to design a new cover, because they hated the original concept, haha! In April 2010 a reworked Adventures under black Light was released via Nasoni Records – on CD and limited Edition black and coloured Vinyl – not in scarlet, btw;) We are still glad and proud to release all our stuff via Nasoni in the future.
The Rest of 2010 saw us promoting our official release. If you own the private pressing – this is now out of print and obviously very rare – as is our 7inch Supernovae. Only 300 pieces have left the pressing Plant.
What is your plans for this year and beyond ?
We were and still are quite busy in 2011. In January we shot a video for the tune Supernovae on several Locations in and around Cologne, our second homebase. The original tune was edited down to 4 minutes running time and we also did a different mix. The treatment is some kind of a Science-Fiction-Road-Movie concepted by Chinzilla Films. We all love it and you can watch it in HD via youtube on the Scarlet Utopia channel.
A very special Supernovae 7inch vinyl plus DVD will soon appear as a limited package celebrating Nasoni Record's 15th Birthday – a real collectors item.
At this very moment we are rehearsing the tunes for AubL's follow up Album, entitled "Black Halo Pyramid" Dark stuff with compelling grooves. Also some short tracks. Babylon and Gold are finished, while we are recently working on a track called Going down the Line. Perhaps we can release a Split-Single with some other Nasoni Act during the summer to shorten the time waiting for "Black Halo Pyramid" It's going to be a real Killer!
We hope to finish the new one in October 2011 to get it into the Shops latest in December. We are also planning to tour the UK soon after,but there is nothing safe.
To wrap up this interview, is there anything you want to add to this interview ?
Scarlet Rose, Steven. The Saint and me (Jean d'A) like to say "thank you" to all those magazines, radio stations, webzines and internet-radios who featured our Band. Thanks for that - we won't forget. Extra special thanks to the "Sleazegrinder" Ken McIntyre, still working for Metal Hammer and CR Magazine (Dude! You helped us do get a Deal!) and also to Bobby Marquis from CKCU-FM, Canada for believing into Scarlet Utopia.
Thank you to Jean for this interview