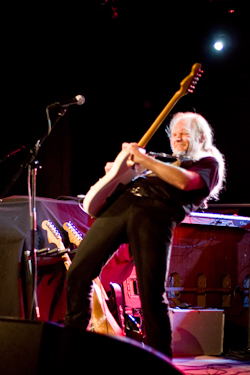 Time Traveller is the brainchild of Juhani Nisula, a Finnish multi-instrumentalist. In his first 2008 release (the first installment in a trilogy of albums) on the Finnish label, Presence Records, he created a fine amalgam of styles, dominated by the heavy guitar sound. Juhani plays almost everything on the album, with Zeko Takamäki on the drums & percussion, Timo Ristilä, who plays Moog solo on 'Part One: The Pioneers' and violinist Sanna Ågren, who plays the violin parts on 'Part Seven: The Release'.

This is a heavy-prog album infused with elements found on 70's symphonic prog albums particualrly those featuring heavy keyboards work.

I got in touch with Juhani and he patiently answered my questions.
################################################################################
Why, when and where did you start up Time Traveller ? Did you play in any other bands before starting up Time Traveller? Why did you choose that name and what is the Time Traveller ethos/concept?

Well… I've played the guitar (which is my main instrument) in various groups since 1978; none of them were very famous - many kinds of music, from pop to jazz and (almost) everything in between. Time Traveller actually has its roots in late 80's; that is when I started to record my own stuff with a 4-track portastudio as a hobby. At the time I used to play in a group called Elvis Breznev ( :oD ) …I made demos of the new songs for the band with the 4-tracker and little by little began to do a bit more ambitious and experimental stuff. Then I bought a 1/2" open-reel 8-tracker, which gave me more possibilities to do even "more complex" songs (also back then I recorded all the instruments by myself). Actually, some of the parts heard in "Chapters I & II" album have their (_very, VERY_) early "demo" form in these old recordings from the early 90´s.
It was -93 or -94, when a friend of mine heard these "more complex" recordings, and proposed me to "do a solo album" :oD ...I must admit that something like that was within my dreams also . Luckily though, the time wasn't right yet ;o) The idea of making a solo album was forgotten for years and years - there were the usual stuff… ya know - work, kids, gigging with
Black Passat
(in which I still play) etc. etc. etc. eventually I had more time again for old hobbies …It was the Launch for Chapters I & II album.
The name
Time Traveller
actually came from my sister. She thought that my stuff sounded like that, and I surely admit that - Time Traveller ethos/concept is based in travelling in time and space - but it is also a Time Trip to my own musical past - you can hear influences from many, MANY bands and musical genres in my music - I have grown with every kind of music all around me. Lucky me. :o)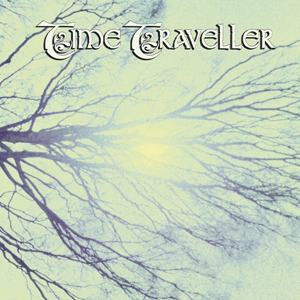 Over to your two albums. Your debut album Chapters I & II was released in 2008. Please tell us more about this album.

As I said earlier, I've recorded my music as a hobby for a long time, but in 2005 I started to think about the making of a solo album more seriously…. and not just one BUT a trilogy of albums, making one concept. Few years before I had swapped my trusty old 8-tracker to (even older) 16-tracker - I only use analog recorders and instruments to record my music - so there would be also enough tracks for me to accomplish my plan.
I asked a good friend, and a band mate of mine, Esko "Zeko" Takamäki if he could play the drums on the planned "prog- whack" and he agreed with a grin. ;o) So I made some rough demos for Zeko (which he, without a doubt, NEVER listened to). Zeko is a really awesome drummer and musician, an essential part of Time Traveller. A drummer with his own style and the (right) attitude.
And so we began to record the basic tracks in January 2006. I played the bass or the guitar (and with the other hand available, the keyboards :oD ) and Zeko played the drums. The basic tracks were recorded in our stinky rehearsal room in Seinäjoki - I used 4 tracks for the drums; bass drum had its own track as did the snare - all the other (toms, cymbals, ambiences) were recorded on two tracks as stereo… so I had 12 tracks left for the other instruments. When all the basic tracks were recorded, I began to work with the rest - little by little I added bass, Moogs, Arps, Mellotron, Hammond organ, guitars etc. etc. - the compositions and parts developed and found their forms by adding instruments… (in the beginning I didn't know even myself how they would be or sound like, when they'd be ready - I always do my stuff like that). On some parts there were guest appearances from two great musicians, Timo Ristilä, who played a furious Moog solo on "The Pioneers" and Sanna Ågren, who played the violin theme and MAGNIFICENT solo on "The Release".
It took two years to make the album ready.
In the end of 2007 I (or, to be more accurate, the friend that had proposed me to do a solo album in early 90´s) suddenly came across with
Presence Records
label owner Matti Kervinen - he heard the album master, and gave it BIG thumbs, so now I was in Presence's catalogue. The cd and downloadable version are released by them.
Jäänsärkijä Records
label owner Nipa had earlier heard the album, and showed green light to a vinyl release of it… and the rest is history.
Chapters I & II were also released and marketed by
Nordic Notes
in Germany, Switzerland, Austria, France, Holland and Belgium.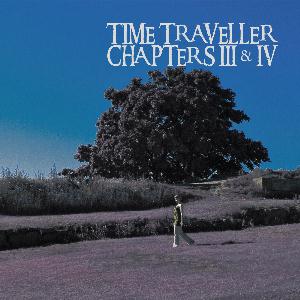 Your second and most recent album Chapters III & IV was released earlier this year. Please tell us more about this album.

I started making it in March 2009 - I got an awesome and fantastic opportunity to leave my daily job for 8 months, by the support from Osthrobothnian art committee and Finnish Cultural Fund… so now I had THE TIME to fully concentrate on my music! I hadn't got any new material that would suit - I had an empty canvas - luckily.
I had much feedback about my former album, and many who had heard it, asked why didn't I play more guitar on it, or at least, why had I "buried" guitars in the mix, for I am a guitarist…. "because that's how the parts should sound like" I answered… With the new album, I "wrote" (actually I can't read or write music, I only hear, feel and play it) the music mainly with the guitar, so it would naturally be the leading instrument on the new album - and when I now listen to the "Chapters III & IV", it definitely is like that.
It is different than "Chapters I & II" but still identifiable Time Traveller album - it is a logical follow-up to the first album.
Once again I had an honour to have brilliant musicians to visit as a guest on the album - Timo Ristilä appeared on "Inner Peace" and "Inner Peace (Reprise)" with wonderful, "Niemenisque" synth solos and also on "Code 6360025" with great synth solos and the clavinet. On "Inner Peace" and "Inner Peace (Reprise)" the marvellous tenor sax themes & solo and flute themes & solo are played by Petteri Hietamäki. Petri Kivimäki, the crazy guy, played the awesome hair rising tenor sax solos on "Code 6360025".


These two albums is 2/3 of a trilogy of albums. What can we expect from the final installment or have you not had time to think about the final chapter yet?
Well….. as a matter of fact - just right now, I haven't got a clue… :oD
But okey, to be honest, I have a thought about using more acoustic instruments… the ones I never played before - you know, when you haven't got a clue, HOW they should be played "right", there might be some interesting sounds and stuff with playing them "wrong" ….
or… I don't know, maybe not - it remains to be seen…

How would you describe you music and which bands would you compare yourself with?

Hmm… it's quite hard to describe…. it is kinda colourful trip thru a musical timeline from 60´s to nowadays.. you can hear so many influences in my music… the bands and artists that has made an impression on me… but it still is the TIME TRAVELLER music.

How is the scene in Finland now and is it easy to get gigs for you there now?


The "prog" scene is quite nice – we have MANY great prog bands and artists, for example Jeavestone, Kataya, Wiima, Von Herzen Bros (which is more "prog related" group, IMHO), Alamaailman Vasarat to name a few; of course there are also various rock and pop groups, that have had success globally.
Most places, where you can play, are small or even smallER clubs, especially for the "marginal" music, but I think that this is a fact nowadays everywhere. If you have a cover band (like I have the Black Passat) it is easier to get gigs, if you haven't got "the name", if you'll get the idea…

What is your latest update? What are your plans for this year and beyond?
Well, I'll try and gather the Time Traveller live band together again for there are some gigs planned in autumn… And also I'm brainstorming the forthcoming Time Traveller Chapters V & VI album, and began to record the new stuff ASAP.

To wrap up this interview, is there anything you want to add to this interview ?
I'd like to thank you and all the readers for your interest in Time Traveller, it's a great honour to be interviewed to ProgArchives. Please check out the new album (and if you haven't already, also the former one ;o) ) Keep on proggin'!
Thank to Juhani for this interview