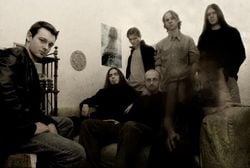 VOTUM is a progressive-metal band formed in Warszawa, Poland, in 2002.

Their first works were more in the traditional heavy metal style. They released a demo called "Bow to the Sound" in 2002.
In 2006 the band released a single, "Jestern", attached to the Heavy Metal Pages magazine. Later that year, the band experimented several line-up changes, which also brought about a change in style, hich now aimed more towards the progressive, the atmospheric and the experimental.
I got in touch with the band and Zbigniew Szatkowski answered my questions.
###################################################################################
When, where and by whom was your band born?
To me it's ancient history. The band was formed in 2003 by Adam Kaczmarek (guitar) and Al Salamonik (guitar), firstly as a heavy metal group. They had met a couple of year before and practiced together in an abandoned bunker in an old military base. It's quite an inspiring place to have a rehearsal room in, mind you, especially when you play heavy metal. Votum fiercely promoted its music and in 2006 a single entitle "Jestem" was released along with the Heavy Metal Pages magazine. But heavy metal was good to a certain point. There were always talks about performing something different with more atmosphere and a certain dark vibe to it. So as a result in September 2006 they decided to go for it and change the genre. The band's line-up slightly altered (I joined in with keyboards and the previous drummer announced that he was planning to leave Votum and in consequence was replaced by Adam Łukaszek). We recorded and released "Time must have a stop" which officially begins the progressive slash experimental era of Votum.
Why did you choose that name?
Unfortunately I wasn't there when the process of picking up the name was in progress. As far as I'm concerned the versions differ. I wouldn't put too much trust in the stories about the origins of the name or the reasons for that choice, hehe…
Did any of you, past and present members, play in any other bands before joining up in your band ?
We all have had some project on the side some of them are still running. It allows us to experience new things, expand the mindframe and perform music that does not exactly fit the vision of Votum as a whole. Adam Kaczmarek (guitar) plays rock/metal versions of various sea-chants, I used to play in a symphonic black metal band, Maciej Kosiński (vocal) used to sing in a couple of rock bands before Votum, Bartek Turkowski (bass) has a classic electronica side-project, Adam Łukaszek is hosting some serious amounts of drumming jams in Warsaw and Al Salamonik (guitar) locks himself up in his bat-cave of a home and composes sweet jazzy tunes.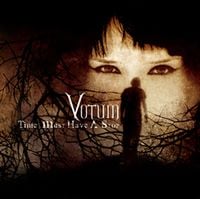 Over to your two albums. Your debut album Time Must Have a Stop was released in 2008. Please tell us more about this album.
"Time must have a stop" is our first concept story. It's a story about obsession, cruel intentions and untamed violence. It's also a tale about stalking, desperate attempts to escape the inevitable and the consequences of a terrible tragedy our main female character has to leave with. The narration centers on two main parts of the plot: the sinister, grim and ghastly hunt of a vicious man and the history of lost innocence and the haunting nightmares of his victim.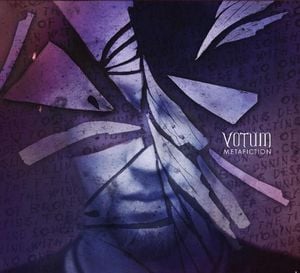 Your second and most recent album Metafiction was released in 2009. Please tell us more about this album.
We wanted to push the cinematic feel of the previous album to the next level. "Metafiction" is too, a concept album and tells a story about a writer who is so immersed in his work that loses his connection to reality. The events that follow lead him to understand that he is responsible for the death of his wife and make him search for redemption and retribution in, as they say, all the wrong places. It's a story about having nearly god-like power and how it feels to have it taken away. The music is darker, more delicate and subtle than on "Time must have a stop". We were trying to contain as much as possible of the predecessor's aggressiveness and balance it out with cold, frosty mood of the down-beat tracks we prepared for the story. I think the outcome is more than satisfactory.
What have you been up to since 2009 ?
The past two years were pretty grand. As we were trying to constantly and gradually expanding our fan base we played hundreds of gigs and were looking for every possible way to pass our music on to the bigger audience. We had some amazing concerts with some of the greatest prog/rock/metal bands there are. We shared the stage with such high rollers as Anathema, Opeth, Pain of Salvation, Riverside or Korn which on itself counts as a quite a good year. There was no stepping back and I hope the third release will push us even higher.
How would you describe you music and which bands would you compare yourself with ?
Our music is dark and vibrant. It still carries some reminiscence of our metal roots, but now we deal in magic, atmosphere and melody. It's rather difficult to choose bands we could compare ourselves with because we come from such different musical backgrounds and we have such different musical vision that we simply would not agree; hehe. There are certainly a lot of great acts we value and respect and by some extend they influence what we do. It happens that we had the pleasure to play with a couple of them this year. I'd love to repeat a great deal of the gigs of the previous year plus play for example with Paradise Lost, Pendulum, Porcupine Tree… oh the list goes on forever - next year perhaps; hehe.
How is the scene in Poland now and is it easy to get gigs for you there and abroad now?
It used to be terrible now it's getting better. The more concerts you play the less problematic things tend to be (or the perception of those things). We still have a long way before us – to the point where everything goes smoothly and you don't have to argue with lots of people to get things done your way. Don't get me wrong, I mean nothing fancy. Sometimes it's hard to make people stick to their part of the agreement even if it's already on paper.
What is your latest update ? What is your plans for this year and beyond ?
There are plenty of things going on, but the most important piece of information is that we are finishing the material for our third official release. The studio is booked and we are nearly there. We do not know the official premiere dates – we don't want to hurry. Most probably the album will be out in the beginning of 2012 and if the Maya were right we'll have a pretty decent soundtrack to the Apocalypse.
To wrap up this interview, is there anything you want to add to this interview ?
That's always one of the most difficult questions I get. I'll go along the line of "be sure to drop by and see us live – you won't be disappointed" and I can certainly promise you that! If you haven't checked out "Metafiction" and "Time must have a stop" have a listen before the third release hits the shelves. Thanks a lot! And see you soon!
Thank you to Zbigniew for this interview