AGAH BAHARI is an Iranian/Canadian composer, producer, sound designer and guitar player born in Tehran 1983. He began studying music at the age of seven, starting with the recorder and xylophone, and moving on to classic guitar, keyboard and electric guitar.
I got in touch with him for the rest of his story...... so far. I am sure we will hear much more from and about him in the future.
####################################################################################
Your biography has been covered in your ProgArchives profile so let's bypass the biography details. But when and why did you take up music and which bands/artists were you influenced by ?
I owe it to my mom. When I was growing up, one of my favorite things to do was to go through and listen to her collection of tapes and vinyl records. It was during that period of time that I heard some of my favorite bands and artists for the first time, including Pink Floyd, Led Zeppelin, The Police, Andrew Lloyd Weber, Stevie Wonder, Franz Schubert, Roxette, Billy Idol, among many others. It was also my mom who encouraged me to studying music. when I was 7, I began playing the recorder flute and xylophone for three years. When I was 10, I picked nylon string guitar as my primary instrument but gave it up after two sessions and switched to keyboards, which I played for four years. I heard Metallica for the first time when I was about 12 and that pretty much changed everything for me. I picked up electric guitar at the age of 14 and been playing it for about 14 years now. During the last 14 years I've been influenced by many bands and artists, including Cacophony, Dream Theater, Planet X, Jeff Beck, Peter Gabriel, Dimitri Shostakovich, Tool, Nils Petter Molvaer, King Crimson, Meshuggah, Igor Stravinsky, Boards of Canada, Return to Forever, Chick Corea Elektric Band, Chroma Key, Marcus Miller, Derek Trucks Band, Massive Attack, Allan Holdsworth, Shawn Lane, Frank Sinatra, Miles Davis, Joe Bonamassa, Jordan Rudess, OTV, OSI, Rage Against the Machine, Vangelis, and many others.
You are an Iranian, but you had to relocate to Canada after being banned by the Iranian authorities. Please tell us more about why you were banned, what happened when you were banned and your re-location to Canada. What is your views on your new surroundings in Canada ?
I've been banned by the Ministry of Culture, which is where you suppose to get permission to do anything culture related including releasing an album, organizing a concert, making a movie, publishing a book, etc., and to this day I haven't been told about the exact reason for that. In october 2006, I went to the Ministry of Culture building in Tehran to get the copies of the permissions that I've got to perform with two of the bands that I've been working with, Exir (2002) and DNA (2003). I was told that I've been banned to perform and/or record since 2003 and they are not responsible to give me anything. The only thing that I could think of was an animated illustration of an sperm which we showed at DNA shows as a part of our background video projection. We faced some difficulties at the night of DNA's first show because of that and couldn't get any other permissions after that. I told them that the banishment doesn't make any sense since I performed multiple underground shows after DNA, and left the building. 2 days after that, I received a letter saying that the Ministry of Culture's security department want to have a chat with me. After receiving that letter and facing some difficulties later that day, I thought leaving Iran would be the best thing to do. I left Iran and claimed refugee in Canada in November 2006.
Beside USA, Canada is my favorite country. Vancouver, in specific, is one of my favorite cities in the world. I'm very grateful for the opportunity that I've got to live in this beautiful country and doing my best to be a productive part of this society. Having said that, I've never been interested in collective identity, geopolitical divisions and always thought of myself as a world citizen.
Back when you were still living in Iran, which bands were you involved with and/or cooperated with and which bands and artists have you worked with in Canada and outside Iran ?
Iran: Exir (2002-Tehran), DNA (2003-Tehran), Meera (2004,2005 - Tehran), Pouya Mahmoodi and Mohammad Reza Asghari (2006-Tehran)
Canada: Jacqmoov (2007-Toronto), Random Robbery (2008-Toronto), Glenn Cornett (2008-Toronto), Maynard's Dick – Tool Tribute Band (2009-Toronto)
USA: Ensemble Fatwa (2011-NYC), Michael Bernier (2011-NYC), Mari Kimura (2011-NYC), Todd Reynolds (2011-NYC), Vicky Chow (2011-NYC), Taka Kigawa (2011-NYC)
Cyber World: Derek Sherinian (2006, 2007, 2008), Virgil Donati (2006, 2007, 2008), Ric Fierabracci (2007, 2008), Rufus Philpot (2006), OSV (2007)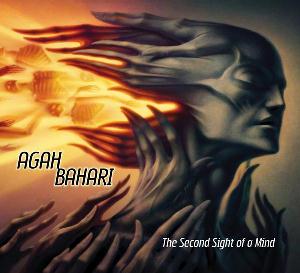 Over to your debut album Second Sight of a Mind from 2008. Please tell us more about this album.
In the summer of 2006 in Tehran, I was working on some of my original compositions and decided to contact Derek Sherinian to play on one of the songs, Revolving Universe. He liked the song and suggested to produce a complete album in that style of music with Virgil Donati and Rufus Philpot. We recorded and produced Revolving Universe when I was in Tehran. After I moved to Canada, I decided to record the rest of the album with Sherinian, Virgil and Ric Fierabracci. Produced by me and co-produed by Sherinian, I independently released The Second Sight of a Mind on Aug.2008, which led to several offers and interests, including a record deal offer from Magna Carta and a license deal offer from Unicorn Digital. I decided to work with Unicorn Digital and they re-released The Second Sight of a Mind on Mar.2009. The artwork was done by the great artist
Cam de Leon
.
You are currently working on a new album. Please tell us more about this album and what we can expect from this album.
I've been composing for this album since 2009 and I'm loving every seconds of it. Musically, I don't really think about styles and genres anymore. My only goal is to transfer what I hear in my head into an audible medium so I can share it with anyone who's also interested in it. So, it's a bit hard for me to categorize what I'm composing. I think what you can expect would be a melting pot of groovy, heavy and melodic tunes.
You have also set up a company called Agology Productions. Please tell us more about this company.
Thanks for asking! I started Agology Productions with David DeLaurier (Photographer, Cinematographer) in Jan.2010, later joined by Vera Varlamova (Illustrator, Animator). The company is basically focused to bring our creative ideas to life. Beside my next album, currently we're working on:
An interactive webcomic series (Soccer Massacre)

Performance art series (Ensemble Fatwa)

An architectural installation
Besides of the new album, what is your plans for this year and beyond ?
As mentioned, I'm currently focused on Agology Productions's aforementioned projects.
Is there anything you want to add to this interview ?
Thank you very much indeed for the time and the opportunity!
Thank you to Agah Bahari for this interview

His PA profile is
here
and his homepage's