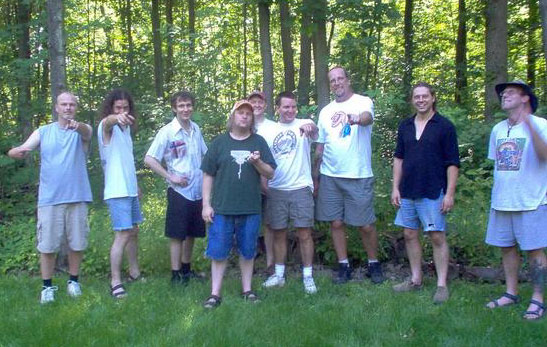 SECRET SAUCER is an idea to bring like minded musicians together to play improvised space rock in a studio setting. The band is build up by members of several US psych/space groups like QUARKSPACE, STAR NATION and SUN MACHINE. Steve Taylor and Steve Hayes had already toured with Nik Turner and Daevid Allen. The project produced two regular albums and one EP up to now. They are consisting of relatively short songs but you can also consider them as one epic which should be perceived from the first to the last minute.
I got in touch with them and they answered my questions.
#####################################################################################
Your biography has been covered in your ProgArchives profile so let's bypass the biography details. But why did you choose that name and why does Gong's and Hawkwind's music appeal so much to you that you have started up this band ?
Dan S: ELEMENT 115 is right from the periodic table. Our scientists have rejected working with it as the element is "unstable". It is, however an extremely powerful material when harnessed. It's nuclear exchange can produce massive amounts of anti-matter called a "GRAVITY A" wave which can be amplified & provide propulsion for alien UFO's.
Steve H: We all love the idea of UFO's and all that stuff out in space so it was appropriate. As for Gong and Hawkwinds musical appeal, well what can i say, the music is so deep and psychedelic...there are loads of other bands we like and we didnt really start this band because of Hawkwind and Gong. We are all musicians who love the same music and who were friends via the Strange Daze festival and other connections. Really, Secret Saucer was formed to carry on the good vibes and friendship lost when the Strange Daze days ended.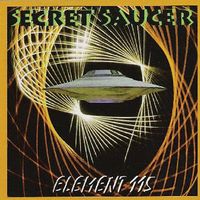 Over to your three albums. Your debut album was Element 115 from 2005. Please tell us more about this album.
Steve H: This album was recorded in the summer of 2001. We had a 3 day jam at my studio, a very private and remote place in the woods in Ashtabula County, Ohio. We can play outside and as loud as we like without really offending any neighbors!
Anyway, some people who were invited weren't able to attend, Doug Walker and the guys from Alien Planetscapes are the first to come to mind.
So we had this really great 3 days of jamming and fun and the recordings came out really good, so we decided to release a cd. It took a few years to get this to happen as life so often gets in the way of our music and ability to get it together. In the end we found 70 plus minutes of really good stuff, after trolling thru some 30 hours of multitrack tapes! But finally our friend Andy at Dead Earnest up in Dundee, Scotland agreed to release our debut cd.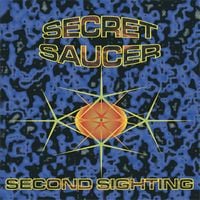 Your second album was Second Sighting from 2007. Please tell us more about this album.
Dan S: In 2006, a "diluted" version of the band jammed at Cyberian Studios. Keyboards were manned by Dave with assists from Greg and Dan. Steve H., Paul and Jay had schedule conflicts. We experimented with a sitar, and 4 man percussion backing. This disc has a distinct guitar driven feel to me. Eventually, the tracks were re-mastered by Steve at Salad Farm, with him adding a few choice (genius!) overdubs.
Steve H: Alot of these songs came from the first jam session. There were overdubs to alot of the pieces to 'finish' them. There was another jam session that provided us with new music as well, although the well wasnt as deep from this session as the first one.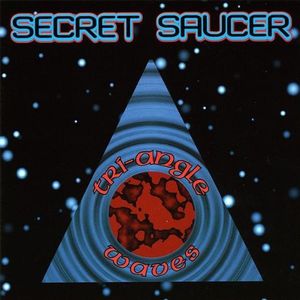 Your third and most recent album was Tri-Angle Waves from 2009. Please tell us more about this album.
Steve H: New beginnings as i like to call it. A new drummer, in Ted we trusted, all the rest of the guys are present, another weekend long jam in stifleingly hot and humid conditions, synthesizers, mosquitos and UFO's everywhere! Sometime after midnight and a few of us are in the throes of a deep space synthesizer jam, some of the guys are standing outside looking at the sky and listening when they sight a ufo....they swear by it to this day! We like to believe that our cosmic music hailed them(the ufo) to our coordinates, after a few dazzling moves in the sky it flew off! of course i didnt see it as i was playing , but our bass player billy and a few others swear to this day that it happened. in the end it was another session, with a new drummer and lots of sweat. After some overdubs, and alot of time sifting thru hours of recordings. we got our third record out of it.

Ted: I had wanted to get in on this and was very excited when asked to drum. I have a different style then first drummer so it was going to be fun to hear how i would fit in.
I did see the the UFO!!!!! It did not move like a plane,changed direction,STOPPED right over the area . then moved around over us then left..................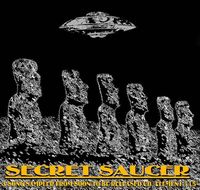 You have also released the Ep Secret Saucer in 2001. Please tell us more about this EP.
Steve H: I dont recall much about this EP. I think it is music from our debut cd, I suppose it was us testing the waters, seeing if people were interested in the music. It did help us to get the original release contract with Dead Earnest.
You are in the process of recording your fourth album. What can we expect from this album ?
Steve H: We are REALLY excited about our new album. we have had 3 old members decide they dont want to carry on, so we are down to a core of 5 guys now, we are getting together way more often and most of the music on the new cd is arranged rather than improvised. There is even some singing on a tune or two. The music is psychedelic and spacey and it really rocks. we think it still has the same vibe as the first three albums and see our writing and arranging of the music as a logical progression out of an all improvised format...kinda like Amon Duul seemed to do during the mid 70's.
We have done a really cool version of Pink Floyds tune "a saucerful of secrets" that we will be including on the cd as well.
We hope the cd will be out in July or August. Almost all of the music is recorded, just a few more bits to add, then its getting the cover artwork done and getting it to the pressing plant. So yes, we are all very excited to release our 4th cd and hope that people love it as much as they do our first 3 releases.
Ted: I burned up lots of miles driving back and forth as we were writing and working out songs in the studio.Really working hard as a band.for me it was lots of fun spending a weekend in the studio every other month.this went on for about a year till we started recording. It was lots of fun doing saucer full of secrets,I think we did an awesome job and played the hell out of it.
What is the availability of your Eps and albums ? Where can they be purchased from ?
Directly from us, from Amazon.com via www.cdbaby.com and many other places on the internet.
What have you been up to since 2009, what is your plans for this year and beyond ?
Working hard on our new album. For this year its to release the new cd and do some internet promotion. I also suspect we will jump right into working on our 5th cd.
Dan S: I don't suspect we'll start in on the 5th cd, I know it! We already have some solid material and ideas.
To wrap up this interview, is there anything you want to add to this interview ?
Thank you for enjoying our music and taking the time to ask us these questions.
Thank you to Secret Saucer for this interview

Their PA profile is here and their homepage's here