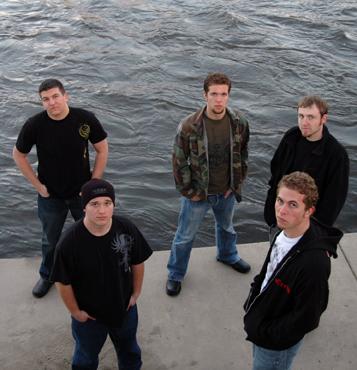 SILENT LAPSE is an atmospheric Progressive Metal band from Westphalia US. The band was formed by brothers Mitchell and Taylor Feldpausch, who started writing music together before recruiting additional members Scott MARTIN and Matt SCHRAUBEN.
I got in touch with them and Scott Martin answered my questions.
################################################################################
When, where and by whom was your band born ? Did any of you, past and present members, play in any other bands before joining up in your band ? Why did you choose that name and which bands were you influenced by ?

Our band formed here in Westphalia in 2007. Mitchell and Taylor Feldpausch were between bands, looking to get a group together for a one-off show with a lot of other bands from the community. They recruited me to cover keys and guitars as needed, and Matt Schrauben to play bass. When I sort of established myself as the primary vocalist, and we decided to continue as a band, we added Wyatt Aldrich to take over the second guitar duties full-time, which is when things really got rolling for us. We had all done a variety of things before this over the course of a few years. Matt and Wyatt were the only two who hadn't played together in some capacity prior to this band. The name Silent Lapse refers to any of those times when our minds go to a different place. For us, these wanderings happen all the time, and are the source of many of our most creative sparks. It's difficult to say that the band has been collectively influenced by any bands in particular. Our individual influences vary widely from person to person, from Pink Floyd, to Katatonia, to Opeth, to Elton John, to Slipknot, and all points in between. As musicians we've been influenced by all of that music, and our own sound is simply what comes out when we play together.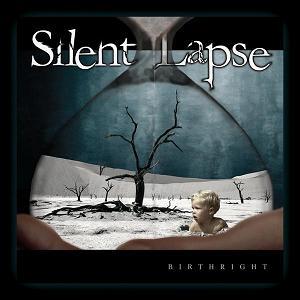 Over to your only album to this date. Your album Birthright was released in 2009. Please tell us more about this album.

Birthright is a concept album that Mitchell and Taylor had been working on for several years. There were essentially complete songs, partial songs, and standalone riffs that were developed, shifted, molded, and sometimes left alone completely; which were then all interwoven to tell an overarching story of pain, hope, and redemption. We recorded it ourselves, and it was mixed and mastered in Sweden by Jens Bogren (Opeth, Katatonia, Amon Amarth, Soilwork). It's a dark tale that takes some digging to grab hold of, but it is definitely a very positive message.

This album is both a free download (I am downloading now), but a physical copy can also be purchased directly from the band. Please explain why you choose to go down this route.

When we're wearing our musician hats, we do it because we believe in our music and we want to be heard. I think anyone making music wants it to find its way to every person who will enjoy it. There is an incredible amount of music out there. Much of it is great, and much of it is not so great. So it's hard enough to get folks to give your music the privilege of their time with all the options out there, let alone to have them pay you money to do it. And from a business standpoint, free music is the best marketing there is, especially when you believe in what you're putting out there the way we do. When the time comes to sell something, we will be selling it in a marketplace that is exponentially more aware of us than they otherwise may have been.

What have you been up to since the release of this album ?

We have been quite busy with a few projects, but primarily with building a new recording studio that will be used for our second album and as our band headquarters. There is still work to be done on the space, but we are finally moved in and set to develop some of the ideas that we've been coming up with since the release of the first album.

For those of us unknown with your music; how would you describe you music and which bands would you compare yourself with ?

It is always tough to compare yourself directly to another band. Of course we would prefer to say we have our own sound, but one might hear elements of Pink Floyd, Metallica, and Rush, with all-melodic vocals that might be more easily compared to some of the heavier acts in the rock genre.

What is your current status and plans for this year and beyond ?

Now that we have a permanent place to call our home we'll be focusing primarily on the next album. It's a beautiful space, and we can't wait to write and record in it. It's a very exciting time for sure. Of course we can't possibly predict where all of this will take us, but we're going to continue to work tirelessly to ensure that our music reaches as many people as it possibly can.

To wrap up this interview, is there anything you want to add to this interview ?

I'd simply like to thank everyone who has taken the time to give our music a good attentive listen. I invite anyone who hasn't yet done so to head on over to our website and give Birthright a listen or hopefully more. And thanks for this awesome opportunity to share it!
Thank you to Scott Martin for this interview

Their PA profile is here and homepage's here