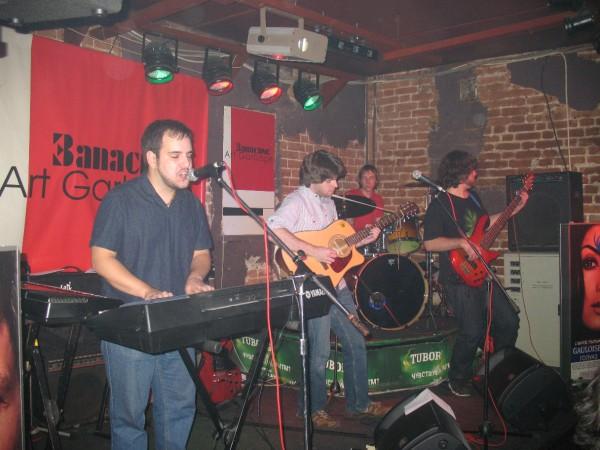 Russian band UPHILL WORK started out as an experimental duo in the winter of 2002, consisting of Konstantin Benyumov and Lev Gankine. They issued an instrumental album the same year, Cock-a-Doodle-Do, of which few traces remains these days.
I got in touch with the band and Lev Gankine answered my questions.
#################################################################################
When, where and by whom was your band born ? Did any of you, past and present members, play in any other bands before joining up in your band ?
Prior to forming Uphill Work, me and our guitarist Konstantin Benyumov played in a pretty typical teenage 'alternative' band called Rush Hour. We were not writing any music in it, though, so when that band came to an end, we thought of carrying on on our own and trying to play some more challenging music. Thus, Uphill Work Mk 1 was born as a duo in 2002 focusing mostly on the instrumental music with lots of guitar / keyboard interplay. However, we quickly got tired of this formula – to be totally frank, I don't think we had enough chops back then to execute it well (we were just 18 years old at the time, with no formal musical training). So after self-releasing one album on CDRs in a blockbuster edition of 50 copies ("Cock-A-Doodle-Do", now unavailable and not even featured in most of our online discographies), we started searching for a bassist and a drummer and eventually found Evgeny Semiletov and Konstantin Provorov respectively.
Why did you choose that name and which bands were you influenced by?
The name Uphill Work was suggested by myself early on, first just on a basis of it being a pretty memorable catch phrase. Later we realized that it's actually a pretty apt title for a band like ours, because we hardly have any chance of becoming really popular over here with this kind of music, so recording albums and playing concerts tends to be literally uphill work! We're kinda like that Sisyphus guy who pushed a stone towards the top of the mountain only to have it drop back to the foot every time (our drummer Konstantin Provorov dabbles in graphic design, so he used this Sisyphus reference while making our logo). As far as the influences are concerned, we four have a vastly different musical background – there's hardly one band out there that appeals to all of us, which probably explains why our music defies easy categorization. Myself, I am of course a prog rock fan and collector, having amassed a pretty huge collection of obscure 1970s prog vinyls. My favorite bands include Procol Harum, Gentle Giant, Supersister, Caravan, Curved Air, Cardiacs and many others – perhaps one can trace back some of these influences in our sound as well.
How is it to run a band in Russia these days ?
I can only speak for Moscow here, which is highly different from the rest of Russia. It is a very big, colorful, rich city, which can be a good thing and a bad thing. Good because it's relatively easy to book a gig here or even to record an album, provided you have enough money to buy yourself a few hours in the studio. And bad because there are all kinds of bands here, so the competition is very tough. In fact it's tougher yet in our particular case because we do not belong to any existing scene over here – too complex and weird for the indie crowd, too pop for proggers etc. That's why it's not very easy for us to maintain a band, although strangely enough we've been doing exactly that for quite a lot of years already.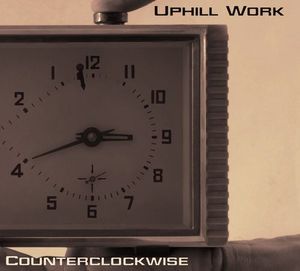 Your debut album Counterclockwise was released in 2008. Please tell us more about this album.
That was our first proper CD and I'm still quite happy with it even if I think we have since noticeably progressed. The songs that one hears on "Counterclockwise" were composed in 2003-2007, some of them, like "Shine in Your Hands", even date back to our Mk 1 days. But of course they are remodelled for a full rock band line-up, and I think the rhythm section generally does a great job there. Basically what we went for on that album is a melodic rock sound with a prog undercurrent – which is why there are a couple of straightahead mid-tempo tunes (such as "Keep the Yellow Intact" or "H.I.T.S.") as well as some more complex workouts (such as "Fiasco" or "Ride Like Love", still the ultimate closing track on most of our live concerts). I would say our philosophy hasn't changed since then, but the tunes got better and more focused.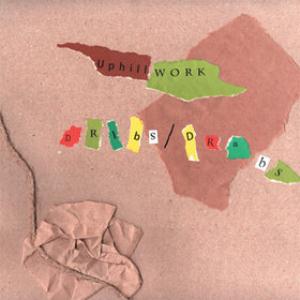 Your second and most recent album Dribs / Drabs was released in 2010. Please tell us more about this album.
This is our most fully-realized album to date, I think, although for a number of reasons it still does have some obvious flaws. First off, we decided to record everything live this time, with a real grand piano instead of the synthesizers – I have long gravitated towards the expansive concert piano sound so it's quite obvious that we have finally made our record reflect that. On the other hand, live-in-the-studio recording was a new experience for all of us, so a few of the songs on "Dribs / Drabs" sound a bit garagey – particularly the opening track "War Paint" and the closing "Incomprehensible". But that's a minor quibble, and in the end I even came to the conclusion that the somewhat muddy, hollow sound on what positions itself as a progressive rock album can be quite refreshing – after all, too much current prog suffers from a very glossy, digital production, that works to the detriment of the music. As for the songs per se, they mostly got shorter and more focused, without any unnecessary instrumental detours – and the lyrics do tend to tell a certain story this time around, instead of just spitting out random English words and expressions. I would say that paradoxically, "Dribs / Drabs" is less of a prog album compared to "Counterclockwise" – whichever direct influences might have been in our music before, they're all gone now. But at the same time, it's definitely more progressive in the literal sense of this word.
What have you been up to since the release of this album ?
We have played a few shows, climaxing with a long set on the open-air festival "Empty Hills" (sort of a Russian equivalent to Woodstock, set on the countryside and attracting all kinds of crowds – about 60000 visitors this year, judging from the official reports, although of course only a short percentage of this enormous population attended our show). But as a matter of fact we're not playing live very often and not rehearsing as much as we'd love to, because each member of Uphill Work has a day job, and on top of that, I've got wife and kids so a huge part of my free time is dedicated to family matters. So overall we're keeping a rather low profile, hoping to start recording a third CD when time (and money!) allows. It's gonna have an epic track in it, which is currently under construction, so it seems we're about to step back into the prog realm for a short while!
For those of us unknown with your music; how would you describe you music and which bands would you compare yourself with ?
Well, it's definitely rock music, often quite intense and energetic, with strong melodic content and a clear progressive rock tinge. As far as the comparisons go, we write on our Myspace that there's no one out there quite like us, and it's not just a pose – I'm indeed at a loss to answer this particular question. There are a few prog bands mentioned earlier in this interview, that could probably be applied here, and I think I have also seen Uphill Work compared by various reviewers to the likes of Supertramp, Legendary Pink Dots and Arthur Brown, which would mean that we indeed have a pretty much unclassifiable sound, given that it's of course impossible to be similar to all those artists at once.
What is your current status and plans for this year and beyond ?
As I said, we hope to start working on our third album soon. We currently have three short songs ready, and there's that aforementioned epic track too, so ľ of the CD seems to be already written. Besides that, of course we're trying to schedule a few live dates for 2011, including a possible gig in Kiev, Ukraine, on a bill with the excellent nu-jazz band DOK whom we invited on one of our concerts in Moscow a few months ago. This may well be our first live appearance outside Russia, so stay tuned!
To wrap up this interview, is there anything you want to add to this interview ?
Thanks for reading
Thank you to Lev Gankine for this interview