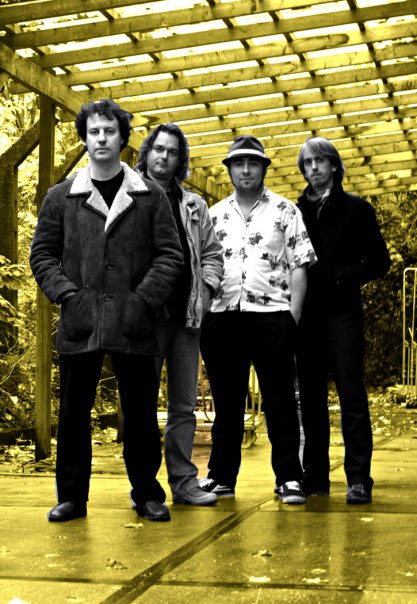 Modest Midget is a project of Lionel Ziblat, a Argentinian born trained musician who lives in The Netherlands. Son of a pianist mother and a rock 'n roll father, he studied at the Utrecht Conservatory for eight years, topped with an MA degree on classical composition. In parallel, he also studied jazz guitar and orchestral conducting. Based on this, he is very active working as a composer (classical, jazz, film music, close-harmony choirs), arranger and conductor with various ensembles and theatre productions.
I got in touch with Lionel and here is the Modest Midget story.............. so far.
#################################################################################
When, where and by whom was your band born ? Did any of you, past and present members, play in any other bands before joining up in your band ? Why did you choose that name and which bands were you influenced by ?
The idea of Modest Midget emerged as my personal fantasy years ago. Among different compositions I made, I would sometimes write songs that I imagined could be performed by a peculiar band I had imagined. The idea came to my mind shortly after I arrived in Holland, around the year 2000. When I finaly took the time to start recording it I was on my own and very soon saxophonist Emiel de Jong joined me for the sessions. After a couple of years, in 2008, we found a temporal line-up for a couple of experimental concerts and when I decided to go for a serious round of touring I gathered a 4 piece band with drummer Artis Orubs and keyboard player Tristan Hupe (who played on the first shows) who were joined by bass player Richard Zoer.
Artis is a flexible session musician who always plays in different bands. Tristan had a very rich musical background as a pianist, playing classical music aswell as Jazz and he even had an interesting background as bass player in a punk band. Richard Zoer has been working professionally for many years, among others with Kayak and a famous Dutch singer called André Hazes. Just like Tristan and Artis he also had a very flexible background, with a deep understanding of sophisticated rock as well as classical music. Unfortunately Emiel's life was taking a different direction and our ways had to be parted just when the serious touring began. He did play an essential role in the album though, and in the psychological and logistical side of forming this very special band. A very special and important fact about Tristan, Artis and Richard is that they both liked my music as much as understood it well enough to bring it to the stage.
I always liked Gentle Giant, and I cought myself joking about their name, imagining how you might have to change it in order to make it sound less 'arrogant'. Modest Midget came to my mind and it sounded more than perfect to to tag on my band.
It is almost impossible to describe which band's have influenced Modest Midget. The music is my own and so are the arrangements. My influences are too many to name, but they range from Argentinean musician's like Cuchi Leguizamon, Brazilians like Joao Bosco and Chico Buarque, to classical composers like Bach, Ravel and Poulenc. The rock side of the same planet obviously played a role. Deep Purple, Led Zeppelin and King Crimson were extremely inspirational. A lot of other acts have been mentioned in relation to Modest Midget, like The Beatles, Frank Zappa and many other names which I never heard of in my life. The truth is that whatever inspires me usually drives me to take a different direction, and the more interesting influences are the ones you don't hear so quickly.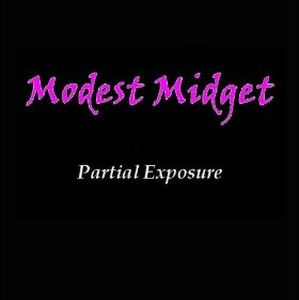 You released an EP in 2008 named Partial Exposure. Please tell us more about this EP.
When I had two thirds of the album done I realized it would be handy to let the world hear what was about to come out and start promoting the album in advance. That's the reason any act produces an EP as far as I know. The choice of songs was difficult because it was important to portray just how varied the album was going to be. If check out the titles; Evolution, Baby, Home Seek & Troubles in Heaven, they all have something of their own to offer, and are very different from each other. That seemed good enough as a first round of acquaintance.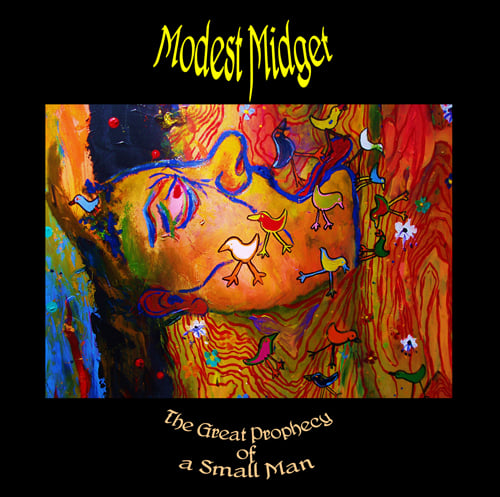 Over to your only album to this date. Your The Great Prophecy of a Small Man album was released last year. Please tell us more about this album.
As I wrote above, the idea was to feel free to write and record any kind of song that would come to mind that didn't fit in within the normal "main stream" Pop world, and obviously didn't fit among my classical compositions either. I wanted to have as little restrictions as possible. Each song that made it to the album was written with a completely different attitude. Just as much as I enjoy different styles and sounds, I thought it would be a nice challenge to make an album consisting of a big variation of songs that would somehow end up having a clear but thin layer in common.
I think that most music lovers can definitely find something in it to suit their taste. There's a very hidden but present spirit of Jazz aswell as Classical influences, Soul, crude parody and at times even a cinematographic element. What I liked discovering is that the biggest fans so far had been musician's or people who are very well acquainted with music. One great feature of this album in my view is that although people would initially name Gentle Giant or The Beatles as obvious influences, after they got to know the album better they would start admitting that there is much more underlying the music than what meets the eye at first sight.
I was also happy to read that according to many, the music is both relatively easy to digest as well as complex enough to keep you interested for a long time.
Sounds cool, but I think the best is for anyone to judge it for themselves.
Both your releases has been released through your own homepage. Why go it alone and how is the distribution of your album ?
The term "release" is an abstract one. Its an official date in which the album is out and available. The cd is available on the band's site along with my first solo cd which just came out (Songs From The Drawer), but its being distributed worldwide by CD-Baby and several other distributors. In short, its pretty much available worldwide.
I am guessing that part of your question is why it was not produced or distributed by a big or a well known record company? Well, nowadays there are more and more reasons why not to go through a known label. The biggest one being that this kind of industry is practically dying. Another is that they often abuse their artists and can bring more damage than use. Then there is the most important reason, which is that they are not interested in the music as much as in making money, or worse: surviving! There was one label which was interested to publish the album and start by putting out "Troubles in Heaven" as a single. They didn't seem to care much for the rest of the album (stupidly, in my opinion). All they wanted was to produce this one song "Single-Style", meaning: Make it short, aggressive and less "special sounding". I decided not to go along with it simply because I didn't feel like scoring with a potential hit and end up attracting an audience to the concerts who will not appreciate the rest of the music. In short; the band is not selling hamburgers. We're offering you top notch musical entertainment and its not cut up for spoiled ears.
Your music has been compared to everything weird and quirky under the sun. But how would you describe your music ?
I never know how to describe my music. After so many hours, days and sometimes months of hard work producing a song or an album I think the music should be able to speak for itself.
What have you been up to since the release of your album, what is your current status and what is your plans for this year and beyond ?
We had a tour in the Baltics last summer (August 2010), right after after the official release on May 9th of 2010. Then we suffered a wave of heavy personal incidents in the lives of most of the guys in the band, including my own. Although we didn't perform a massive amount of shows yet there was still a lot of work behind the curtains that took my attention and which during the last three years has taken more than a 100% of my time. After the tour a few personal matters simply forced us to take a long needed break.
During this time I finished my recently released solo album, and I finally had time to write music for a couple of commissions I received. I also arranged, orchestrated and worked along with different productions from around the world, whether from the Pop or Classical worlds and also some subtle but great work on a feature film that ended up competing in the Cannes festival this year. Only recently Tristan and me started performing again, which is a great to do. I'm hoping we can pick it up again soon and start playing again as a band. Of course, the next album is also on my mind.
To wrap up this interview, is there anything you want to add to this interview ?
Yes. There were quite a few supportive reviews on Prog Archives, which is of course very nice to hear. Keep on being so open minded, god bless you guys, and heavenly cheers to all of you!
Thank you to Lionel for this interview