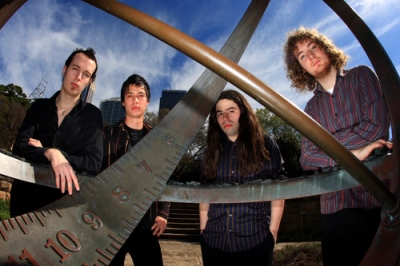 SLEEPMAKESWAVES is a post rock band from Australia formed in 2006 by Kid (guitars), Tom (guitars), Alex (bass, programming) and Will (drums). In 2007 the band released their self titled EP through the net label Lost Children. It went on to received acclaim by fans of the genre even though that the EP only had two songs. In March, 2008 the band released their second EP entitled "In Today Already Walks Tomorrow" for download and through Utopia Records.
I got in touch with them and Alex answered my questions.
@@@@@@@@@@@@@@@@@@@@@@@@@@@@@@@@@@@@@@@@@@@@@@@@@@
When, where and by whom was your band born ? Did any of you, past and present members, play in any other bands before joining up in your band ? Why did you choose that name and which bands were you influenced by ?

We came together around Christmas 2006. Our old guitarist Tom and I (Alex) founded the band out of some jams we did after our old bands broke up. Will, our drummer was studying jazz and came on-board pretty soon after. We found Kid on MySpace (remember that?). Kid had recorded some demos as 'sleepmakeswaves', and the name just came along with him. People ask us what it means, but we don't actually know – the name was invented by a friend of Kid's who was originally meant to start a band with him. It just ended up in our hands, with his permission of course.
All of us had played in plenty of local bands before. None of us had really played post-rock before being in sleepmakeswaves but we all bonded over a mutual love of epic post-rock like Mogwai, Explosions in the Sky, Sigur Ros, Mono, ISIS, Cult of Luna, etc.
How was the music scene in your local area when you started ?

We actually started out playing in the metal and hard rock scene, which is, at least in Australia, a reference point for a lot of the people who go to shows with post-rock bands. It's a small scene but it was supportive of us and we got an opportunity to grow and play with amazing bands. You play lots of shows in pubs to 50-200 people, confusing most of the punters who show up to see metal but connecting with the handful that like things epic and textured.
After a while we began to find other Australian bands that do the instrumental/post-rock thing: Meniscus and Hazards of Swimming Naked are two Aussie bands that bonded with us early in our career and both are well worth checking out.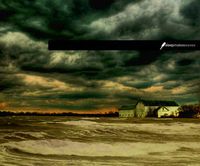 Over to your two albums. Your debut album was Sleepmakeswaves from 2007. Please tell us more about this album.

'sleepmakeswaves' was actually a DIY demo CD we made to give people a general rough idea of what we sounded like. We did the drums and bass at a local rehearsal studio and then took it back to Kid's bedroom where we recorded guitar and bass. "One Day…" was built around a demo that Kid had recorded prior to joining the band and likewise "By Moving the Stars…" was brought by me and Tom from our early jams. These were early days for us and those recordings were never meant to be any more than demos to get some pub shows but after a couple of months we were found by the Lost Children Net Label, who uploaded the demo and got us some great exposure to the online progressive/post-rock community.
It's odd when we hear about this 2007 demo CD being our 'debut release' and getting reviewed up against albums and EPs, the reality was that it was essentially recorded using the microphone input on an old PC in a bedroom. That always brings a smile to my face.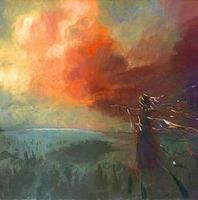 Your second and most recent album is In Today Already Walks Tomorrow from 2008. Please tell us more about this album.

This was the album where we made a little bit of a name for ourselves. I'm really proud of some of the songs on that album but at other times I think we wore our post-rock hearts a bit too much on our sleeves. But you can also hear elements of our still developing sound coming out here, particular electronic sounds and progressive song structures. Our re-recording of "One Day…" gets a lot of love among our fans for the violin-work, but that was actually a last-minute addition from Tim Charles, a good friend of ours who plays in the excellent Australian progressive metal band Ne Obliviscaris.
For those of us unknown with your music; how would you describe your music and which bands would you compare yourself with ?

You can always hear our beginnings as that classic post-rock sound (we have heard ourselves described as 'crescendo-core' which find both amusing and kinda cool) but we now mix it up a great deal by borrowing heavily on electronica, progressive rock and indie rock. Our aim at the moment is to be creative and compelling as an instrumental band without straying from our roots or from memorable songs. Who knows, perhaps you might even hear some vocals creeping in a bit on some future releases!
After listening to your music, I get the feeling that your main market are in Europe and perhaps USA. How is it to be on the other side of the world from your main market ?

Haha, yeah… this is probably true. We have amazing fans and people who support us in Australia but it's hard to build a band like ours here because the small, dispersed population puts a low ceiling on what you can do as a band playing esoteric music. Also, Australia does have great music but the successful acts here tend to be indie, folk and pop/electro. This wouldn't really be a problem for independent bands elsewhere, because you can just hit the touring hard, but even that is tough here because major cities are 1000s of kilometres apart and anywhere international is a very long and expensive plane flight.
One of our long-term goals is to tour internationally and get to all those people who've told us they love our music through the internet. We feel bad we haven't given them a show yet.
An advantage to all this is the great sense of community that you feel a part of. The other bands who play in this style are all our friends here, from Perth to Brisbane to Melbourne. We all support each other and help each other out, from gear sharing to recommending and promoting.
What is your plans for the rest of the year and next year ?

This year has been very busy for us, we are just about to release our debut LP entitled '...and so we destroyed everything' on July 21st and we will be touring it nationally. 2012 holds plans to tour this album in China and Europe extensively and perhaps release our next EP/LP. We haven't played any shows for a while so we're all looking forward to getting onstage again and jamming this new stuff out.
To wrap up this interview, is there anything you want to add to this interview ?
Thank you to Alex for this interview
Their PA profile is
here
and their homepages is listed over