MIRIODOR are one of the finest Canadian experimental progressives. A strong influence of the first Canterbury bands (EGG, GILGAMESH, UNIVERS ZERO's influence) is noticeable, as in the experience of the MUFFINS. They perform themes based on breaks and harmonic audacities with a technical facility and a lot of ideas that should please all the fans of a pioneering Progressive. There is plenty of good sax playing which contributes to that jazzy improvised sound attributed to the Canterburries.
I got in touch with the band and both Pascal and Nicolas answered my questions.
########################################################################################
When, where and by whom was Miriodor formed ?
Pascal : Miriodor was formed in 1980 (in Québec City) by the meeting of François Émond and Pascal Globensky. François and I did 2 cassettes of music as a duo, before deciding to start a band. The full story is on our website.
Did any of you, past and present Miriodor members, play in any other bands before joining up in Miriodor ?
Pascal : I think all members of Miriodor played in other bands before joining, with the exception of myself, but I think most of these bands were short lived and not very notorious. Nothing special to declare on this but I'm really not the one who should answer this question.
Why did you choose that name ?
Pascal : It's a French made-up word I invented more than 30 years ago! It all has to do with the sun. In my late teens, I used to hang out with friends of mine in a place (a park) where we had a super spot to watch sunsets. We were kind of Sun Worshippers, at the time! One day, in an effort to express in words the quality of the beautiful sunset stretching in front of us, the word "Miriodor" bursted out of my mouth. My friends besides me laughed but I decided to keep it in mind, thinking it was a cool name! It must also have something to do with the French word "miroir" (mirror); the 3 first letters being the same.
How was the music scene in your area when you started ?
Pascal : We were based in Quebec City at the beginning of the band and in 1985, we decided to do a collective move to Montreal, where more music akin to ours was in development. We met the people of Ambiances Magnétiques, members of Traffic d'Influence, René Lussier, André Duschene, etc. It was stimulating working at the same time and in the same location as they were, attending their shows, to see them attending our shows. Afterwards, there has been some exchange, Rémi Leclerc (our drummer), namely, playing with André Duchesne.
This is an archive based interview also intended for the fans you get well after both you and I have passed away so let's go straight to your albums. Please give us your views/some words on your albums, starting with.......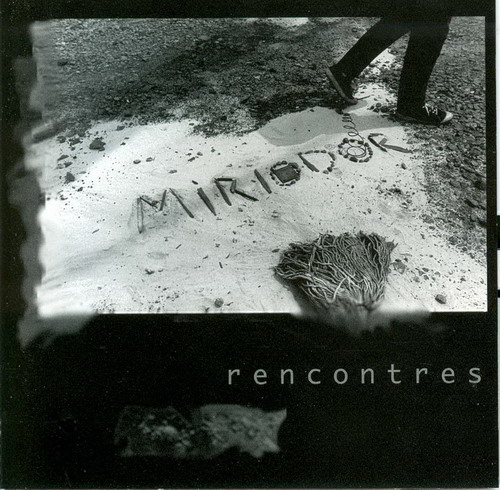 Rencontres from 1985
Pascal : The album that was not meant to be. It's a collection of demos we did in the years defore its release. I was sending these demos everywhere, in the hope of something. At one point, one of these tapes landed on Chris Cutler's desk and he wrote to us (a letter, back then!) to say he liked the stuff, said we should release it and he would distribute it on Recommended Records. So we did. It's a autoproduced album, first with 500 copies, and then another 500 a year or two later. It eventually was rereleased on Cuneiform Records, with unreleased stuff from a autoproduced cassette, called «Tôt ou tard». We were then a sextet. I have fond memories of the piece «Brouillard», to name one. It's the album where our influences are the most evident.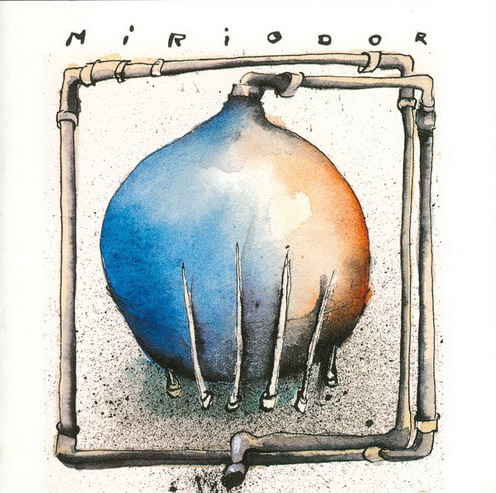 Miriodor from 1988
Pascal : First album as a trio, after François Émond departure (co-founder). The thing I have to say is that it's a live in the studio album. Absolutely no overdubs whatsoever. We played a lot back then, were living in a loft (with the rehearsal space in the middle) and we got extremely tight. I remember the nice artwork done by Suzanne Côté. She won a prize for this.
3rd Warning (3è Avertissement) from 1991
Pascal : Second album as a trio, but now taking full advantage of the MIDI technology. A new thing at the time! So we were able to get a very full sound for a trio. Live, it was very impressive. And we were tight as a knot. The piece «Cortège / Procession» is one of my all time favorites. Some people didn't like the cover (cut-out images of objects and figurines of ourselves in a plastic sleeve) but I remember us having tons of fun while assembling them. Yes, we assembled everyone of them manually.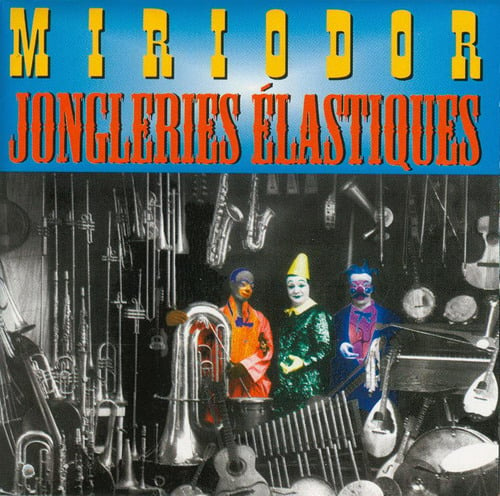 Jongleries Elastiques from 1996
Pascal : First album with Bernard Falaise (guitar/bass). And the last album with Sabin Hudon, who was less involved on the composition aspect and he played only on a few pieces. It's Miriodor exploring new territories and getting labeled RIO more and more. A myriad of guests on this one. A great album, I think, but not our best production, sonically. But we got some recognition with this one as we were launched into a direction that will appeal to many and that will got us invited in several festivals, in the years to come.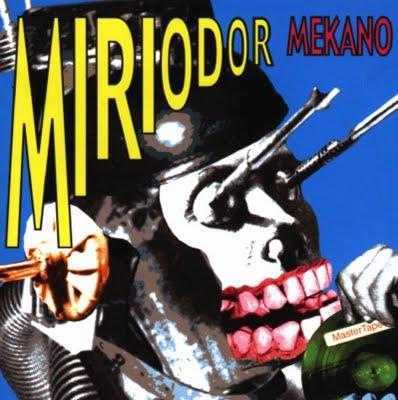 Mekano from 2001
Pascal : A striking album with a cover that was meant to be ugly. It's a portrayal of the piece 'A Master tape Snack', depicted musically. I remember feeling really proud when we released this one. We had great success playing this stuff live, namely at NearFest 2002 and in 2003. Honorable mentions to «The Ghost of MC Escher» and «Avatar», two among the weirdest and yet most beautiful pieces we did.
Nicolas : Mekano was the first album recorded after I joined the band, which makes it a bit special to me. It has a rather heavy rock feel, maybe in part because of Pierre Girard's work on the mixing board. I like to think that the inclusion of a permanent bass guitar in Miriodor somewhat freed Pascal from playing lines in the lower register, and allowed him to develop more melodic/textural ideas on the keyboard.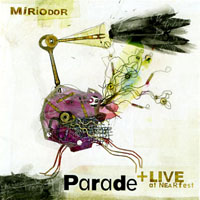 Parade from 2005
Pascal : A double album, with the Live at NearFest 2002». Good production. I thought our writing kept improving. The highlight of the album for me is the collaboration with the late great Lars Hollmer. He played on two of our pieces and we kind of adapted one of his unreleased pieces,Talrika. It was a dream come true for me, Hollmer being one of my living idols. What he did on the album, specialy on «Frosted Bonsai», is atonishing. This album was premiered at the Gouveia Festival, in Portugal, in 2005. We were joined on stage by Lars Hollmer and Michel Berckmans (Univers Zéro, Von Zamla).That show was a highlight in Miriodor history.
Nicolas : Parade includes some of the most intricate arrangements I've ever written. Its instrumental palette is quite varied (violin, saxophone, bassoon, accordion, etc.), and I think its overall sound and style is quite original. Of course, hearing Lars Hollmer on a few pieces always brings a rather nostalgic mood.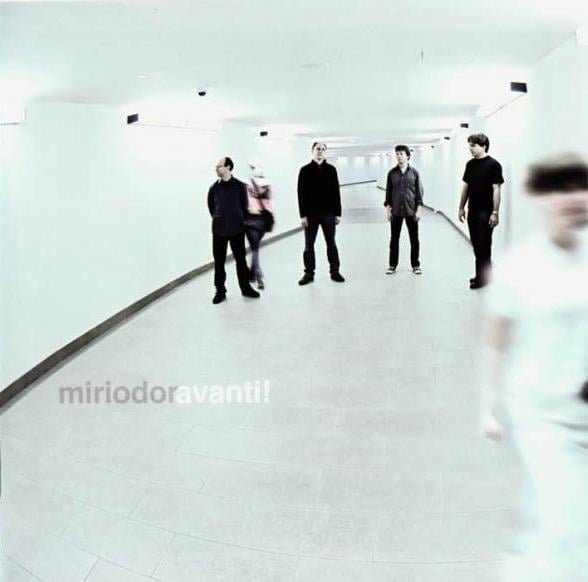 Avanti! from 2009
Pascal : Our latest work and my favorite (so far!). Without a definite objective in mind, we ended up with longer pieces and I liked that approach. It's also the first album mixed entirely by a member of the band, Bernard falaise, and he did an outstanding job, very creative. He pursued the compositional process with his mixing.
Nicolas : I think the longer pieces on Avanti! reflect a tendency to aim for free flowing and more developped compositions. Maybe we became a little bit less suspicious of repetition, which in the end allowed the music to breathe more freely. I particularly like Bernard Falaise's postproduction ideas on this album. After he had mixed some of the pieces, it was like I was hearing them for the first time again!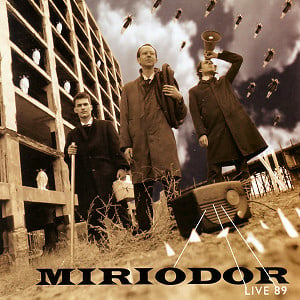 You also released the live album Live 89 in 2009. Please tell us more about this album.
Pascal : Rémi Leclerc (drummer) and myself were listening to these tapes at times and were impressed by the quality of the playing, the quality of the improvs, and the tigthness of the band, which was at a very high level at the time. So we decided to do something about it. We were already in contact with Progress-son people (who were also in charge of the Festival des Musiques Progressives de Montréal - FMPM)
and they received the idea positively. I'm real glad it's out and available because it's about an important era of the band (the trio era, with Sabin Hudon), which lasted 10 years.
How is the creative processes in your band from coming up with an idea to it's being recorded ?
Nicolas : The creative process is long, tedious, and sometimes frustrating. Which is what democracy is all about! ;-)
Pascal : We are indeed a ultra-democratic band. We are are not different than any other band, in the sense that most of the time, someone will propose a sketch of a piece (at various level of development) and we'll all work on it, section by section. Everyone has its say, every note is evaluated by the whole band, establishing the structure of a piece is done collectively. And sometimes, more rarely, a piece is done totally and collectively from scratch, in the rehearsal room, without anyone presenting something beforehand. So it ends up being a rather lenghty process and that's one of the main reasons why we release a CD every 4 years or so.
What is the availability of your albums and where can they be purchased from ?
Pascal : Our 3 last CDs are available thru Cuneiform Records/Wayside music. Fortunately, all our albums are now available digitally thru iTunes.
For those of us unknown with your music; how would you describe you music and which bands would you compare yourself with ?
Pascal : It's the soundtrack for the weirdest movie! We have been associated with the RIO bands (Henry Cow, Univers Zéro, etc.). I don't think we sound like any of them, but we share the fact that we don't do any compromise in our music. Our music if full of images, which compensate for the absence of vocals.
Each piece is a like a voyage, meant to have the listener travelling in his mind.
What have you been up to since 2009 ? What is your plans for this year and beyond ?
Pascal : We've done a series of show in 2010, notably at the Rock in Opposition Festival, in Carmaux, France. And we opened for Univers Zéro at the Sonic Circuits Festival, in Washington, DC. Aside this, we're always composing, slowly, for another album. No release planned in the near future.
To wrap up this interview, is there anything you want to add to this interview ?
Pascal : Thanks for listening and for downloading legaly!
Thank you to Pascal and Nicolas for this interview