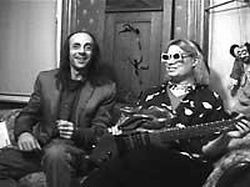 Songwriter's Rich & Flo Newman started TagYerit in 1994 to infuse their joi de vivre vision upon the unsuspecting listening public. But even before the band could start, Flo had to build her electric guitar in the shape of a rabbit. Only then was it possible to bring their slightly off-centered view of the world to bear fruit.
I got in touch for their story and Rich answered my questions.
#####################################################################################
When, where and by whom was your band born ? Did any of you two have any experience from any other bands before forming TagYerit ? Why did you choose that name and what does this name means ?

Rich has been playing guitar from the age of ten and early on had a very brief band experience playing "Gloria" at a high school fashion show while all the audience had to cover their ears. In college he pretty much jammed with anyone who'd let him. From the time Flo got her first guitar on her twelfth birthday, she had been performing acoustic folk and traditional music while also songwriting. When they finally met in college (Univ of Massachusetts) they never dreamed of playing music together since Rich was a "jammer", while Flo was meticulous and kind of obsessive about her music. After years of being married and traveling their own separate musical paths, they finally decided they were ready to write music together - but first Flo wanted to shake up her world by going electric. Since they are both wood carvers and have always lived with pet house rabbits, Flo got her mind set on having a rabbit-shaped electric guitar. With the help of guitar-builder William Cumpiano (he literally wrote the book), she carved the guitar that is used on all four of TagYerit's CDs. Most people see the photo of this bunny guitar and don't even realize that it is indeed a real guitar.

In the early '90s, their musical ideas started to take shape. (well, the truth is Flo only agreed after Rich bribed her by taking her to Disney's Haunted House where they rode through that spooky mansion multiple times!) They quickly found that combining their song ideas inspired them into higher levels of creativity and into rarely explored territory. This is probably the reason that most music reviewers call their music "very very original" ; "like nothing else" ; "like they're from another planet". Add into this, the fact that they approach everything with a playful attitude which is reflected in their name TagYerit - "tag you're it" - referring to the child's game of tag that Flo's family still plays to this day.

How was the music scene in your local area when you started ?

The music scene here in western Massachusetts is incredible. There are five colleges nearby and it is overflowing with talented performers and songwriters in a huge variety of genres - from straight-ahead rock to singer - songwriters to jazz and blues and on and on. We purposely stayed in Amherst because of the wealth of arts and music here. We're surrounded by a circle of musician friends who often hang out together. Inspiration and
creativity is a driving force.
During our college years there was live music every night. There are still several clubs for local bands, but of course, never enough. However, TagYerit is not a performing band. Our focus is on the songwriting,
arranging, and recording of our songs. On each of the four CDs Flo sings and plays guitar often interweaving overlaid guitar and vocal parts. Rich plays bass. Each time we work out the arrangements for months with producer and local blues musician Ed Vadas and shortly before heading into the studio we work with a drummer. It's a slow painstaking process that often leads us down unexpected paths.



Over to your two albums. Your debut album was Heavy Construction from 1995. Please tell us more about this album.

We've always felt that the "love song thing" has been, well, rather overdone. - There's a wide open range of other subjects just begging to be written about and sung. So it's rare to find a love song on a TagYerit CD.
On our debut CD "Heavy Construction", we approach a variety of story-songs. "Subway Surfing" comes from Rich's childhood rides to school every day on the subways of Boston trying to balance on the careening subway cars without holding on to the straps or the seats. This song later was used as the basis for the theme song of the video game "Getting Up - Contents Under Pressure." Well known hip-hop artists Talib Kweli and Rakim rapped over Rich and Flo's remixed guitar parts and used Flo's vocal chorus for the song "The Getting Up Anthem".

Also on our Heavy Construction CD we explored emotional turmoil in a humorous way on the songs "Self Sabotage" and the wild acapella romp "Pointless Psychic Revelation". Flo was really happy when the studio
engineer said "none of these guitar parts are derivative ..." "Heavy Construction" made Guitar Player Magazine's "Editor's Picks List" for 1996.



Your second and most recent album is Tubeman from 1999. Please tell us more about this album.

The song "Tubeman" was inspired by an artist friend's painting of a man mysteriously floating alone on an inner tube in the middle of the ocean. . Since we love story telling, we built a whole chain of events around him.
The painting by Christin Couture was used as the CD cover. The trick was to tell the story without losing the mystery. In a lot of these songs we are just allowing our imaginations and love of fantasy to run wild. - "The
Hike" suspends reality during a walk in the woods - what's lurking around the next bend? Then there's the "Sci Fi" journey interfaced between a book's reader and its characters who have become so thoroughly engaging.
"Wendy Bird" uses parts of the Peter Pan story to take on all the environmental risks we're facing. People seem to love the song "Outlaw Radio Guy" about a free-spinning free-spirited DJ fighting the corporate-owned radio station restrictions. This CD is full of playfulness and fantasy but also approaches much more serious subjects: the loss of loved ones; loneliness; and holding onto life's small precious moments.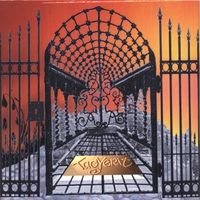 A more recent sign of life is the Gazing Globe EP from 2007. Please tell us more about this EP.


Between the years 1995 and 2006, we continued writing songs but had to take a long break from recording when we suffered the loss of Flo's mom and then Rich's dad during that period. The CD "Gazing Globe" finally brought some of these songs to fruition. The song "Tool" is definitely for Rich's dad but also incorporates aspects of our own interests in woodworking. "Soul Tag" takes on the "why the hell are we here anyway" question with humor and also takes our game of "tag you're it" to another place. The strange ballad "Deranged" about a love-sick zombified cowgirl actually kicked TagYerit into combining their music with another one of their creative endeavors. We've always messed with carving pumpkins. (Well, after all, Flo was born on Halloween!) so we decided to do a
stop-action carving of this cowgirl that is timed to the song. Pumpkin carving + song = a music video that can be seen on youtube. (http://www.youtube.com/watch?v=fxBaijOfBng ). We have since used this format to carve elaborate pumpkins for several of our songs.

In 2009 we released the CD "Shimmer". In characteristic TagYerit style, it ranges from the reflective to the upbeat - From meeting up with the tree spirit "Dryada" to a stormy adventure with a pissed-off "Pirate Bride". There's the beautiful "Mount Katahdin" and a true account of Flo's trick-or-treating experience as a child growing up in Salem Massachusetts, "The Trick or Treat Trials".

For those of us unknown with your music; how would you describe you music and which bands would you compare yourself with ?

Guitar Player magazine said of our band: "full of the pure joy of words and music".

Recently, James Heflin of the Valley Advocate described our music, "It's hard to peg this music - it's got moments that invoke jam band languor, others that seem like art rock precision and a strange wonderful playfulness of a brand that is unique to TagYerit . The duo's musical cousins are few. Eugene Chadbourne and Camper Van Beethoven come to mind, but only sort of. Perhaps music for adults who like to eat Count Chocula while listening to the Talking Heads . Truly inspired originality".

Geoff Wilbur's Renegade Newsletter
Reviewer Pam West.
" Flo's percussive vocal style has the rich maturity of Joni Mitchell, the Egyptian flair of the B-52s, and the flexibility of Bjork."

Greger Ronnqvist The Prog-Reviews
"a mix between B52s, David Byrne, King Crimson, Talking Heads and Frank Zappa," ."Flo's magnificent vocals that are very special, like a mix between Chrissie Hynde (The Pretenders), Joni Mitchell and Suzanne Vega."

earbuzz
"(take) King Crimson, They Might Be Giants, Chrissy Hynde of the Pretenders, and put them all in a room for 20 years. .. the final result could be, might be, Tagyerit."

Jimmy Riddle
"the music takes in the stagger and jerk of a gentle Cardiacs or even the Soft Machine. Which leaves us the obvious comparison with the now-defunct Sidi Bou Said although without the propensity for slashing guitar abuse.
In its place comes a love of crisp pop segments that burst out of, and are swallowed up by, the twitching folk rock, hints of country music and even psychedelia."

What is your current status and plans for this year and beyond ?

We're always working on songwriting - any moment in our day can contribute a song idea and we're both often writing down little notes and playing little notes! Lately Flo is working on more acoustic guitar stuff and Rich often messes with his guitar and electric stand-up bass while he watches over our rabbits as they get their supervised exercise in the yard. Rich is also carving a dancing automaton couple for an upcoming music video for the song "Beyond da Feet" from the Shimmer CD.

To wrap up this interview, is there anything you want to add to this interview ?

Our interest in music is our interest in life. Our lives have been filled with the soundtrack of so much great and diverse music and we hope that we're able to continue the tradition by inspiring others as well. We also should add that our website tagyerit.com combines links to many of our interests. Plus it's fun.
Thank you to Rich for this interview

Their PA profile is here and their homepage is here