There are not a lot of musicians as busy as Kavus Torabi. He's played with just about a million billion (rough estimate) bands from different genres such as Guapo, Cardiacs, Bob Drake, The Monsoon Bassoon, Medieval Baebes, North Sea Radio Orchestra, Chrome Hoof, and approximetely a million billion more. He also has his own solo project titled Knifeworld. Knifeworld has currently released an LP "Buried Alone: Tales Of Crushing Defeat", and two EPs- the latest one "Dear Lord, No Deal", was released on the 4th July of this year, with a LP coming up sometime early 2012. Kavus was nice enough to let me ask him a few questions about Knifeworld and his many other collaborations.
Why did you choose Knifeworld as the band name?
KT: Knifeworld was something my friend Jo Spratley piped up with during a delirious conversation at about four in the morning. It was in response to the absurd concept of shops called World Of Cafetieres, Cartridge World etc. It seemed hilarious at the time and still does. Having been in a band for eight years with a name we grew to hate but were unable to change, The Monsoon Bassoon, I wanted to make sure I got it right this time and so Knifeworld it was. I think it's a great name. It should come as no surprise there is a magazine in the U.S. called Knife World.
Listening to the new EP from the first seconds of "Pilot Her" you can feel a very different energy, some sort of very joyous excited energy, opposed to the first album "Buried Alone: Tales Of Crushing Defeat", where there was something somewhat more melancholic, at least to my ears. How has the creative writing process of the EP and the new material changed from the writing for the first album, where it was a solo work with guest musicians more or less, to the new EP, where it is more of an actual band which is fronted by you?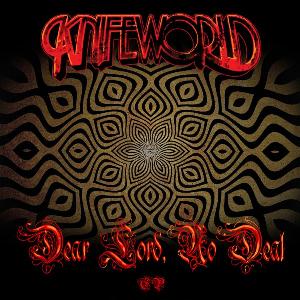 KT: I don't know that the writing process has particularly changed. Pilot Her is a very 'up' kind of song but it still has a melancholic vibe to my ears. The songs sort of come out in their own fashion, in spurts or torrents. It would be a bit inaccurate to say that I have no control over them, but sometimes their shape, form or timbre is as it is and I tend not to alter that too much. Pilot Her came out, timbre wise at least, almost sort of metal/hardcore-ish although the chords, melody and arrangement sound like my usual stuff I think. I liked the way it sounded so we went with it. I'm not the kind of person to say "Well, Knifeworld doesn't do that sort of thing" and alter it into what folks might think is more like what Knifeworld does. I think I wrote and demo-d Pilot Her in a day. It was a quick one. It's a lot more straightforward than most of my stuff I suppose.
It's been great having Knifeworld as a proper band since the first album came out though... everyone in the band are terrific musicians and in some cases accomplished composers in their own right. I feel absolutely privileged to have such wonderful players and good friends too. If there's been any change then it's that in the case of bass and keys which I took care of on the album Craig and Emmett are much, much, better players than me. They'll often come up with a variation that I would never have written. Melanie and Khyam played on the album anyway and I couldn't have got the whole thing started without them. Melanie has such a lovely voice and an excellent vibe, Khyam just drives the thing along both in his playing, which is really propulsive, and his energy. I don't think I could write anything that he could't get his head around. Chloe is a dream...I always wanted a bassoon in a rock group. Having grown up with the likes of Zappa, Henry Cow and Univers Zero I don't find the sound of it particularly strange, just beautiful. The new stuff from the forthcoming album has bassoon all over it, it's become an intrinsic part of the Knifeworld sound. I wish I'd have known Chloe when I made that first album because what she adds to the songs is magical.
Does the "Knifeworld sound" as you stated... sound like the song when it was in your head, or did your band mates really take it into different directions?
KT: That's an interesting question. I think the ideal situation is to transport the song from its initial conception in your head to its conclusion as a recorded piece of work with as few interferences as possible. This is really hard to do anyway. As soon as you start to rationalise and quantify what is in your head it is subject to certain compromises. I think if it can retain the same 'emotional atmosphere' as the initial spark then you're halfway there. I tend to demo everything on my own, just to have the arrangements mapped out.
My tunes tend to have a lot of polyphony and at times during a verse or whatever there may be five or more lines playing over or against one another at the same time so the demo is a good way of auditioning everything and checking it all works together. I used to program drums with all the fills etc but now I deliberately just go for a general feel because whatever Khyam comes up with will be better than me anyway. I have a definite idea how I want all the parts to be played but usually suggestions will be made that I may not have thought about. If they sound better than I had heard them then we'll go with that. The band know the kind of thing I like and if something adds the wrong colour then I'll say so.
What also interests me very much in the EP is that you include the 14 minute track "HMS Washout". Is this your first time making a track that can be described lengthwise as an "epic" (though definitely not sound wise- all sort of Yes and Genesis songs come up when I hear the word "epic')? How did write that one (especially the glorious looping ending)?
KT: It's certainly the longest song I've written. I'd always thought of the last song on the album, Me To The Future Of You, as fairly epic only because I tend to write in shorter form, although length is relative anyway. 14 minutes is often about the length of the intro in an epic Magma piece and the other group I play in Guapo have a couple of 40 minute pieces.
HMS Washout is an older song and originally came to about 7 or 8 minutes. The recording was very much a 'studio as instrument' kind of thing and an extension of an approach I started a couple of years earlier with a song called 'Happy Half-life, Dear Friend'. I delved into atmospherics and, for want of a better word, soundscapes a lot more with this one so it got extended to the version you hear now. The goal was for all the sections to flow into each other and for no part to become boring...no bit should outstay its welcome. I often think of songwriting as a balancing act. Each bit has its own weight and they all have to balance each other out. I wanted the song to sound like a dream, or a voyage right out to sea, so it had to follow some kind of dream-like logic...which is a contradiction in terms I suppose, kind of 'How the hell did I get here?' sort of thing. There's a definite drifting out then coming back through a storm shape to it. I spent ages trimming some sections down, extending others, adding textures, slowing down and reversing instruments etc...the usual psychedelic fare, to get it sounding right.
The ending took me a while before I was happy, I wanted it to sound like coming out of the dream, as if this 'big tune' somehow makes sense of everything that has happened before. At one point it faded into a stripped down, sea shanty-esque rendition of the coda with acoustic guitar, flute and singing, all with stamping foot and 'on the deck of a ship' type noises but I couldn't get it to work. It seemed to lose the strangeness and magic and make it sound too light-hearted which was a shame because it sounded really good in my head. That was a wasted evening! If you listen very carefully with the volume up there's a hint of that old ending right at the tail of the fade...I couldn't help myself, I wanted to salvage something from it. You can probably only hear it on acid or something. It's certainly different to anything I've done before and it struck me that having my own humble little studio has allowed me to do a song like this. I'd never have had the resources to spend that long reworking and experimenting on a song in a commercial studio ten or fifteen years ago.
I've been wanting to ask you about "Me To The Future You", as it's some sort of never ending chorus in my eyes and is more or less the perfect ending track. For me it sounds like that track where everything went right from the very beginning.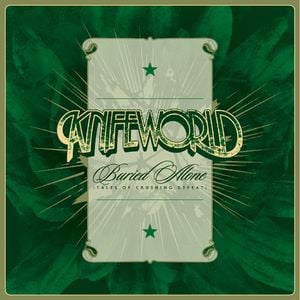 KT: Yes, with that outro it couldn't really be anywhere else but last on the album. As I said earlier HMS Washout was an older tune that was originally meant to be on the album but both of those songs on one album would have been like two Hitlers in one bunker so HMS Washout was saved until later.
Me To the Future Of You was actually written in two halves. The big chord cycle at the end I wrote years ago in my mid-twenties but never found an appropriate place for it. It's so dramatic that it had to be welded on to the right song, this goes back to what I said earlier about balance, the first half would really need to balance that ending out. I wrote the first bit a few years later as a piece in itself and it wasn't until I started demo-ing it that I realised that the pace and the E major end would segue perfectly into that epic chord cycle bit.
That was a lovely thing, it's rare that it happens. There's a new song I'm recording right now called Clairvoyant Fortnight and the first instrumental section is a part I wrote ten years ago, in the interim I kept trying to shoehorn it into tunes or write a whole song around it but it never worked. I started writing Clairvoyant Fortnight and when I came to the middle bit my mind went "Hang on a minute, look what we've got stored here...." and it fitted perfectly. This is probably true for all songwriters, but I have a bank of riffs, tunes, chord sequences and melodies stored in the dusty corners of my mind that have never found a home and occasionally the right tune will come up and one of them will fit. It's so satisfying. I still have this picky little two chord riff I wrote when I was nine years old and I still like it but haven't yet found a place for. That'll be the big challenge. It must be awful dying while you still have all these incomplete songs in your head. That's my worry. In fact that's my only fear of death now... not getting my stuff finished.
I was extremely pleasantly surprised yesterday to find a video from Bob Drake's (of Thinking Plague fame) Youtube channel a video of him and you and a couple of other gents playing together! May you please tell us more about that?
KT: I met Bob briefly in 2007 during the Rock In Opposition festival in the south of France. I knew David Kerman a little anyway. I was playing there with Guapo and Bob was playing with Peter Blegvad, Chris Cutler and John Greaves. I remember thinking that he seemed like a lovely guy. The next time was at the same festival in 2009. Bob and I were chatting when he asked me if I'd like to play with him. I must say I was extremely flattered. I'm a big fan of Bob's music and of his recording.
The band is Bob Drake: Guitar/voice, Me: Guitar, David Campbell: Bass and David Kerman: Drums.
The way it worked is that Bob sent us all very stripped down versions of songs from his forthcoming album, just him singing with a guitar, and asked us to come up with whatever parts we liked. The way Bob works, being a remarkable talent, is he plays all the instruments on his solo records. The new one will be no different. the first bit will be him playing all the stuff but the second part is this sort of 'live band interpretation' of eleven of the tunes. Basically the four of us rehearsed intensively for a week and then did a performance to a few of Bob's friends in his studio, this was recorded and will come out as 'part two' of the album.
The beauty of it is the rest of us had never heard the full solo versions when we recorded this.
It was one of the most fun weeks of my life. I feel like I have three new best friends and to play with musicians of that calibre was such a blast. Bob mixed it in no time at all and it sounds fantastic. I can't wait for the album to be released. We'd love to take the band out as a live thing because we gelled so well but with every member living in a different country that may be a little difficult.
Do you have any other projects at the moment working on new stuff or touring? Any news on a new Guapo recording? I'm sure many of the readers here would be very interested by that, but also anything interesting happening on other projects, "prog" or not prog?
KT: Well let me see, I have a very exciting recording project which involves a collaboration with a number of my favourite composers but I can't let any more out of the bag as it's a secret right now. Guapo has been on a bit of a hiatus because David Smith has been through some very traumatic personal events recently. We were in the early stages of writing a new long-form piece and we'll be resuming this later in the year for an album that will be coming out on Cuneiform.
I co-wrote and performed on a couple of pieces for the latest Karda Estra album, New Worlds, which is wonderful. You can download it for free at http://www.kardaestra.co.uk/
I've been recording stuff for the new Mediaeval Baebes album and have co-written a piece with the musical director Katharine Blake, needless to say it's one of the most far out things they've ever done! It sounds amazing.
I'm hoping to find the time to put together a three CD box set of studio recordings by my previous band, The Monsoon Bassoon, hopefully for release next year. That will be coming out on my label Believers Roast.
As will the lovely album by Redbus Noface called If It Fights The Hammer It will Fight The Knife. Redbus Noface is effectively a solo album by the wonderful multi-instrumentalist/producer Mark Cawthra who played keys and drums in the early 80s incarnation of Cardiacs. It's a fantastic album with really well crafted songs. That's in manufacture right now so should be out by the time you read this.
Other than that it's the drive to get this new Knifeworld record done. I'd like to have it all recorded and mastered by February.
In 2003 you became the guitarist of Cardiacs, the greatest band to have graced this Earth. You were in a double live album that came out in 2005, which consisted of Cardiacs songs written before 1983 (or 1981? Not sure), and recorded the 3 song EP "Ditzy Scene". You also were also apparently almost done with a full Cardiacs album, which was nicknamed "L.S.D.", which would've been the first Cardiacs album since 1999's "Guns". But all that was put on hold as sadly Tim Smith, Cardiacs' frontman, suffered a severe stroke and was and is very ill. In December of 2010 a tribute compilation where over 30 artists along with Knifeworld payed tribute to Tim Smith's work from Cardiacs and other projects, in order to help fund Tim's treatment, and to generally spread the word on his music. The album was released on your label "Believer's Roast" and consisted of many and varied artists, some probably known by Progarchives users (Steven Wilson and Oceansize), some past Cardiacs members (Former keyboard player William D. Drake, former drummer which you have already mentioned Mark Cawthra, "The Trudy" which has two past Cardiacs members, and Sarah Cutts- formerly Sarah Smith- who has a secret track at the end of the second CD), and also artists who could be regarded as pop/ indie, and electronica (Such as The Magic Numbers, Ultrasound, Max Tundra and others).
My question to you comes in a few parts:
1. What was it like getting artists to play for the album?
2. How was it to cover "The Stench Of Honey", a song off of Cardiacs' "On Land And In The Sea", with Knifeworld?
3. How well did the album sell (no need for numbers, an adjective would do) and how did it help fund Tim's treatment?
KT: 1) The actual networking and organising was in large down to Bic Hayes and Jo Spratley. It was kind of their project. Knifeworld was involved from the beginning as a contributing artist but it wasn't until half-way through that Believers Roast got involved. I was there on the end of the phone when they wanted to hash out details etc. and any of the admin-type stuff of the label itself but I can't take credit for the idea. In terms of getting artists together, a few of them are close friends of Tim's and each other anyway so that was very straightforward, such as Stars In Battledress, Sidi Bou Said, NSRO, Max Tundra, The Scaramanga Six, William D Drake, Mark Cawthra, Knifeworld, Microcosmos etc the real coups were The Magic Numbers and Steven Wilson who are much wider known outside of the , for want of a better word 'Cardiacs Family'. Everyone involved is a massive fan of Tim's stuff and there were so many more that wanted to be involved but couldn't make the deadline.
2) The Stench Of Honey had always been a favourite of mine and a rather overlooked song in the Cardiacs canon I think. Tim and I had talked about doing on the 2008 tour, which never happened, because it had never been played live before, so I suppose choosing that one was a little nod to that. In terms of working it out, it felt very much like being back in the band in as much as we'd talk about what songs we were going to do on a tour or whatever and then I'd go home and work out my parts from the records. That was the hard part emotionally actually, sitting in the same chair in my studio next to the speaker with my guitar and working out one of Tim's songs the way I had always done when the band was going. Once I'd worked it out I treated it as if it was one of my songs and recorded it like that without referencing the Cardiacs version at all. The idea was that the versions were meant to be an interpretation rather than a straight cover, in fact we had to put a lot of the versions that were too much like the originals onto disc two for that reason...wonderful as they were.
Obviously you don't want to change the chords or the melody because you couldn't improve upon them and the chords and melody are key to Tim's whole genius anyway but the arrangements and harmonies and timbre were all there to mess around with. In retrospect it was a very similar process to recording LSD where Tim just let me go hog-wild with all those kinds of things in the studio.
3) It's sold surprisingly well and has raised a fairly substantial sum of money, actually. It has also raised the awareness of Tim as a composer which is a wonderful thing. Such a bummer that it has taken these tragic circumstances to do that, though.
Does the fact that the compilation's called "Leader of the Starry Skies: A Tribute To Tim Smith, Songbook 1" suggest that there is Songbook 2 in the works?
KT: Not in the works as such but we thought we'd leave it open. We'd love to do a volume two but right now the team are very busy on other stuff. Maybe next year though....
What are your main projects for the next year or so?
KT: Mainly Knifeworld, as I said we resume work on the new Guapo later this year. I'm off to the States for a few weeks with the Mediaeval Baebes in September and working on this 'secret project' which I'll make public when it's finished, but yeah mainly Knifeworld. We need to get our heads down and get this second album done and hopefully get out there as a live band a lot more next year.
Is there any dramatic announcement/ random proclamations that you want to say before you ride into the horizon never to be seen again?
KT: I hope I don't ride off into that horizon just yet. Thanks for the interview. It's good to be asked questions I enjoy answering. Go to www.knifeworld.co.uk and join the mailing list to keep abreast of our activity. You will find you can hear and buy our music there and order lovely garments into the bargain. We step it all up a few gears next year once the new album is done. I'm really excited about it.
--------------------------------------------------------------------------------------------------------
Knifeworld's PA page: here
Knifeworld's website: here


Edited by frippism - June 12 2012 at 06:11