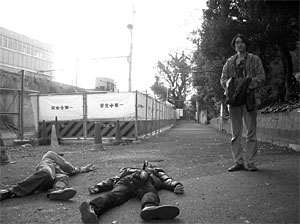 Sajjanu is a band from Tokyo formed by members of three different bands currently active in Japan - Green Milk From The Planet Orange, Massimo, and Mahiruno. Sajjanu works primarily as a trio of two guitars and drums, but they are sometimes accompanied by guest sax. Sajjanu's first album has recently been released by the Tzadik label out of New York City.
Absorbing the influences of various musics and expressing their original sound as a result of their experiences, Sajjanu creates music which expresses the diversity and chaos of that parallel through complex and difficult composition. This complexity is further reflected in the development of the very original character of Sajjanu's music.
I got in touch with them and Kouhan answered my questions.
############################################################################################
First of all; you are all OK after this horrendous natural disaster which hit Japan earlier this month ?

Hello, Sajjanu here. Yeah, Japan was really in a rut after that incident. Luckily all of us live in Tokyo, so we were safe. I think the radiation will influence us to make a bunch of new crazy songs.

Over to the music stuff. When, where and by whom was your band born ? Did any of you, past and present members, play in any other bands before joining up in your band ? Why did you choose that name ?

We formed in the spring of 2006. Gida Dolgandy Fune (GDF) called up Maleman Stoltz (MS) & Nepperining Funazuma (NF) to start up a new band. The 3 of us were bored with the bands we were involved with at that time. We've all played in a few different bands before Sajjanu. GDF played with GREEN MILK FROM THE PLANET ORANGE. MS played in MAHIRUNO & NF used to play with MASSIMO. Now, all these bands are no longer together. When we formed, we were all so busy with those other bands, so our first show was in October of 2007. As for our name...there's no real deep meaning behind it, sorry. We chose it pretty randomly.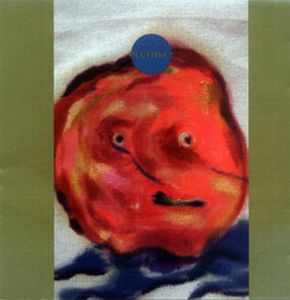 Your one and only album so far; Pechiku!! was released back in 2009. Please tell us more about this album.

It started when MS went to see Cobra on their tour of Japan. There be met John Zon & handed him our demo. He listened to it carefully. A week later, he contacted us saying, "Let's release this on Tzadik." To say the least, we were psyched.
We went to a rehearsal studio with our own home made multi-track recorder. We recorded everything in one day without any overdubbing. It was a strenuous 18 hour process. And just like that, we were ready to play live...and we did.
As for the title of the album; Pechiku!! has a meaning of something completely crazy as well as fresh or refreshing. But of course, this is the Sajjanu language.

For those of us unknown with your music; how would you describe you music and which bands would you compare yourself with ?

If you listen to us, you can easily see that we play rock music that has been dismantled & then reconstructed in our way. But really, it's a collage of music that is human powered. The music is to make you feel uncomfortable & to be shocked when witnessing the music live. This is always our base when creating our songs, but first & for most, we do it because we love it. From the bottom of our hearts, we want to show our feelings, chaos, difficulty of understanding, & humor through our music. Not sure about comparing but, we are very much influenced by Zappa & John Zon. They're great.

What have you been up to since the release of your album and what is your latest update ? What is your plans for this year and beyond ?

Recently we've been molding new songs & playing them live. We have plans of recording some tracks in the near future. Which we'll be releasing ourselves. The new songs have a pop feeling to them, but of course, pop from the Sajjanu world. We have plans of powerfully injecting some unique stuff into them.
Plans for this year & beyond...we really want to tour overseas. Really though, anyone reading this wanna book us? Come on!!!

To wrap up this interview, is there anything you want to add to this interview ?
There are a ton of bands here in Japan, but none have the intensity that Sajjanu brings to the table. We want everybody to catch Sajjanu play a powerful live show.
and also you can check our tracks on
soundcloud
and
myspace
!
Thank you to Kouhan for this interview