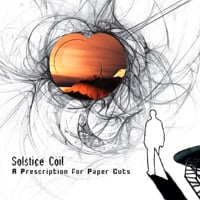 Your debut album A Prescription For Paper Cuts was released in 2005. Please tell us more about this album.

We produced it entirely by ourselves, which was not as common at the time as it is today, and it was an amazing success, particularly because we received praises for the production itself, along with the music. Other than drums, vocals and cello, the entire album was recorded in Shai's home studio; Shai also edited and mixed the entire thing by himself.
I think there were great songs on the album, with meaningful yet mystical lyrics and some very experimental arrangements. We learned a lot from producing this album, what to do, what not to do, and it definitely helped us be more focused when working on our second album Natural Causes.
Paper Cuts received great reviews from many prog-rock websites and magazines, and sold quite well too, so overall I think we did a good job there.
Then there was a long break. What were you up to during these years ?
We mostly played concerts in Israel, which had no impact on the rest of the world. In late 2006 we were invited to play in Prog Resiste's convention at the Spirit of 66' in Belgium, which was an amazing experience. When we got back we had to take a short break, and then we had some personnel changes, adding a new drummer and bass player. In 2007-2009 we played a lot of concerts in Israel, ironing out the songs for Natural Causes, while going in and out of the studio. The reason it took so long to release Natural Causes was that we were looking for a foreign label to help us distribute the album, and we also needed time to work on the cover art with Vitaly.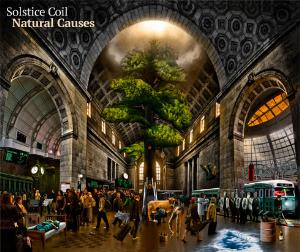 You returned earlier this year with the Natural Causes album. Please tell us more about this album.

It's totally awesome and you should definitely buy it! Seriously though, we're very proud of this album. We worked on every aspect of this album, from the lyrics, to the melodies, arrangements, the sound and the art. We literally had sit-downs where we would discuss specific notes in the vocal melodies that didn't sound exactly right, or match the melody to the text in a way that expressed the message we want to send out more accurately. In Paper Cuts we worked on the arrangements in the rehearsal room, and added the final touches in the studio. Here we went about it the other way around – we made demo recordings of the songs at the home studio, where we had a bird's-eye view of the music, and only after recording and programming the roles for every instrument, we went into the rehearsal room and tried them out. Then we'd see what works live and what doesn't, which parts are playable and which were too far-fetched and impossible to play, and we'd make the appropriate changes.
For those of our readers unknown with your music; how would you describe you music and which bands would you compare yourself with ?

I think our music can be described as non-technical progressive metal. To me Natural Causes feels like a fusion of Radiohead's Ok Computer and Dream Theater's Awake, in the sense that there is a dark, melancholic tone, and there are complex compositions, but not for the sake of complexity, and there is also an emphasis on the lyrics and the link between the music and the texts.
How is it to run a band in such a small country like Israel ? Do you have any plans to go back to Europe (after touring Belgium some years ago) and even spread your wings to USA to do festivals, gigs and/or tours ?

It isn't easy, because the possibilities in Israel are quite limited. There isn't a big audience for progressive rock here, and the mainstream media is completely indifferent to anything that deviates from the norm. There are practically no channels here in which an alternative music band can breakthrough, and the only way to get ahead is by playing concerts and by using the internet, which we do a lot.
We definitely want to return to play in Europe again, the last time was simply amazing and we'd love to play in the US as well. If the right opportunity presents itself, we'll definitely do everything we can to make it happen.
What is your current status and your plans for this and next year ?

Right now we're working on some new videos (stay tuned for more Triangle Guy adventures!) and also on new music. We might start recording next year, depending on how long it'll take us to write and arrange more songs. Either way I think it'll take less time than the first two albums.
To wrap up this interview, is there anything you want to add to this interview ?
We'd just like to thank you for conducting this interview, and generally give out a big thanks to the entire international prog-rock community, which has been so friendly and supportive throughout the years. It really makes it all worthwhile.
Thank you to Shir Deutch for this interview