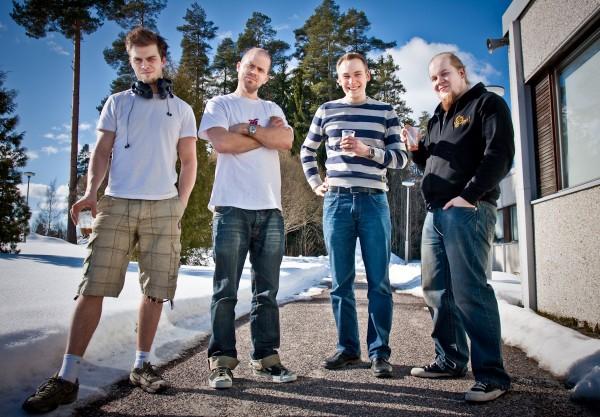 SOLE REMEDY's history goes way back from 1998, when long-time friends Jukka SALOVAARA (guitars, vocals), Henry SILMONEN (drums) and Toni MÄKINEN (bass) formed the band playing Progressive Rock, Blues and Fusion. In 2003 Mikko LAINE joined as second guitarist, marking a shift towards heavier material. In 2007, the debut "The Wounded Ones" was released. Their second album Apoptosis was released last year.
I got in touch with the band and Jukka answered my questions.
######################################################################################
When, where and by whom was your band born ? Did any of you, past and present members, play in any other bands before joining up in your band ? Why did you choose that name and which bands were you influenced by ?

Sole Remedy was born in 1998 at Hollola, Finland. It was formed by Jukka Salovaara (That's me! Vocals&guitars), Henry Silmonen (drums) and Toni Mäkinen (Vocals&bass). At that time we had a bunch of different names, Paragon Of Animals being one. The name Sole Remedy was invented in 2003 when Mikko Laine (guitarist) joined the band. I don't actually remember why we chose the name, it was me who brought it up though. I guess I had a reason, which might have had something to do with music/the band being the ultimate remedy for the agony I felt. Being young and searching the meaning of my existence and all that other stuff, I thought SR really cleansed and eased the pain. It was therapeutic. And it still is! Every time we get together, rehearse and write new music and do gigs the feeling is there. No matter how pissed you might have been of work, the world or anything, at the end of the day this band takes away that pain and sorrow and whatnot. Sole Remedy, in our case is true.
Toni left the band in 2009 and was replaced by Artturi Sipilä on bass and Eetu Karioja on vocals and keyboards. So that was almost like a rebirth for us.

We didn't actually have any other bands at first. Some of us had played in school bands or wedding gigs with some bands, but none of us had a "real" band before SR. Later on I joined a couple of bands and appeared in some releases. Most notable might be Dawn Of Solace - The Darkness where I handled the screams and played a guitar solo, I also handled live guitar and screams. Henry has a few sideprojects, one being really weird (you should ask him about it). Artturi has had many bands/projects, for example Unisoul which plays sort of jazzy-funk-soul stuff, very groovy! Eetu has a folkish-pagan-black-metal band called Hagall. Toni (former singer-bassist) is very much in touch of his religious side as he nowadays has his own band called Deror, which plays acoustic christian pop-rock. Mikko is the only one who hasn't had any band experience outside Sole Remedy. So I guess he is happily married with this band, haha!

Our early influences were Dream Theater, Rush, Jimi Hendrix, Kingston Wall, Toto, Pink Floyd and Los Lobotomys. Later on Tool became a huge influence. After few years of inhaling the influence of Tool we found bands like Opeth, Katatonia, Meshuggah, Gojira, Porcupine Tree, Devin Townsend, Karnivool, Isis and lots of others. Henry is also hugely influenced by Sigur Ros and Radiohead. Mikko has a wide taste of music, but he also has a thing for American radio-friendly metal.

How was the music scene in your local area when you started ?

We knew a few bands in Hollola. There was this one band called Supremate. They had Metallica-thing going on back then. Mustan Kuun Lapset, a legendary Finnish black metal band also rehearsed in the same place as us, the first few years. Lahti is the nearest city, where our headquarter nowadays is. I don't know about the scene much back then, but Before The Dawn was just starting to lift it's head up as was Profane Omen. Those are some of the "older" bands I remember from that time. I think the metal and hardcore scene in Lahti were somewhat active those days. No prog bands back then that I know of, except us :)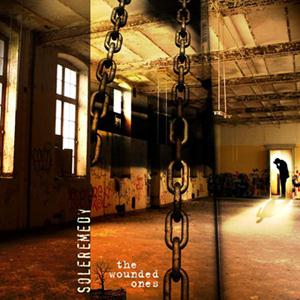 Over to your two albums. Your debut album was The Wounded Ones from 2008. Please tell us more about this album.


We decided to record a full length album 'cause we had enough songs for it and didn't want to "settle" for an EP. It was a step towards better things bandwise. We had a bad habit of not doing enough. Heck, it took us 9 years to make our first album!
The album maybe a bit more darker and heavier than Apoptosis, though they are kindred spirits musically. I'm not very satisfied with my vocal performance and overall vocal mix on this album. Also, it was mastered too loud (my mistake!). But other than that, it has very good songs and some people prefer it over Apoptosis! The songs Deep End, Bitter Promise and The Wounded Ones are still played live and Deep End might be Eetu's favourite song of Sole Remedy.
We didn't actually have much plans on what to do with it when we finished it. So later on we decided to release it as a limited-edition copy that was mainly sold on gigs.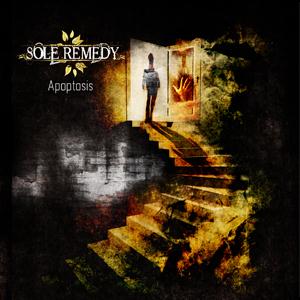 Your second and most recent album is Apoptosis from earlier this year. Please tell us more about this album.


Actually, it was released in October 2010, almost a year ago. It was a tough experience for me as I mostly wrote the album, wrote the lyrics/story, sang like 60% of the vocals, played half of the rhythm guitars, all of lead guitars, ambient guitars, half of clean guitars, played some of the keyboards, recorded, produced and mixed it. Very long hours for 2,5 months. But it was worth it! It gave us much more experience. Especially on what to do better and what is better left unsaid, so to say.
Apoptosis is a concept album which tells a story of a person going through changes and trying to figure out what's going on. Musically it's quite a monster! It has a lot of textures and depth to it. It's definately an album for someone who has the time to actually listen to it, to sort of get inside to the whole thing. So, at first listen you might not "get" it. But give it some time.

I've noticed on some sites/reviews stating that Apoptosis was made with Eetu and Artturi, but that's incorrect. Apoptosis was made with Toni handling bass and half of the clean vocals. Also, a very talented keyboardist called Jonne Jauhiainen played most of the keyboards on that album.

You are working with Aftermath Music on this album. How did you get in touch with Haavard and his label ?

We sent a bunch of promotional cd's containing 3 songs to different labels and Haavard was one of the first to answer. He said that he digged the stuff and wanted to hear more. So I sent him the whole album and he wanted to sign us to release Apoptosis. It was another step towards better things for the band.


For those of us unknown with your music; how would you describe you music and which bands would you compare yourself with ?

Sole Remedy's music is progressive-melancholic-metal. We try to keep things fresh and push the boundaries musically so it's kind of hard to categorize us. If you dig Opeth, Katatonia, Gojira, Dream Theater, Tool, Pain Of Salvation, Porcupine Tree, Pink Floyd, Devin Townsend, Textures, Yes, Rush, Isis, Neurosis, Soilwork, Oceansize, Mastodon, Deftones, Solstafir, Demians, ambient, metal, progressive rock or just appreciate someone who creates something that purely comes from the heart and pours their soul into it then you will most likely dig Sole Remedy!


What is your current status and plans for this year and beyond ?

We just recorded three new songs and I just finished mixing them. They are KILLER tracks, although I'm not worthy to say that :) We will send out promo cd's once again to bunch of different labels worldwide and hope that someone gets interested enough to release our 3rd album sometime next year! We'll be playing gigs as much as possible before we start recording the 3rd album and after that we'll play some more gigs! Playing gigs is great! You there, reading this interview : Offer us more, damn it! :)
Actually, we really need a manager or someone who can handle the business/gigs for us. Our motivation is VERY high and we yearn to play more gigs! But the market is full of crappy bands which get more gigs and get paid alot more than many good and talented bands! We feel that our potential is going to waste because we don't get to play good gigs. Luckily, some have respect for good progressive music and there are festivals such as Progpower which are really great!

To wrap up this interview, is there anything you want to add to this interview ?

Yes. Please come and check us out at Progpower Europe 2011 -festival on Sunday October 2nd ! And keep listening to good music! Think for yourself, acknowledge the voice of reason and don't be a puppet. That is all :) THANK YOU!
Thank you to Jukka for this interview