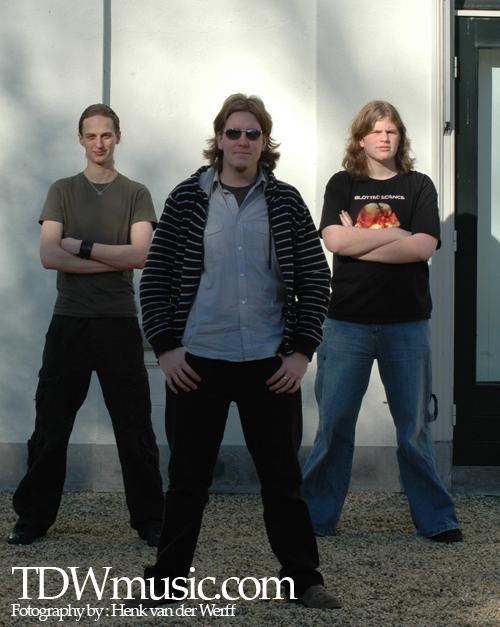 TDW was formed in 2003 by the then 16-year-old Tom de Wit. The basic idea behind it was that it was meant to be a project in which he could put all of the musical idea's and styles he could not use in the bands he played in. The main musical influences for TDW's music are Symphony X, Dream Theater, Pain of Salvation, Tool, Toto, Frank Zappa, Genesis, Pink Floyd & X-Japan.
I got in touch with Tom and he kindly answered my questions.
######################################################################################
When, where and by whom was your band born ? Did any of you, past and present members, play in any other bands before joining up in your band ? Why did you choose that name ? Which bands were you influenced by ?
Before I start answering your questions I would like to thank you guys for letting me do my talk here! It's always a pleasure to talk about the thing that stands closest to my heart, so I hope that you guys enjoy reading it! I have divided my answers into multiple paragraphs to make reading a bit easier on you.
I would also like to point out that I am going to make some time-leaps here and there in my story, as most records overlapped each other in terms of writing and production, so please bare with me on this, haha!
Where did it start?
To go back to the beginning of TDW we have to go back to 2001. I was 14 years old then and the singer and keyboard player for a band called Forgotten Art Experiment. I guess you could call the music we made a sort of art-rock thing. I was really eager to make music but truth be told, I couldn't do sh*t. I just had a big mouth and that sort of made me the singer without question, haha! The band was not particularly good or high profile, but we all did our best and the motivation to play and write more and more complex stuff was the drive to keep going.
However within that band I enjoyed singing and playing keyboards, but I felt that I could not really let my own musical ideas flow as much as I wanted to, so I decided that starting a solo project was the best thing to do as it allowed me to do exactly what I wanted. The band Forgotten Art Experiment split-up after a year but the TDW moniker stayed and became my main musical outlet.
In those early days I also had a good share or keyboard/production and later vocal lessons to shape myself as a musician. However, I got most experience writing songs by just being bold, going out and doing it. I think I was one of the most unlikely persons in the world to become a musician when I was 14, but it was my dream and I stuck to it even though a lot of people considered it to be a joke. In that sense my development up until now shows that if you really want something you just have to work hard for it and put your heart into it.
The name
The choosing of the name was obvious to me, as the project´s releases were (and still are) guided and thought out by me musically and lyrically, so using my initials was a logical choice. It is funny though because people originally thought that I just did this because I was a very vain person, but really, I am not. It´s just that I´d rather had something short and concise as a name as opposed to my full name or a band name. I mean, this isn´t a band in the standard sense, as I am the only factor that really remains on each record, so having a band name seemed a bit useless.
Influences and musical choices
My main musical influences are progressive metal acts such as Symphony X, Dream Theater and Pain of Salvation. I also love bands such as Tool, Porcupine Tree, Riverside, Anathema and many more. I think my music reflects this. However I am not much of a power singer such as the guys in my top three bands are (Unfortunately) so I my music tends to come into the more modern prog category.
Even though prog is my big love, I am also a big fan of Death Metal, Grindcore, Pop music, (I'm talking bands making pop music here, not commercial prefab trash) Singer/songwriters, Jazz, Avant-garde, Ambient, Drum 'n Bass and Classical Music, There's a lot of great music to be found in the world and I like to take little bits and pieces from all of these genre's. There's not a lot that I really DON'T like, but I am not claiming to like everything either. I mean really, how can you like everything!? Isn't the whole point of liking something that you have to dislike something as well? There is no light without shadow and vice versa, but maybe I just think too much, haha!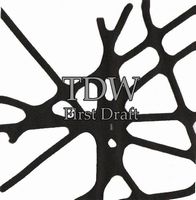 Over to your albums and Eps. Your debut album First Draft was released in 2004. Please tell us more about this album.
First Draft was my first venture into writing a full album myself. I had written many ideas, songs and album concepts beforehand (and most of those were complete and utter crap. Really they were!) But with First Draft I finally started to see what a song needed to become a complete whole. It was after making a lot of basic mistakes that I was able to write a set of songs that actually featured a logical song structure and melodies that were also listenable by other people beside myself, haha!
I also took up the duty of singing and writing lyrics more seriously when creating this record. It was my first real foray into writing about personal stuff that bothered me. Personal things that ended up on the record, where things such as: the death of multiple loved ones around me and the ending of my first relationship.
Writing the music for this record took me two weeks and recording the guitars and vocals took me about two weeks as well. There´s lots of things on this record that I consider to be done wrong or not done properly. However, I do think that if you consider that I was 16 years old, had no musical experience professionally and had never recorded anything decent at all before that, the result is fairly decent. But if I look at it with my current experiences and development I wouldn't dare to release it worldwide, but that's development isn't it?
However after The Haunts (in 2008) I decided to re-record the songs from First Draft in a new shape with better production just for the sake of giving these songs and ideas the chance they deserved. It was during the recording process of Scrapbook (2010) that I finished recording these songs in the new shape. The re-recorded version will be called First Re-Draft and it will be released this year through the new member's only section of the TDW website. (www.tdwmusic.com)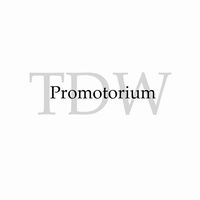 You followed that album up with the two Eps Promotorium (2005) and the Brother (2006). Please tell us more about them.
Wow, you guys really did your research there, haha! Promotorium was an inbetween thing I released in 2005 while working on the Reflection album. (which later became The Haunts.) I wanted to release a disc with a couple of songs from First Draft and some new stuff that would end up on Reflection. I guess you could compare it to a sampler in a certain sense, on which you could find all sorts of TDW tracks. I also used this opportunity to put some little twists and turns on there. The extended version of "Mourning After featuring Mosquitos" in the middle is a good example of this. It also featured a view tracks that never ended up anywhere else. The instrumental track behold a wasteland never was released on any other disc for example.
I think Promotorium had been released to about 20 people in total so those who actually have a copy of this, have a valuable piece of TDW history, haha! I am not sure if there ever will be a Promotorium II or not, but I don´t think I should rule out the possibility. It could perhaps be a good idea to release a disc like that in the future when more TDW albums have been released. There are no direct plans now however, so I guess only time will tell.
Brother was a song I released in the autumn of 2006 (just after finishing Up Close and Personal) which did not fit on any album and was too important to me to not release. The song dealt with a feeling of loss after having said goodbye to a person that was very dear to me. The situation especially hit me because racial and anti-socialist matters where a considerable part of this process. Those two subjects are very important to me.
I have strong political views myself in the socialist sense, but I don't want to use my songs for that too much. I tend to put little hints of messages here and there but mostly try to make it a global thing. I don't want to preach to anyone, but this was a message that I wanted to deliver. I still consider it to be one of my most cherished songs in terms of music and lyrics. I think that anyone who can identify with sending someone away unjustified can recognize the emotions portrayed in this song.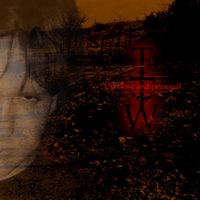 Your second album Up close and personal was released in 2006. Please tell us more about this album.
Up close and personal was somewhat of an experimental affair. I was working on the official follow-up to First Draft (Then named Reflection) and in the process of writing and recording that album I felt somewhat limited. I had about an hour's worth of music for Reflection that all fell in the same proggy power metal category. But I also had a lot of music in my head that was more free-form and psychedelic. I felt that it would be a good idea to take a break from the Reflection process to let that weird stuff come out.
So I took the break from the Reflection project and I basically just started with an empty canvas and in two weeks time (Just as with First Draft) I had this full album worth of experimental and strange music. At that moment I started to see the added value of having a decent website as a musical act and I figured that this record was so weird and left-field, that it might be a good idea to offer it for free. This would not just give me a way to release it in a low-cost way but it also gave an extra leash of life to my new website.
So I set out to record the record and had help from a few old guests and new ones and the record took the shape that it has today. I think production-wise this record is much better than First Draft was. I also experimented with new recording techniques and effects and such. However when I listen to it right now I do feel that it was a good learning experience but the full potential of these songs still needs to be shown, just as was the case with First Draft. My plans are to re-record these songs at a certain point as well, but I am not sure when this will happen.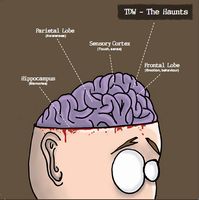 Your third album The Haunts was released in 2008. Please tell us more about this album.
It was in January of 2007 after releasing both Up close and Personal and Brother in 2006 that I had to get back to the Reflection recording process. I was basically working on that record for 3 years straight at this point and had multiple setbacks. Believe it or not, we actually recorded drums, guitars and vocals for the album and none of it was good enough to be used because of technical difficulties and all sorts of mistakes happening. At that point in time I really believed that Murphy loved me or something because his law always was around the corner somewhere.
But the worst thing happened in 2007. I stopped liking the material I wrote myself… and let's face it, I wrote that stuff 3 years before that. (The first Reflection songs where written after finishing First Draft) It's not a stretch of the mind to see that I would perhaps grow tired of it at a certain point. But I was confused now, because I did not know what I was supposed to do…
However in March of 2007 all of a sudden it struck me what I was supposed to do. What if I just took all the good parts from the Reflection process and write new material along with it? Wouldn't that make a decent album? Yes it would! So basically I locked myself away in my studio for a good 3 weeks (once again, short writing periods seemed to be my thing back then) and I came out with a good 50 minutes worth of music that would become The Haunts.
The Haunts was also my first concept record and that was something that evolved instinctively. I don't want to go into detail too much, but it may be said that the things the main character "Juan Jacobson" goes through are very close to me. I have been through most of it literally. I myself am a highly sensitive person just like Juan, but in my case I have had the guidance and support to face the hardships in life back then. Juan however has no support and the album ends with his inevitable breakdown. In that sense this record and its concept are a sublimation of my own experiences and therefore a form of therapy.
I recorded The Haunts with a core band of musicians that I worked with back then and just as on the records before that I wrote and programmed the drum parts myself. Mr Andersohn was a joke name I wrote down in the booklet for the sake of making it look like the album was drummed by a person for real. Some people actually believed it, which I consider to be a compliment but also really funny, haha!
I think that The Haunts was my first REAL record in terms of production and international release standards. Sure, it cannot compete with records by bands like Dream Theater for example, but I do think that it is quite an achievement considering the amount of equipment and production experience I had back then. The fact that it was received very well by the press also strengthened my self confidence somewhat. I was terrified to hear what people would think of this record (What if they would really hate it!?) but the reactions were very positive. The Haunts was the record that really started my musical adventure worldwide I think.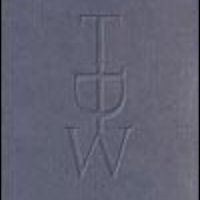 Your fourth and most recent album Scrapbook was released earlier this year. Please tell us more about this album.
When I finally released The Haunts in the summer of 2008 and finally left the burden of the Reflection process behind me I felt exhausted. I tried writing music myself but for some reason it just didn't work. I had spent four years working on one process and the whole idea of recording a new proper album seemed like a nightmare to me. I really needed a break. And it was not just music that was tiring on me either. A lot of personal and medical issues all put extra weight on the scale of things. I was tired and I needed rest and some rejuvination…
The Haunts however got me more and more exposure and with that exposure, new people came into my life which all had interesting things to offer. I had spent my time producing some other bands then and I met new musicians who were interested in working with me. So I took some time to jam out with new people and just get back to the fun of making music. It was after talking to one of my future collaborators that the idea came to me to create an album together with other musicians for once.
The albums I made beforehand were all written and produced by myself and the musicians purely played what I told them to play. So actually writing together with others could prove to be very interesting and perhaps spark my creativity again. And so it was done. I found 9 guest collaborators (you can read more on them on the official TDW website in the members section) and I wrote two discs worth of music with them.
Scrapbook has become a very diverse affair with music ranging from Doom Metal to Pop Music to Progressive Rock to Symphonic Pomp and much more. I think that the record really shows how broad my musical tastes are and how diverse my music can be. I also think that this is the first record that can really stand-up straight in terms of production. Sure there's things that can be improved upon (lots of it, I am a perfectionist after all.) but I do think that this record is a testament to what hard work and effort can bring to a person if your heart is into it.
There is one thing I have to point out though: SCRAPBOOK IS NOT A CONCEPT RECORD!!! For some reason people got this idea inside their heads, but really Scrapbook is just a collection of songs in which some share themes but nothing more. There's no overall storyline or plot going through it. In that sense Scrapbook is almost like a follow-up to Up close and personal as it is a collection of songs in multiple styles and variations. Of course certain topics such as the way humanity works, psychological themes, life and death are running through my lyrics but there's no real story.
Scrapbook was released in February of this year and I look at it as my best release so far and that is logical considering it is my newest, haha! However, Scrapbook really helped me, because it gave me new creative juice to work with and I feel a lot more inspired these days. I am actually looking forward to writing a new TDW record, so I'd say that is a good thing!

What have you been up to since the release of Scrapbook and what is your current status? What is your plans for this year and beyond ?
At the moment I am working on promoting Scrapbook worldwide and I am finishing up the release of First Re-Draft which will be planned for autumn of this year. In the meantime between that I am also writing new music and I am really enjoying that! I can say that the new TDW record will be very interesting in terms of music and the concept. This time around it will be a concept record, that I know for sure, but I am not going to say anything beside that. I think the next TDW record will probably be released somewhere at the end of next year or the year after that, because other things need my attention at this moment.
One of those other things, is that I am now the singer for Progressive Metal band Mind:Soul. This is a new Prog metal band that I am fronting and leading and our plans are to release our first EP in the autumn of this year and we hope to start playing live at the end of October somewhere. However we are now working hard on getting the EP fixed and more information about that will be given once it is available!
And next to that I am also doing business with Layered Reality Productions (LRP). LRP is a musical collective and distribution website I started in 2010 to release Scrapbook through. I figured that in this day and age of the DIY ethic, I should be able to do my own "label-like" business. I did not just want to create this purely for TDW but also wanted to give other "progressive" or "weird" bands/artists the chance to release their music worldwide. My aim is to make LRP something of a brand name that stands for quality and challenging music. Working on this is hard work but also a lot of fun and as more bands are joining the collective, more chances are available, so that is very exciting! (www.layered-reality.com)
And even next to all this I am also working in my own studio, The Imagineering Suite, producing music, video and websites for customers. If you are interested you can find the website here: www.thesuite.nl
So as you can see, I am working on spreading my wings now and trying multiple things to build something of a carreer doing the things I love the most and I hope life treats me well!
For those of us unknown with your music; how would you describe you music and which bands would you compare yourself with?
I always think that describing my own music is hard as I think that it is impossible to look objectively to what you love so much. However, if I have to strip down the TDW essence it would probably look something like this:
+ A baritone vocalist (Who also is able to grunt, scream and sing a bit higher if needed)
+ Moogs, Mellotrons and B3s (oh, the cliché!)
+ Pianos
+ Metallic rhythm guitars
+ Technical drumming (although programmed until now)
+ 6 string bass played melodically (Lots of bass melodies here)
+ sing-along choruses
+ lyrics about pretentious intellectual stuff (written in a none-intellectual way)
+ Orchestras (It's not called Symphonic for nothing.)
If you like the elements stated above you will probably like my music somewhat, haha! And reviewers compared my music to bands as: Porcupine Tree, Riverside, Tool, Pain of Salvation, Green Carnation, Dream Theater and Symphony X.
Hopefully that gives you all a bit of an idea.
To wrap up this interview, is there anything you want to add to this interview ?

I would like to add that I have been talking way too much and that you probably hate my guts right now, haha! If you actually read all of it, you are either insane or really really cool and I think that both options can apply as well. Hope you guys enjoyed reading all this and if you feel like helping me out by listening to / downloading / buying my music, please do! And ofcourse you can visit my website or send me an e-mail if you have anything to say or ask or whatever.
Thanks for reading and have a good day everybody!
Tom (TDW)
Thank you to Tom for this interview