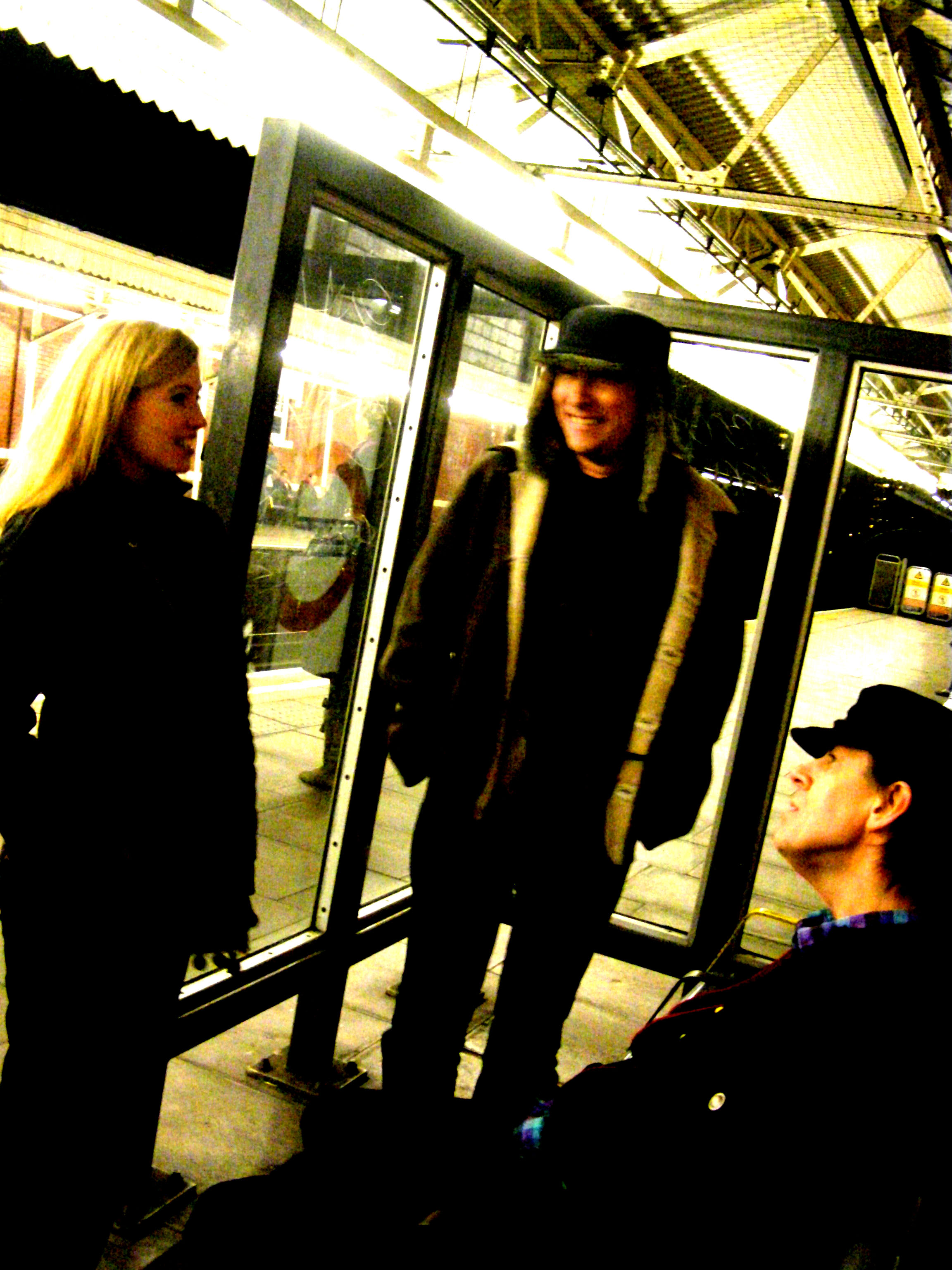 It seems there's a new wave of progressive music emerging in last few years - the style that could be described as ethnic/acoustic/folk music, with deep forays into world fusion with plethora of authentic instruments, but incorporating touches of jazz, perhaps electronic landscapes and occasional rock mannerism. SOLUS3 is not an exception; and yet they're highly original being both complex and sublime at the same time.
The core of the band is a trio of Julia Thornton on percussion and harp (she was collaborating with Roxy Music and Bryan Ferry), Hamilton Lee (of TRANSGLOBAL UNDERGROUND fame), and Ian Blackaby (Lunar Dunes) on bass.
I got in touch with the band. Both Julia Thornton and Ian Blackaby answered my questions.
#####################################################################################
When, where and by whom was your band born ? Did any of you, past and present members, play in any other bands before joining up in your band ? Why did you choose that name and which bands were you influenced by ?

Julia Thornton : Each of the original trio were members of various other bands, and all three of us had collaborated on a live Lunar Dunes show months before this project began to take shape, so the principle elements were in place. What was needed was the right time and space and a song to trigger the alchemy. The specific direction was not known at the time….a little like a chemistry experiment. The experience that Hami had gained previously from working with various instrumentalists and world sounds meant that he and Ian followed through on their harp hunch. Various names were brandished. I came up with the idea for the name followed by the number. I thought it made us sound a little like an 80's spacecraft, and a few of the tracks have names which relate to space and sky such as the title track, B5 Bounce and Mobius Trip….perfect! My influences include: Steve Reich, EST, Medeski Martin Wood, Stephen Scott, Keith Jarrett, Sigur Ros, Debussy and Art Ensemble of Chicago.
Ian Blackaby : Hami and I have been playing together since 2007 as two thirds of what was originally a Krautrock influenced improv trio called Lunar Dunes. We have made two albums and in 2008 - 2009 went through a period of playing a monthly residency at a London club and inviting other artists to join us on stage and / or play on the same bill.
As this residency went on we added semi permanent members like Krupa on vocals and kaos pad, Julia on harp as well as dabbling with other guest instrumentalists (sax, flute, trumpet, keyboards, percussion etc) and guest singers including Damo Suzuki from Can, Doreen Thobekile from Transglobal Underground and Jemma Freeman from The f**ks. Every person you add brings a new element. As the live line up grew the music inevitably grew with it and we were never going to be a band that played carbon copies of album recordings. SOLUS3 is much the same. Only more so.
As we worked towards a second Dunes record we started to move away from the guitar rock of the first album into areas of Ambient music and a stronger influence from minimalism and from Jazz, especially the likes of Alice Coltrane who fused Jazz with non-European genres and a late Romantic Classical approach to use of strings. Hami and I were also fans of the period around 1980 and 1981 when Post Punk and dance music were cross-pollinating. So that started coming in too.
So SOLUS3 grew out of that process in that Hami, Julia, Krupa and I were all part of the Dunes sound and the same thing is happening again as we add members to this group. This band was originally convened more my accident than by design and that has perhaps made us more flexible in terms of what we think we can and can't do musically. I knew it would work the first time we played through one of Julia's tunes in a Dunes sound check. The combination of her harp and the kind of rhythms we create was a natural fit.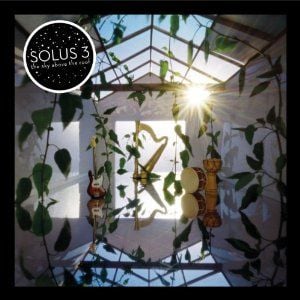 Over to your only album so far. Please tell us more about your The Sky Above The Roof from last year.
Julia Thornton : The album stemmed from the title track recording; ironically a track which contains only one of the founding elements, the harp. Ian had a strong vision of how this track should proceed, but of course, given the spontaneous nature of recording live, the track took on a shape all it's own. Recording the other tracks happened over several live sessions; Hami and Ian setting up a tempo and a groove, myself calling a key or mode and all three of us being led in various directions by samples and each others playing.
The two most experimental tracks; Sprezzatura and Mobius Trip happened on the back of a good curry and a few pints. We literally just sat down and played, following both mood and energy and bouncing off each other in turn. Like much of the album, things evolved as we played, so it was a very organic process.
Editing and additional mixing took place a Mantu studios. The addition of more vocals, sitar and trumpet added much needed hooks and linear work which elevated some of the tracks
A new album has been announced for a November release. What can we expect from this album ?
Julia Thornton: We have evolved through live work into a four / five piece now. We have involved vocalist Krupa much more in the recording process for the next album, and some of the tracks definitely started out as 'songs' rather than musical scapes. Combining these sonic scapes and vocal lines is very much a part of the new album, although there are still going to be some signature Solus3 instrumental moments, in which the harp takes centre stage once more. The vocal lines are very much treated as instrumental textures, just another sound to add to the landscape
For those of us unknown with your music; how would you describe you music and which bands would you compare yourself with ?

Julia Thornton : We are post-jazz. Either that or we've invented yet another sub-genre. Nuff said.
Ian Blackaby : Post Jazz is certainly one category people have used in reviewing the first album. Post Rock too. What we do is improv based but there isn't really a pure Blues or Jazz element so people find that confusing. They find the lack of electric guitars and keyboards confusing too. It's like they expect us to be offering a really highbrow and difficult form of chamber music but then find out that we are doing is full of memorable melodies and rhythms. So I actually think what we do is probably going to be slightly challenging for anyone who is comfortable with a narrow range of genres and expectations but at the same we are also incredibly accessible. Nothing is obvious but we don't go down the road of being rhythmically or harmonically difficult for the sake of it. That was the great thing about the Art Ensemble of Chicago they could sound like a Motown band one minute and Webern the next but whatever they did it was always appropriate to the moment. The pop sensibility of a band like Yes is also often forgotten in the rush to praise or damn them for the cliché of what Prog is or should be. People remember the four sided concept records and think of them as being difficult but rarely recall the impact of say Your Move, Sweet Dreams or Roundabout. Of course if you move too far in that direction you lose the essence of what you were. Fine line.
Anyway ... any band is going to be a sum of everything the members have heard or played which means that if you are honest about what you are doing any of those thousands of influences can emerge in the music at any time. If I had to name a short list of influences then for me Steve Reich, "Remain In Light", Art Ensemble of Chicago, Yes, Robert Fripp, Fugazi (the band not the Marillion album), Enrico Rava, Agitation Free, Pauline Oliveros, Spiritualized, Magma, 23 Skidoo and Rip Rig and Panic would figure strongly though it depends very much on the day and the hour and what I have been listening to that week.

One of your members, Julia Thornton, has worked with Roxy Music and Bryan Ferry. Has that opened doors for you, has it closed some doors or how has this connection worked out for you ?
Ian Blackaby : Neither really. The best thing is that she brings that experience of having played night after night some of the greatest and most challenging pop music ever created with some of the originators of the Art Rock movement. That has to rub off though I wouldn't expect Roxy fans to show up to our dates on the basis of Julia having been in the band. Generally speaking fans these days don't go and see bits of bands or buy solo albums and side projects as much as they might have done in the past. I don't see Muse or Radiohead all taking a year off and all putting out solo albums like say Yes did or doing it on the same day like Kiss!.
There is also the always-the-sideman-never-the-bride thing. Very few people make the transition from being a sideman or band member for a name artist to being a successful solo artist in their own right. It is almost two different jobs and two different mind sets though you would need to ask Julia about that as I have never done it. Fact is Julia had two solo albums out while she was working with Roxy and already had her own musical identity as a unique harpist so I don't think she was ever going to get stuck in that syndrome. Especially as her role with Roxy was more as a percussionist than harpist.
So lots of creative upsides but people won't be coming along and shouting out for "Both Ends Burning". Hopefully. Fans of Transglobal Underground don't come and see us because of Hami and Krupa either. Bands that last creatively have to carve out their own audience.
That said there are one or two early Roxy melodies that I think would suit as really well and coincidentally Krupa's use of the Kaos pad and Julia's use of effects on the harp have a lot in common with Eno's early experiments with Roxy. It is all really creative and incredibly musical without being in any way obvious. Krupa is a fine pop songwriter in her own right and Julia is a nop notch classical player so they have training and know traditional structures but their playing with us has a fantastic spontaneous quality to it. It's like that thing musicians say about being in King Crimson of having to forget everything you have played before. Not everyone can do that but these two can.
Anyway hopefully people will come to see us and go away thinking "I don't know what they were doing, I've never heard that before but it was actually really great". Of course the next time they come we will probably be totally different and a fair few will be pissed off that it wasn't the same as last time.

Besides of the new album, what is your plans for this year and beyond ?

Julia Thornton : Do some gigs and festivals. Build a solid fan base. Next step world domination. Simples.
Thank you to Ian and Julia for this interview



Edited by toroddfuglesteg - August 27 2011 at 14:02