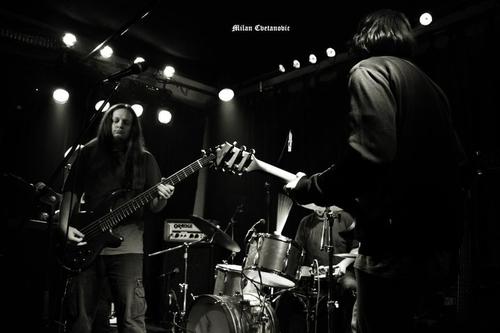 TEMPLE OF THE SMOKE started in 2010, as a four piece, after couple of years spent in exploring different ideas and approaches. This final lineup is composed of Dragan Mirković (drums and percussions), Marko Ilić (bass), Dusan Zica (guitar, analog and digital synthesizer, sampler, dub) and Janko Stojanović (guitar and vocals). The sound in which they positioned fundaments of their temple may be described as echoing ride, mostly instrumental, that varies from Psychedelic / Space Rock expeditions, ambient and drone soundwaves in tradition of 70s Krautrock / progressive rock, mixture of Post Rock and roots dub, with elements of trip hop, hard and stoner rock, electronic music and other crossover experiments. Inspired by local and global politics, infinite areas of space, psychedelic phantasmagorias and visions, science fiction, films and literature, TEMPLE OF THE SMOKE are spreading their message armed with arsenal of vintage tube amps, laboratory of analog and digital effects and synthesizers, and treasury of samples taken from the depths of popular culture and history.
I got in touch with them and Janko answered my questions.
################################################################################
When, where and by whom was your band born ? Did any of you, past and present members, play in any other bands before joining up in your band ? Why did you choose that name and which bands were you influenced by ?
There are two periods with different lineups of Temple of the Smoke, before and after 2010. Dragan and Dušan were playing with our friend Peca on bass for couple of years, they were jamming and playing couple of shows in 3 years. In 2010. Peca left the band and it was kind of a breaking moment for a band. I started hanging out with Dušan a lot at that time, we figured that we are really into same music, literature, films, art and some general views about ecology, religion, politics and life in general. I was already a fan of what they were doing and one day he asked me if I would like to play guitar with them. I joined the band and we had to find a new bass player. Two months later Marko joined Temple of the Smoke and since then we are playing almost every day, making music, fighting over every note and beat.
We are born and raised in Belgrade so it's natural that we had bands before Temple of the Smoke. Dragan and Dušan had metal bands as kids and they later discovered dub, jazz and fusion and started playing that in different lineups over the years. Dušan is also very active as a solo artist, he is doing his experimental drone and ambient electronic stuff under the name of Shining sh*tbox. Marko is playing in two locally big punk rock bands and I was playing hardcore punk whole my life and Temple of the Smoke is the first actual band that I'm playing something different.
Our really good friend Duxa gave us that name. It was some regular hang out at Dragan's place with a lot of smoke in the room and he just popped out that name. Dušan and Dragan thought it was pretty cool for a band name. I wasn't in the band at that time, but I can say that I agree. The name can have infinite meanings, it's only limited by your imagination.
We are not influenced by any specific bands, we are listening to almost everything, from local hip hop legend and guru Moskri and modern electronic music to roots dub and russian gypsy music. The biggest influence for us is sci-fi and horror literature, it gives us a background and inspiration for our mostly instrumental music.
How is it to run a band in Serbia these days ?
I guess it's really hard for bands these days everywhere. There are less people on the shows, they don't buy records and club managers can't guarantee anything. I guess that a lot of bands don't even pay out their recordings, and even tours. Of course, the additional problem and heavy burden for us is that we are from Serbia. Only successful happenings are festivals, but it's really hard for a band that is playing for only year or two to get invited to those kinds of festivals, especially if you are from Eastern Europe like us. We are not from London, San Francisco, Portland or Berlin. Maybe it would be easier for us there, maybe not, we'll never know.
There is no local scene in Belgrade or Serbia for something like what we are doing. People here really like our music but there are no bands that we can relate to. Many of our good friends play in great bands here, but that's just different perspective and different music.
Over to your only album so far. Please tell us more about your Against Human Race album from earlier this year.
"…Against Human Race" is sort of a compilation of different ideas and musical approaches that Dušan and Dragan had before 2010. and some new stuff that we come up when we first started playing in this lineup. There is a lack of any concept on that album in musical sense and the only thing that connects the songs is a common theme that we wanted to make with the names, but I think that's pretty meaningless to anyone but us. There are missing samples from films on the album, that we play live but couldn't put on the album because of the copyrights, that explain and gives meaning to song names like Illudim Q-36 Explosive Space Modulator. On our live shows we also tend to further explain some of that stuff.
We had those songs and many ideas more, and we knew that we had to record them, turn the page and start working on something that was more in our visions, that we started to have, for our band and our music. I really love those songs, every single one, but I think of them as some sketches for the stuff that we are writing now. We learned about each other by playing them and paved the way for what we are doing now, and in my opinion that's the biggest thing about that album.
It's always funny how people are obsessed with genres and we couldn't fit in anywhere, so we started to list all those genres in our biography and interviews that we think people will relate to, but it's kind of stupid and naďve so we gave up that. We don't want to be post, stoner rock, neo psychedelic or progressive because those labels bind and mold you, bands are just putting out the same records over and over again, and that's just not in our vision.
For those of us unknown with your music; how would you describe you music and which bands would you compare yourself with ?
That one is really hard to answer since there are so many different things that I've heard about our music. Only thing that I know for sure is that I love spacious music, love different textures and different emotions, minor to major key changes, samples and field recordings. Dušan have so many great field recordings that we always put in our songs, like those crickets in "Autumn World". We pay so much attention to the sound texture, it's almost like we are obsessed with it. Sometimes it's all about analog and digital synthesizers, samplers and electronic music, and sometimes it's just a fuzz solo over organ and drums.
What are your plans for this year and beyond ?
There are so many ideas, dreams and visions but what is realistic now is that we have a lot of new songs done, some of them are even recorded, and so our plans are to finish that second album by the end of the year and search for some labels to release it. We will also play a lot of shows, there will be a small tour and we are also going to Moscow and will try to do St. Petersburg also, that is going to be exciting.
To wrap up this interview, is there anything you want to add to this interview ?
Thank you for this chance to share some thoughts with you guys. I've read so many ProgArchives interviews and I hope this stuff will be interesting to someone. We will continue to play every day, and who knows, maybe we will see each other on some of our shows. Take care! :)
Thank you to Janko for this interview