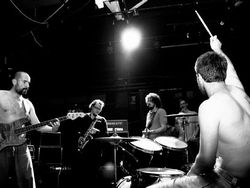 It seems there's a some sort of connection between Croatia and Japan when it comes to prog rock. SEVEN THAT SPELLS were formed in Zagreb, Croatia formed in 2003. The core of the band is Niko 'Brain' Potočnjak, the guitarist, the producer (and also a member of TIGROVA MAST). The band's psychedelic style is clearly influenced with ACID MOTHERS TEMPLE, they even collaborated with Makoto Kawabata (and Tsuyama Atsushi), recorded an album together, and toured in Japan. On a side note, a similar story happened to another band from Zagreb, TENA NOVAK (of which, incidentally or not, Hrvoje Niksić on keyboards shared the line-up), and they toured With Damo Suzuki... However, they started in 2003 as a trio - Tomislav Kalousek was on bass and Stjepan Jureković on drums. They did their debut (which was remastered in '05) and showed their musical potential to the audience. In '05 they signed for the Russian RAIG label, a well known one among the Russian avant/prog circles.
I got in touch with the band & Niko answered my questions.
####################################################################################
Your biography has been covered in your ProgArchives profile so let's bypass the biography details. Let us just concentrate on the albums and your future plans. But which bands/artists were you influenced by ? Why did you choose the Seven That Spells name and what does it means to you?
I was influenced by the power of rock music, women and satan. The name of the band is a rock secret and it shall remain so until the end times.
How was the music scene in your area when you started up ?
There was no specific music scene but there were lots of bands - but not too many or none in the psych direction. Mostly punk, post rock and metal of course….
This is an archive based interview also intended for the fans you get well after both you and I have passed away so let's go straight to your albums. Please give us your long or brief views on your albums, starting with.......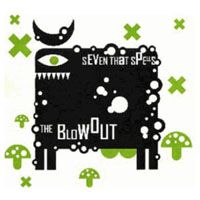 The Blowout from 2003
We really didn't know anything so we just played what we believed at the time was psych rock. First STS was using a drum machine - with the addition of drummer the music changed and "The Blowout" was made and recorded in 1 day. I have fond memories of those times. It was made in 100 DIY copies. Maybe it will be remastered and reissued…who knows ;)
It was recorded digitally and later re-mixed on tape.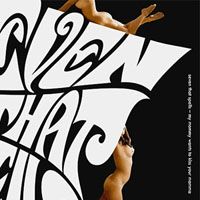 My Mommy Wants To Kill Your Mamma from 2005
This is the end of the first fixed STS lineup. I was not satisfied with this album so i decided to change all of the musicians - which will prove pivotal in the history of STS.
It was recorded on 16 channel 1-inch tape recorder and mixed in analog studio too.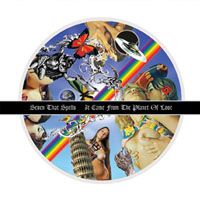 It Came From The Planet Of Love from 2006
I tricked 2 guys who didn't like psych rock or jamming too much to have 1 rehearsal with me - I recorded it and mixed it digitally with just 8 tracks and mixed it in studio in analog way.
I learned many things from this experience and its here that hunting for other musicians began - specifically the ones who were not interested in my music ha ah ha! It was perfect!!!!
Mixed in analog studio. The Vinyl Edition was issued in 2011.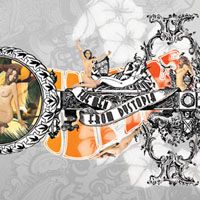 The Men From Dystopia from 2007
This album was created from 1 long jam and edited into what it is now. Then later Makoto and Tsuyama (Acid Mothers Temple fame) added sitar and vocals. This is the beginning of our
cooperation with Beta-lactam Ring Records. The Vinyl Edition was issued in 2011. All digital production. Tape transferred before mastering. Musically it is very close to the vibe of krautrock
like Amon Duul II and other similar bands.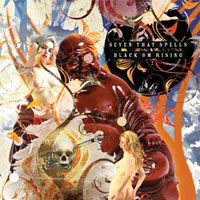 Black Om Rising from 2008
A change of direction was necessary so of course i invited new musicians into the band and the sound was transformed into more noise rock / motorik propulsive rock. Saxophone was
introduced for the first time and added more of the pro vibe to the sound. This album was recorded in 2006 one day after Acid Taking And Sweet Love Making. It was published by Beta-lactam Ring Records
as a Japan tour edition with additional dvd material with live footage. Digital recording / analog mixing. Mastered by Tatsuya Yoshida (Ruins fame).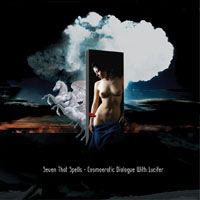 Cosmoerotic Dialogue With Lucifer [with Kawabata Makoto] from 2008
This album along with Superautobahn were recorded in 2007 in one day when Kawabata Makoto was visiting my hometown Zagreb. I remember vaguely what was it like to record them - drank too much red wine for 7
consecutive days ha ha ha haha! turned out well i suppose!!! analog recording / analog mixing.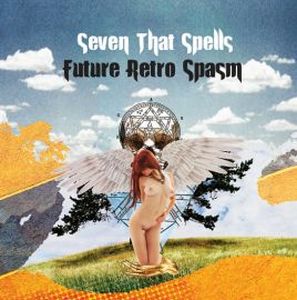 Future Retro Spasm from 2010
Black Om Rising formula was applied but we became much better musicians. Also at this time i got stuffed with prog sound a bit and especially Saxophone so it had to go.
This is the first album where we started playing with polymetrics - and it was a love on first sight. Polymetrics gives rock music another chance to propell it into 21.st century.
Acid Taking And Sweet Love Making 2011.
Published on infamous Hauruck label in 2011. It was recorded in 2006. - one day after Black Om Rising. It is a rock and roll album in all its dirty glory ha ha ha. Its the old way of Seven That Spells but
i like it a lot. Lots of humor in it. Some people will understand and some people will hate - both is perfect for me!!!!
Death And Resurrection Of Krautrock: AUM 2011.
First part of the "Death And Resurrection Of Krautrock" trilogy. Its the STS masterpiece in my opinion. Psychedelic rock for the 23. century. Take the good old psych rock - decompose it / recompose it /add
super irregular beats and polymetrics + huge amounts of groove and vocals and you get a nice modern package. Stay tuned for the 2 other parts of the trilogy. Published on Beta - lactam Ring Records for our upcoming
BRAINBANGERS' BALL TOUR.
Superautobahn 2012.
Recorded in 2007. 3 long songs comprised of only 1 riff per song. Its music for the autobahn freaks. 4000 miles per hour and no brakes!!!!!!!!!
LIVE ALBUMS AND REST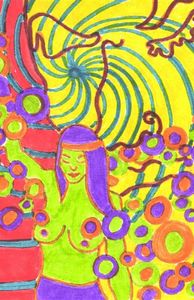 You Must Do This on Stage Vol. 1 from 2009
Published by Sloow Tapes label on cassette. Somebody made a horrible mp3 rip and distributed it over web. IT SOUNDS HORRIBLE. So i decided to publish free download / donation live series:
http://seventhatspellsliveseries.bandcamp.com/
Lots of lives are already up including the ones from the cassette compilation but this time in proper quality. Expect lots more in the future.
How would you describe your music and your musical development from your first to the so far last album ?
Our music is rock. We live and believe in rock and roll. STS develop constantly with no breaks or stops. I just want to make lots of music and STS are a perfect space rocket for that.
You have had your fair share of experiences with the music industry. What is your experiences with the music industry and what do you believe the future will bring for the whole music and entertainment business ?
Future is already here. Bands have to tour again and not rely on social networking bullsh*t. Cd is about to expire - vinyl is getting some hype - but that won't last long. Digital world ate up everything. People got stuffed by music and
there are too many unimaginative horrible bands so its not a wonder people lost faith in rock and roll….I have no hope nor plans for the future - I only live NOW and enjoy myself immensely h aha ha!!!! I think that is the whole point of
music - to have fun and enjoy life in general. Over analysis brings nothing but pain and boredom!
What is your plans for this year and beyond ?
World domination. Sex with she-wolves on the Croatian mountain sides. A white trash horrible blues band so some fan kills me with a bazooka.
Is there anything you want to add to this interview ?
Let's rock!!!!!!!!!!!
Thanx to Niko for this interview

Some free/donate live albums downloads from
here