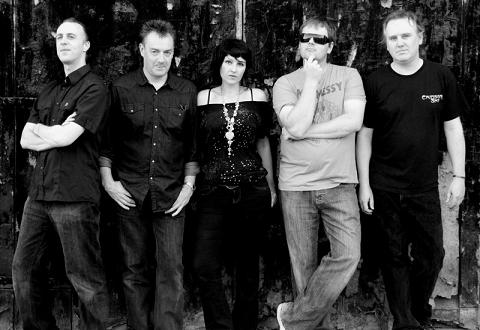 CRIMSON SKY was formed in Bristol in 2002 by guitarist Martin Leamon and bassist Clive Lambert. The band had an ever changing lineup until 2008 when Chris Cadey joined on keyboards and Holly Thody joined as vocalist. The band was rounded out with Scott Maynard on drums. Influenced by bands such as PINK FLOYD, MARILLION, IQ, MAGENTA, BARCLAY JAMES HARVEST, BE BOP DELUXE and PALLAS, the band play a modern brand of Neo-Prog. It took the band seven years before they would release their home-produced debut album "Misunderstood" in 2009.
I got in touch with the band and Martin Leamon answered my questions.
######################################################################################
When, where and by whom was your band born ? Did any of you, past and present members, play in any other bands before joining up in your band ? Why did you choose that name and which bands were you influenced by ?
In 2001 I was asked to join a casual "jamming" band, I had not played guitar for about ten years, before joining these guys, as I had gotten totally disheartened with the music business.
After a few practices with these guys's I offered to help them write some original songs as at the time they were only playing covers.
This progressed and in the end Crimson Sky was formed as a "proper" band, in late 2002.
The name was given by Mark Purnell, who was the other guitarist; the name is taken from a well known book called "Shogun".

The other members at this time were drummer Paul Cubie,bass player Clive Lambert,(who is still in Crimson Sky to this day), and vocalist Nicola Blaker
Nicola and I had been in a quite well known Bristol rock band called "Once Bitten".
This line up also recorded Crimson Sky's first CD/EP called "The First Chapter"
The Bristol area has some good prog bands like Also Eden + the Summer's End festival in that area too. How is it to run a band in that part of England these days ?
Bristol is quite busy place musically, although there are not many bands playing the sort of music that we play.
We seem to play most of our gigs outside of Bristol, in venues such as The Peel, The Robin and festivals such as SPROG Fest, (a local prog rock festival), The Cambridge Rock Festival etc.
We have also supported a lot of bands such as Credo, Solstice, Black Bonzo etc...
Our most useful tool is the internet, via our website's and Facebook.
Also our music is sold mainly online via iTunes, eMusic, Amazon, and a few others.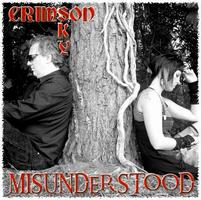 Over to your only album so far. Please tell us more about the Misunderstood album from 2009.
Actually although "Misunderstood" is our first full album there were four CD/EPs before it.
These were;

The First Chapter
Only Love
Seasons End
Revisionism

"Misunderstood" was really what we were working towards and would had been recorded much sooner if we had a stable line-up for long enough.

We had a couple of line-up changes, Mark left not long after "The First Chapter" we then brought in Samantha Turner on keyboards and electric violin.
Nicola left just before we recorded the "Only Love" CD/EP and was replaced by Nancy Jackson on vocals.
One interesting thing about "Only Love" is that the track's "Only Love", "I Do Not Count The Time" and "Misunderstood II", were all part of the "Misunderstood Suite" I had already written most of the "Misunderstood" album at this point, "Only Love" was recorded but never used on the "Misunderstood" album.
Also the following CD/EP had a different studio version of "Seasons End" on it as well as a live version of "The Sea".
Nancy and Paul left after this CD/EP and replaced by Scott Maynard on drums and Sarah Warrington on vocals.
Samantha and Sarah left just before the recording of the "Misunderstood" album.
So, replacing Samantha and Sarah we had Chris Cadey on keys and Holly Anne Thody on vocals.
This was the line that would record the "Misunderstood" album.
At this point the album had been written and played live for a while.

It was recorded by me on my TASCAM 24 Track PortaStudio, we did this for two reasons cost and to able to do exactly what we wanted to do creatively.
Although the end result does sound home produced in places, I think it stands up pretty well, a lot of hard work from everybody in the band went into the album, blood sweat and tears quite literally!
As you can tell it's an album I'm very proud of.

For those of us unknown with your music; how would you describe you music and which bands would you compare yourself with ?
This is a hard one, everybody both past and present in the band have always had very diverse tastes in music.
I've always loved prog and bands such as Genesis, Pink Floyd, BJH, Marillion as well as newer bands such as Porcupine Tree, Nosound, The Pineapple Thief.
Scott and Jane (current drummer and vocalist), are into similar music as me, although I suspect Jane has a very strong leaning towards classic rock as well.
Clive on the other hand is very much into heavy rock/metal.
I have always said that Crimson Sky's music draws from the past, but is very much in the future, we are not retro.
There was some talk of releasing a new album and a single one year ago. What happened ? What is the latest news from your band and your plans for the future ?
Right to bring you all up to date;
Not long after the "Misunderstood" album Scott left and was replaced by Alistair Woodman on drums.
This line-up stayed together until the end of September 2010.
Holly left and was replaced by Janey Summer who was already an established artist in her own right.


The plan was to work on the follow-up to "Misunderstood" again a lot of the songs had been written and we were almost ready to record, we recorded one demo of a single that we were going to release called "Trust", this is actually on our website for those who want to hear it.
At the very end of 2010 Janey left to concentrate on her own career, shortly after Ali and Chris left.
This brings us to the current line-up which is;
Myself – Guitars
Jane Setter – Vocals
Clive Lambert – Bass
Scott Maynard – Drums (As you can see Scott has returned)
We are currently looking for a keyboard player.
We have been working together for a few months now and things sound great, even without the keys.
The band is currently writing new songs and we are planning a new album.
We hope to be playing some live dates soon.
I personally can't wait for people to hear this new line-up!
To wrap up this interview, is there anything you want to add to this interview ?
Only to say thank you for interviewing me and to watch this space!
Our website is on the move, but can be found here;
Thank you to Martin for this interview