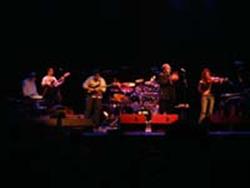 INDELSPEEN was a band which toured in the Lyon region during the eighties. Formed by Nicolas Mourachko (guitars) and Pascal Indelicato (piano & keyboards), it featured Antoine Van Limburg (drums), Pierre Moissonnier (bass & vocals)... INDELSPEEN is dead now. But the two founders are still alive and kicking: with Thierry Sportouche (ANOXIE's lyricist), they formed SILVER LINING in 1998. Pascal Indelicato, the main composer, is specialised in symphonic orchestration; he wrote several works among which "Résurgence" which blends synths with classical music. He thus played several tracks for a symphonic orchestra live. He is a sound ingeneer and has a recording studio ("Music Labo"). He produced SILVER LINING's album there.
I got in touch with the band and Thierry Sportouche answered my questions.
####################################################################################
Silver Lining is a direct continuation of your previous band Indelspeen, as far as I understand your biography. To my knowledge has Indelspeen never officially released an album. How much of Indelspeen's material has been carried over to Silver Lining ?
Well, not much. The main track belonging to both bands is 'October'.
Over to Silver Lining. Why did you choose that name and which bands were you influenced by ?
There is a nice proverb in English, 'Every cloud has a silver lining'. We liked this poetic and positive maxim much. Hence our name. The bands that influenced us? Prog rock, Celtic music and classical generally for Pascal (keyboards). Andy Latimer, Steve Hackett, Steve Luthaker, Alan Holdsworth, Steve Rothery for Nicolas (guitars). Myself, mainly Fish and Peter Gabriel.
How is it to run a band in France these days ?
In a country dominated by easy listening music and rap, it's very hard: there are no producers (and medias) interested by quality music such as prog. There are just a few prog concerts then and a small public. Hence we have a great turnover in the musicians (drums and bass) who quickly feel tired by the lack of concerts and productions. We are glad our first album (released by Musea in 2004) sold well (more than 1,500 copies), I mean on a prog point of view of course!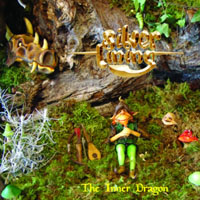 Over to your only album so far. Please tell us more about your The Inner Dragon album from 2004
Well, as you know, it is a concept-album. It's about self-development, communication, tolerance and peace, in a fantasy background. A peaceful land has been destroyed. A surviving imp (Florrow) looks for his family and friends. They are all dead ('Opaline'). In his quest for the inner dragon who burnt his land (he travels through a desert ('The Desert Gates') for instance), he soon discovers the beast looks like… him. In fact, he is struggling against the violent pulsations he has, we all have inside. He will succeed finally in rescuing his friends. In a nutshell, this is the story of the blooming of the adult coming out of the typical teenage depression, love failures ('Lovestalgia') and communication breakdowns. This is a message of tolerance and peace too: beyond the appearances, we're all the same.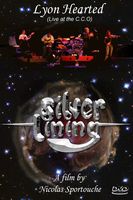 Please also tell us more about the Lyon Hearted DVD from 2006
It's a home-made DVD, you know. It reflects our concert in 2005 as guest to Ange, France's most famous prog band (together with Magma).
What have you been up to since the release of your album and the DVD ?
Concerts at the Prog Nights in Montreux (Switzerland), at the Progfarm festival in the Netherlands, at the Tiana festival in Barcelona (Spain)... We opened for Pendragon in Lyon too in 2008…
For those of us unknown with your music; how would you describe you music and which bands would you compare yourself with ?
It's definitely symphonic rock. Many people find Kansas (maybe thanks to Annie, our magical violin player), Camel and Marillion influences.
What is your plans for this year and beyond ?
We had a great concert in January in Lyon on our own. And Nicolas and myself sang with Andy Sears (Twelfth Night's singer) at the Pendragon concert in Lyon on April. We are now working on a second album and a video. We should play in Italy soon. Nicolas has a side project too, a prog combo called Jam Tempus.
To wrap up this interview, is there anything you want to add to this interview ?
Merci beaucoup and… keep on proggin!
Thank you to Thierry for this interview



Edited by toroddfuglesteg - September 09 2011 at 07:15