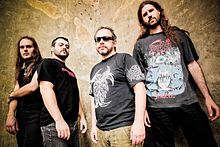 I ran a fanzine between 1998 and 2000 (/01 ?) and I did a lot of interview + reviews back then. Just like I do now for ProgArchives in other words.
One of the bands I interviewed and reviewed albums of was this Greek band. They were upcoming and very promising back then. They split up some years ago though after some rotten luck. I lost touch so I do not know. But if you guys read this; please get in touch with me ! Their albums is well worth checking out.
The Wikipedia biography on the band is here for those of you interested in all the facts. Here is my interview with them from 2000.
######################################################################################
When and where was Acid Death spawned? By whom?
Acid Death was spawned in Athens back in 1990. We were four guys who just wanted to create music. I am the only member from that season as our line-up had several changes in the next years. Today our line up is i(savvas-jake) on bass and vocals, dennis c. on guitars, nick a. on guitars and costas t. on drums.
Please tell us more about the chosen band-name.
We liked this name… we wanted something simple and something which can give some information about what we do…
What is the concept of your music? Which bands have influenced Acid Death most?
Our music is death metal, but you can find everything in it. We have tried to put together many things and elements from many kinds of rock generally. So you`ll find elements from gothic, fuzzion, industrial and progressive. We like to express ourselves as better we can, so our music is an alloy of all above with death in the king-position. Some bands we like and they influenced us are Death, Slayer, Coroner, Cure, Tribal Tech, Kansas…. as you can see we like all the kinds of rock…
Please tell us more about the "Apathy Murders Hope" debut cd on Molon Lave Records.
Well, this wasn`t a debut cd! It was our debut release on vinyl. it was a 7"ep released back in 1993. this release helped us to be poppular enough in our country, Greece, and gave us a rather good name in the underground abroad. Our style was death/thrash, something between Sodom and Morbid Angel, let`s say. It included three songs coming from our first mini lp, recorded in 1992, a recording which never saw the light, and we`ll release it next month, imagine, 8 years after it`s recording…
Please tell us more about the split lp with Avulsed.
This was our second release on molon lave recs. We had a style let`s say in a rather american way of reaching death metal. A very good work but the distribution-problems that molon lave had that season didn`t help it sell good. Both our first two releases are sold-out at the moment…
Do you have any plans of re-release of these albums?
Except of the release of our first mini-lp i mentioned above, with the title "balance of power" we haven`t any other plans of re-releasing. Even this release will be by ourselves and will be available from our web-site only.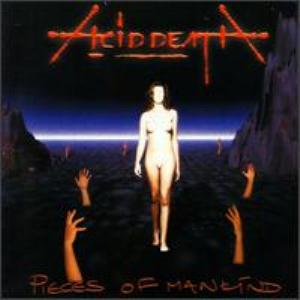 Please tell us more about the "Pieces Of Mankind" album.
This is our first full-length cd. First released in 1998 by a new greek label called Metal Mad Music and second in 1999 with a new mix by the british Copro Fecords. We love this work! It includes all our influences and hopes that everyone can create something new in music, if he tries. The same idea had almost all the magazines which made very good criticism, something that helped us a lot, just because we had to built up our name again. You know, after the split lp we have to stop working for almost 3 years because of our military services, something that made us lost a lot of time and the fans to forget us.
That album was released on Metal Mad Music and Copro Recs. What is the full story? What is your experience with those two labels?
Well, first metal mad released it in 1998, as I told you. this label had a very low distribution-profile, so the "Pieces Of Mankind" sold rather bad. One year after we got in touch with Copro which wanted to re-released it. We made a new mix, better than the old one and they re-released it with a world-wide distribution. This helped us a lot. Copro helped us in a very difficult moment of our career and we won`t forget it. Metal Mad Music just f**ked us over !!!!
How did you get in touch with Black Lotus Recs? What is your experience with this label?
Well, when we talk with copro recs for some other c-operation they told us that they haven`t any plans for us, just because they wanted us for this re-release and nothing more. Black Lotus wanted to sign us for two cds. So we signed on this label. We know the guys behind this label and we haven`t any problems. They know what to do and they do their best.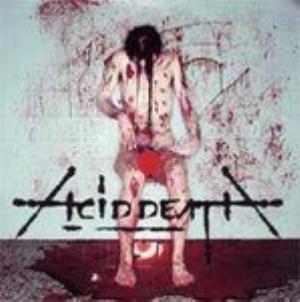 Please give us a presentation of "Random`s Manifest" album. the recording, lyricks, the concept… the full story.
This is our new release. It is a full-length cd. We recorded it from november of 1999 till march of 2000. In this album everyone can see that we became faster and brutaller than ever. The style is, as we like to say "today`s death metal", including influences from Scandinavian scene together with american one putting our "pieces of mankind" progressive elements. The production helped us a lot. we did our best and I think we made it. The production is huge, clear, powerfull, everyone can hear it an say "well, these guys are playing good…!" but we had a serious problem with our cover which was censored and as I know in Germany won`t be distributed in record-shops but only in mail-orders! The same problem we had with some magazines which didn`t accept advertising it. This created a lot of trouble for Black Lotus Recs… fortunately we distribute it through our web-site, so if there is anyone who wants to obtain it and he can`t find it in any record-shop he can order it through our site. Fortunately…
How with you compare your new album to your earlier albums and demos?
I think this cd is everything better we have ever do. We gave our best for this cd just because we loved all the material included. I dare say that we may not hurdle it in the future…time will show…
The jazz and progressive rock stuff on your album........ Please tell us more about them.
Well, both these forms are part of our music. We don`t try to prove that our music is something new or we are virtuosos or something. We love both these styles and they have influenced us. The metal fans generaly didn`t like these. They prefer something more direct, powerful or something. We have these elements in a small percentage just because we are metal fans too and we prefer something like this above!
What is your experiences with the record label industry?
Things are bad!!! All the labels are looking for something popular, something which can bring money back and not for something good or even original let`s say. For us here in Greece things are too bad, just because no one gives a hand in our bands. It`s so sad to see bands which can give something really good, something new, something that you can love it, to break just because no one is in the thought of helping them… really sad…
After the release of your latest album, have you done any tours, festivals, gigs… ?
We try to do as more as we can. In December we`ll play together with Destruction and Hypocrisy here in Athens, and maybe with Venom in february, if they will come in Greece. Our label tries to make it`s best to help us but it`s not easy to make a tour abroad because everyone of us has his own work and he can`t leave it for a month or so, to make a complete tour. We`ll see what will happen.
What is your future plans ?
We have started working on new material, which will be out in 2001. This is our first thought. and after…everything else…
Is there anything you want to add in this interview?
First a big thank you for the interesting and the support. Keep death metal flags high!
Thank you to the band for this interview