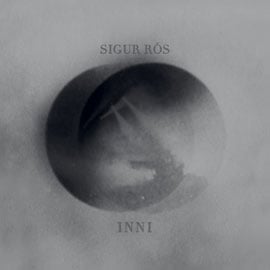 If you're pre-ording Sigur Ros' two disc live album and one disc DVD, which one are you getting? I really want the special edition, but it
is
$80.... it has:
unique concert artefact • 7" coloured vinyl • 1x blu-ray • 1x dvd • 2x cd • 'klippa' on dvd • 4x photographic prints • light sensitive paper • enamel badge • instant download of 'e-bow' mp3 • special edition includes free postage

It's really interesting to hear the theory behind the DVD. LIke Heima, it's more of an artistic film than a concert DVD, but this seems to be focusing on the darker side of Sigur Ros.
the new film strips away everything save the raw performance of the four musicians themselves. where 'heima' was widescreen and open, 'inni' is close and single focussed.
this is intentional. for while 'heima' was successful at "explaining" sigur rós, it was less so at conveying what it feels like to actually watch sigur rós play. that is the job of 'inni'. in order to accomplish this goal, morisset has taken his time and employed a number of different analogue post-production techniques to create an emotional understanding of being in the room with the band and going 'inside' the music. ("inni" literally means "inside").
unlike many concerts, watching sigur rós is seldom a communal experience; it is instead intensely personal. by almost entirely removing awareness of the crowd and any sense of place, morisset brings you closer than ever to the players, using multiple camera angles to reveal in sometimes minute close up the concentration and effort involved in delivering such a powerful rock show.
originally filmed on hd digital, 'inni' was first transferred to 16mm film and then projected and re-filmed once, sometimes through glass and other objects to give a strong impressionistic look


Edited by Eärendil - September 19 2011 at 22:36