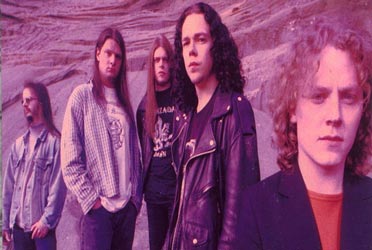 (The Electric Mist lineup. Gunder Audun Dragsten to the far left)

Godsend is one of the bands who were drowned out in the black metal movement who exploded in Norway at the same time. At that time, the doom metal scene in Norway was at least as good as the black metal scene. But nobody was murdered and no churches was torched. Hence; this scene never got the credit it was due.
Godsend was one of these bands. Set up by Gunder Audun Dragsten, it gained some recognition throughout three albums. Some of it due to Dan Swano's involvement. After three albums, nothing was heard from Gunder Audun Dragsten.......... until today.
I was supposed to do this interview back in 1993, but it was vetoed by my then editors and the interview was dropped. 18 years later, I finally honoured my promise to Gunder Audun Dragsten. Here is his story and probably his first sign of life for a decade.
#######################################################################################
Your biography has been covered in your ProgArchives profile so let's bypass the biography details. But which bands were you influenced by and why did you choose that name ?
I was influenced by bands such as CATHEDRAL, SAINT VITUS, BLACK SABBATH, CANDLEMASS and TROUBLE. These are bands that are very much related to the doom metal genre.

The name, GODSEND, I got from a song title called "The Godsend". I don't remember the name of the band. But I thought it was a great name for a doom metal band.
You were also involved in Atrox before you started Godsend. Please tell us more about your involvement in this band and why you set up Godsend.
ATROX evolved from a death metal band called SUFFOCATION. When I was in the band ATROX consisted of my childhood friends, and the band was formed mainly for fun. I enjoyed my time with the band.

There was no particular reason for why I chose to leave ATROX, but I guess I lost interest in the band. After I left ATROX I still wanted to continue making music, and GODSEND became my new music project.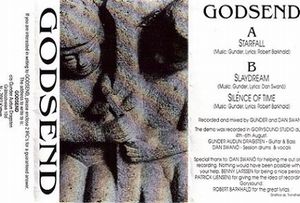 Please tell us more about Demo 1992 from 1992
The demo was the first proper music recording I did. I had recorded some songs on my 4-track recorder, but wanted to record a proper demo tape. Via friends in Sweden I got in touch with Dan Swanö (in Edge of Sanity at the time). Since he had his own studio, could sing and play different instruments, I chose to record with him. Dan did drums and vocals on the demo tape. He did an amazing job. Especially considering the short preparation time he had in learning the songs. It was the start of our musical collaboration.
The main goal of the demo tape was to get a record deal. The demo tape was well received, but most record companies found the music too slow and doomy. Even Holy Records, which I ended up signing a deal with, was not interested in GODSEND at the time.
How did you sign up with Holy Records ?
I ended up signing with Holy Records after I sent them the recording of the "As the shadows fall" album. They were the best company that I could get any offers from at the time.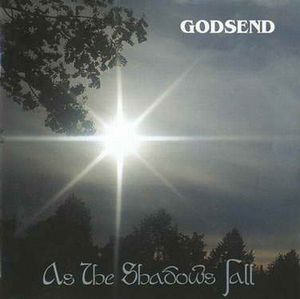 The first album was the As The Shadows Fall album from 1993. Please tell us more about this album.
The demo tape was well received, but it did not land me a record deal. So when I had enough good songs I decided to fund the recording of the first album myself. Again I used Dan Swanö on vocals, and the album was recorded in his studio. Edge of Sanity drummer Benny Larsson did the drums on the album.
I am very happy with this album, and song wise I would say this is the best GODSEND album.

The album featured two of the three songs from the demo tape. The rest was new material.

As The Shadows Fall was you + session musicians. You went full band on the following album In The Electric Mist with established musicians from other local bands. Please tell us why you turned Godsend into a full band and why you later returned to a more solo project orientated Godsend.
I turned GODSEND into a band to better be able do live shows. I wanted to have a stable line-up to live shows, tours and albums. I wanted to do this rather than hiring in musicians for live shows.
The time as a band was nice and I enjoyed it. But musically I felt that GODSEND was moving away from what I wanted to do. On "In The Electric Mist" one can clearly hear a difference in musical direction. The songs are much more varied that on the first album. This is because the new members were contributing with their own material. In addition I was planning to spend some years in the UK for my engineering education. Therefore I chose to disband the band, and continue GODSEND as a one-man project.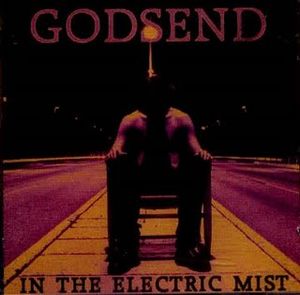 Let's talk more about In The Electric Mist. Please tell us more about this album. The music, that is.
"In The Electric Mist" was the first, and only, album that was recorded as band. We used the new studio that Dan Swanö had built in Örebro, Sweden. Dan Swanö only handled the recording, mixing and production duties with time. He did not do any lead vocals.
The music on this album is very different in some aspects to the debut album. It is easy to hear that the music was written by the band as a whole, and not just me. It is a good album, but I still think that the first album had songs that I liked better. And I also felt that the new vocalist couldn't match Dan Swanö. He was great on acoustic songs, but his voice was not that suited for other songs.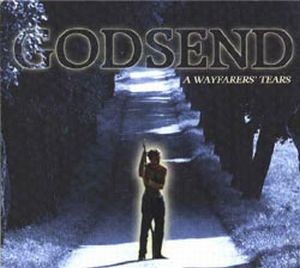 You went back to the yourself + session musicians on the final album A Wayfarer's Tears from 1997. Please tell us more about this album and why you went back to the old setup.
On the last album Dan Swanö was back on lead vocals, and Benny Larsson on drums. In addition I had two friends of Benny Larsson handling bass and lead guitar. The lead guitarist also had a small studio, where we recorded the basic tracks for drums, guitar, keyboard and bass. Dan Swanö did the vocal parts in his studio. He also did the mixing of the album.
The album is kind of a return to the first album in a sense that I wrote all the songs, and therefore the songs was kind of more in a similar style.

Dan Swanö had a slightly different approach to the vocals on this album. He took more inspiration from his melodic rock side. This gives the songs a bit more melodic feel to it. There is some gothic rock feel to his voice as well.

Having a proper lead guitar player also improved things. I am not very good with leads, which is why I chose to have somebody else do this work.

From a sound point of view I think this the best sounding record that I have made. But, I still feel that the songs on the first album was a bit better.

As I mentioned earlier I disbanded the band some time after "In The Electric Mist". I was not 100% happy with the music and I was planning a long stay in the UK for my engineering education. Therefore this was the best solution for me.
How was your creative processes from coming up with an idea to it's being recorded ?
For me the creative process usually starts with an idea to a theme of a song. From this I usually start making the music. When I sit and play guitar I often come up with song ideas that I record. When some of the music fits to any of the themes I have come up with I start to actively work on the songs. The recording technology today allows you to use computers for recording music. I use PROTOOLS to record. This makes it very easy to get down the basic ideas and start working on the details. The editing possibilities also allow me to cut and paste parts, which means that it is easy to add and remove parts without having to re-record everything.
For lyrics I depends from song to song, what I do. For "A wayfarer's tears" the lyrics were completed while I was recording the music. But now I tend to write the idea for lyrics as a poem. Then I base the lyrics based on the poem. The poem is basically just to get the lyrical idea on paper.
And there has been no sign of life from you since A Wayfarer's Tears was released. Why did you close down Godsend and what have you been up to in the last 14 years or so ?
After "A Wayfarer's…" was recorded I had little time to spend on music. I moved to the UK for 3 years to finish my University education. After that I moved to Oslo to work there, and then I just dropped out of the scene. I am not sure why, but I guess I lost interest in working with music.
So, in the years after the last album I have been working in Oslo, Stavanger and now back in Trondheim. I work as an engineer in the oil and gas industry.

I have also married, so I have commitments at home that are important too.
I gather you have gone straight and has a good life outside the music business. What is your memories from Godsend and what is your opinions on Godsend today ?
I have very good memories from my time with GODSEND. And things could have been different if I had chosen to concentrate on music. But since I was well on my way to become an engineer I decided that was the best way to go. Maybe if I had started playing music a lot earlier and chosen a music education, my choices would have been different.
I don't listen much to my previous recordings. But I am still proud of what I achieved. I only regret that I did not work more to improve my understanding of music and my guitar playing skills. I was just interested in the fun that was involved in making music, but never took it too seriously. Maybe that was the reason that GODSEND was put on ice after the third album.

Are you still in touch with the music scene in Trondheim and world wide ?
I am not in touch with the music scene. Not as much as I was when I was an active musician. However, I still know people from ATROX and some of my band mates in GODSEND. I guess having a lot of other priorities has made it difficult to keep in touch with the scene.
Is there any chance you will ever do anything in the music business again and/or as Godsend ? Any plans for re-releases and/or compilation albums ?
I certainly think it is likely that I will be back again. But I feel I need to improve my understanding of music, and at the moment I am not disciplined enough to get this done. However, I do have ideas for songs and themes that I have written down. And a bit of music as well. But don't expect anything new yet.
As far as I know there are no plans to issue the albums again. I have lost contact with Holy Records, so I don't know what their plans are. You can find the last album on services such as Spotify, so some of the music is still available.

To wrap up this interview, is there anything you want to add to this interview and is there anything you want to say to those who listen to & still enjoy the Godsend albums ?
I would like to thank all those who have enjoyed the music of GODSEND, and who bought the albums. Hopefully I will be able to get my act together and make a new album.
Thank you to Gunder for this interview