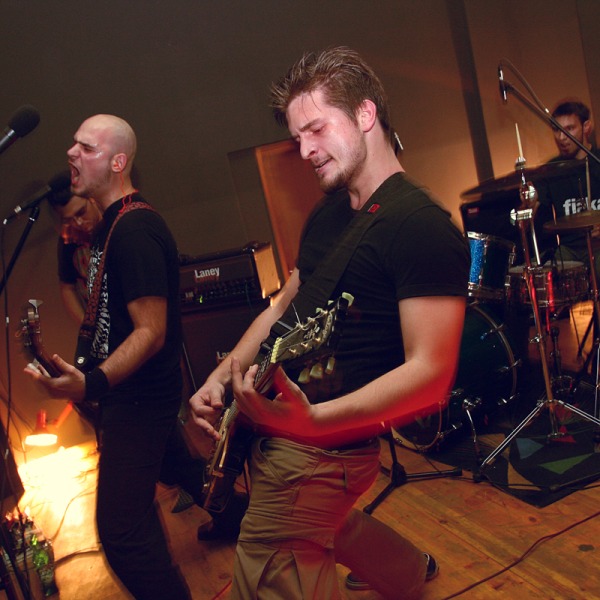 MORAINES is a Croatian ( Zagreb based) experimental/ Post metal act formed in spring of 2007 by guitarist Petar and guitarist/ vocalist Domagoj. Bassist/ vocalist Nikola and drummer Miro was added to the lineup later.

MORAINES released their debut EP "The Perfect Pantheon of Absence" on the 15th of December 2008. The band started touring in early 2009 but in May 2009 drummer Miro decided to leave the band which means that MORAINES is in a momentary hiatus.
MORAINES play a heavy brand of Experimental/ Post metal not unlike an act like NEUROSIS and should appeal to fans of that style.
I got in touch with the band and Petar answered my questions on the behalf of the band.
#####################################################################################
When, where and by whom was your band born? Did any of you, past and present members, play in any other bands before joining up in your band? Why did you choose that name and which bands were you influenced by?

Hello, Petar speaking. Moraines was born in Zagreb in the spring of 2007 by Domagoj and me, under the influence of bands like Pelican, Isis, Neurosis, Cult Of Luna, Rosetta, Mouth Of The Architect and similar. At the time, those kind of bands had the minor fanbase in Croatia and there wasn't any local band playing that type of music, so we decided to enrich the scene by introducing those kind of sounds. The name of the band popped out from our initial ideas for the concept of the first EP, and it sums up the themes and the general feeling we wanted to achieve. In short, we were amazed by the power of nature and the idea of monumental calmness that glaciers give, where moraines present fossil debris which holds many secrets about the beginnings of life on Earth.
All of us played in many other bands before, but I'll just point out the most known acts. Miro, our drummer at the time, still plays in his main band Cojones. Nikola, the bass player, played in Talason. Domagoj played guitar in Ares, and Mario drummed in Things Fall Apart. I was a member of ethno-doom outfit S.o.M., and I'm also active on the experimental noise and DIY label scene.

The Croatian metal scene is pretty big with some good bands. How is it to run a prog metal band in Croatia these days?
There is a metal scene in Croatia for sure, but in our opinion it really lacks variety and it's susceptible to trends – for the last couple of years metal-core is the predominant genre, at least in Zagreb. Of course, there's always an interesting, and in a way different, band or two in each sub-genre that makes things better. But there are also signs that this "new prog-metal", "post-metal" or whatever you call it thing, became more popular as well. From 2007 to today there's been a rise in bands similar to Moraines, and I'd say that now we have a rather small, but relatively coherent scene where these bands are well connected and have an equally small, but loyal following. Running a prog band isn't much different than running any other non-commercial/underground band in Croatia - not many new people are attracted to the music, selling your releases is very hard today even when you hold ridiculous prices and the gig attendance / money you get from the gigs is very low. So, it's equally hard for everyone.

Over to your only release so far. Please tell us more about your The Perfect Pantheon of Absence EP from last year.
Well, it's been almost three years from the release now. Over that period we played those songs a lot of times and now, looking back and comparing it with our latest material, we think there's much we could add or change about it. But, on the other hand, that's our first effort, written in only a couple of months, and it gives a good perspective on our musical ideas back then and always brings back good memories when we listen to it.
Speaking about the themes and ideas behind the EP, first of all I should explain its title. It's actually taken from the book called ''House Of Leaves'' by Mark Z. Danielewski. This quote inspired us very much and reminded us how blind and ignorant we are and how absent the truth is in our lives. Our civilization is the pantheon of that absence. The lyrics on the EP deal with term of perceiving the reality and life, and also focus the narration through the eyes of a person with a messiah complex who is facing an upcoming end of days, and dwelling on his last thoughts and emotions. We have limited vocals on the EP, due to the desire that our music will speak more for itself, so the lyrics have limited role in our music – they are only an echo of ideas we are trying to portray with our work. ''Garden Of His Turbulence'' deals with the creation and ever-changing hierarchy of life. Human is just a witness of paradise given to him, an electronic impulse in the sea of information, but still we tend to get arrogant and claim our lives and our planet for our own. The song also deals with coping with our linear existence and the invisible hand which gives the purpose to life. ''And The Waters Separate The Space'' deals with symbolism of water as the most important element of life on Earth. In the beginning of time it harnessed the life from which the human life is woven, separating the earth and creating the land on which the life will blossom. Since history has a tendency of repeating itself, the waters will separate the lands once more, proving its power to the human civilization. This will be the next phase of the evolution of the human as the cognitive being, and waking him up to perceive the reality how it really is. ''Temples In Chrome'' deals with the problem of religion. Not in the context of already established religions, but in the context of believing in something higher and that we are not alone. Faith and hope are the most intense impulses for surviving. The song deals with faith in terms of believing in the human race, sort of ''whatever we do, everything will be alright in the end'' approach. At least, we know how to survive. So the song follows narration of the previously mentioned person facing the end of days, who is now the sole survivor. He says that we are all ''open and blank'' page in the history books and only now we are ready to be a ''written page'' or, in other words, only now we can comprehend our purpose, and that should be our only religion. ''Come Death'' obviously deals with death but also, more importantly, rebirth. Most people meet death unprepared, armed only with ignorant familiarity. In other words, people die simply because it is inevitable. Only those that face death as they face life, can understand that death is not the end. Sometimes the destruction doesn't stand for the end, but rather for the beginning, a new and a better beginning. So, we have to ''close our frightened eyes'' first and the life itself will ''guide us outside''.

Your EP is self-released. What are the pros and cons of doing it alone? How is the distribution and from where can the album be purchased?

There's rarely a less commercial band that gets its first release published and promoted by an established label, and a good deal of these bands go DIY throughout their existence. There is definitely more pros than cons to this approach, but elaborating on phrases like "we are the sole owners of our music", "we want to control our finances" etc. would just bore the hell out of readers - yes, it's all true, but it's been repeated numerous times and everybody knows this already. I'd rather share some thoughts about the labels today. Although I'm involved in a couple of labels, I think the needs for one are greatly reduced today. Internet is all you need, and countless services and artist platforms exist that help bands a lot. We distribute our CD through our Facebook and Bandcamp profiles. You can buy it on Discogs. But the sales are just disgracefully low - physical releases, especially CD, lost the war with mp3 long time ago and majority of people just perceives them as unnecessary cost because everything is already on the web. If its not, it will be in a matter of hours. Labels and physical releases only make sense because of a loyal minority that is still willing to spend money on good audio and takes proper time to listen to the records - not while riding a train, driving or doing something else that requires background music to kill time. I'm talking about putting a record on, devoting your time to it, and enjoying it while cutting off everything else. Having your music collection portable and available at all times is a great thing, but it made obsolete a good portion of what labels are about. So our approach, and a suggestion to all bands out there, goes like this - give mp3s for free to anyone and never charge a cent for them. Invest some money in a limited quantity of physical copies, preferably vinyl because that's the most likely format to sell, hold a fair price, and the results should be visible. Not that you'll sell everything immediately, but trust me, vinyl is the only media that will stick with enthusiasts for many years to come, and having your music preserved on a high quality media has a permanent value for you and your fans.

For those of us unknown with your music; how would you describe you music and which bands would you compare yourself with?
As I already mentioned, in the beginning our biggest influences were mostly Isis, Mouth Of The Architect and Pelican, and this can be really heard on our first EP. The songs are lengthy and repetitive, and we tried to capture a certain monumental, atmospherical soundscape. Our recent works differ in approach and playing techniques, and the results are shorter songs with more stuff going on in the process. Our new drummer Mario contributed a lot to this because his style of playing comes from a musical background which is very different from what the three of us are used to. The new songs were mostly met with comparisons to bands such as Russian Circles and The Mars Volta, not because we shifted our sound towards this kind of music, but mainly because of the overall feeling that the songs carry. Either way, we're happy to see that we managed to reconcile our, sometimes radically different, musical ideas and progressed further as a band. Good reception of the new songs from the audience makes us even more satisfied.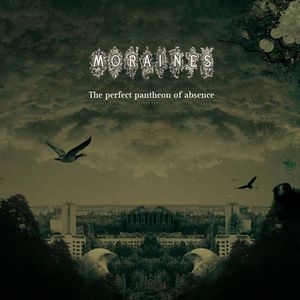 What have you been up to since the release of that EP back in 2008, what is your current status and what are your plans for this year and beyond?
Much has happened since then. Over the time we played a lot of gigs in Croatia and few in neighbouring countries, supported bands like The Ocean, Talbot, Aussitôt Mort, Heaven In Her Arms etc. Unfortunately, we also had a few periods of silence, caused mainly by minor line-up changes, each band member's everyday duties and the unreal, bizzare, hard-to-believe bad luck with practice spaces. At the moment, we're just coming back from one such period, and now those six new songs we managed to write in the last two years are facing final polishing and waiting to be recorded and properly packed on a self-released vinyl next year. After that, we will try to organize a small European tour to finally get some real road experience, promote the new release and hopefully earn enough to get back home. After that, writing our new "best material so far" again, and that's just the way it all goes and goes...

To wrap up this interview, is there anything you want to add to this interview?
First, I would like to thank you for supporting Moraines and giving us the opportunity to introduce our music to your readers. I love Progarchives and the quantity and quality of the information it holds, which allowed me to discover a lot of interesting new bands, as well as improve my knowledge of the old ones. I truly hope this interview will encourage someone else to listen to my band. Also, I'd like to thank all our fans for sticking with us over the time, and promise that the recent standstills are behind us - you will get some better and bigger Moraines very soon!

Thank you to Petar for this interview