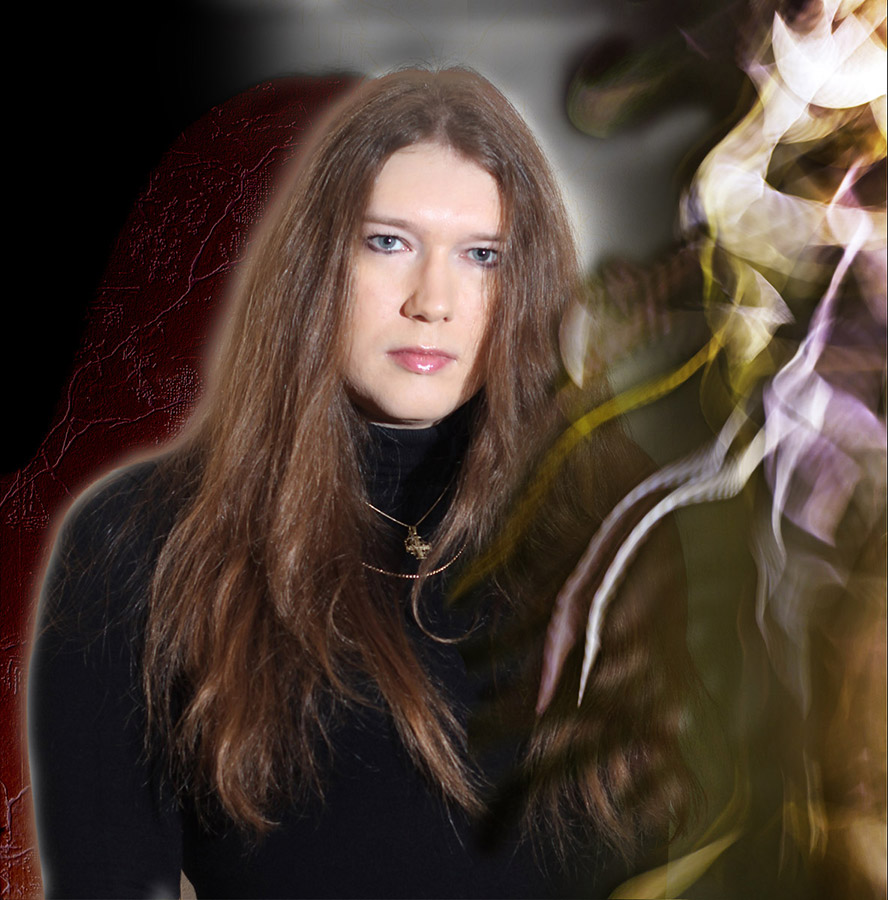 SPACE MIRRORS are the brainchild of multi-instrumentalists Alisa Coral (Russia) and Michael Blackman (Australia). Inspired by several prog bands coming from diverse genres they started to work together around 2001/2002. They call their music 'Infernal Apocalyptic Space Rock', consequently cosmic themes were picked up decorated with a blend of ambient, industrial and metal space rock, partially similar to Hawkwind and Litmus.
I got in touch with them and Alisa answered my many questions.
######################################################################################
When, where and by whom was your band born ? Did any of you, past and present members, play in any other bands before joining up in your band ? Why did you choose that name ?
Space Mirrors was born when I and Michael Blackman decided to record some music together. I had some idea to make a heavy space rock band and was looking for similar-minded guitarist. Michael sent me some guitar tracks and that was it. It was in 2002. A little bit later I came up with a name "Space Mirrors". First it was just phrase in my e-mail address, then we were discussing it with Ian Abrahams (a known music journalist and writer) and he said it could be a great band name. So I should thank him for the tip. Michael has his own project called Alien Dream with many albums released. I had some solo synth ambient music released under names Neutron Star and Frozen Fields. Our singer Martyr Lucifer is from Italian Avant-garde Extreme Metal band Hortus Animae. And our new guitarist Massimo Arke has a band Opposite Sides.
Which bands are your biggest influences and which bands would you compare your sound with ?
I don't want to compare our sound with other bands, it has so many elements, it's difficult to choose. I want to think that after all these years we developed our own sound. Of course there are influences. Some are very obvious like Hawkwind, High Tide, Pressurehed or Ayreon. But some are more subtle – like Iron Maiden, Manilla Road or Tiamat. I think bands like Sigh or Bal-Sagoth influenced my songwriting a lot. Arcturus is always an inspiration. Influences include the whole spectrum of progressive rock and metal genres but as a result I hope we get something new and original. We blend space rock, keyboard driven prog rock and metal. I'd say we play 21st Century Space Metal.
How is it to run a band in Russia these days and how is your distribution of the albums to the rest of the world ?
Well, in my band only I am from Russia. In some ways it's not easy to run a band from here. If I lived in Europe or USA it would be easier to play concerts. But I'm working on that part. All other musicians are from other parts of the world, but our current main musicians are from Italy. With the help of modern telecommunication technologies it's not difficult to be in contact with all our musicians daily. So it's not a real problem to be in Russia. Worldwide distribution depends on what our record labels do though I always try to help with that myself using my contacts in music world. And so far our albums were released on British and Greek labels (Dead Earnest and Sleaszy Rider). Space Mirrors is not local band, it was international project from the beginning. So the worldwide distribution was always important. We also sell our albums from webshop on our official site:
http://www.spacemirrors.com/sale.htm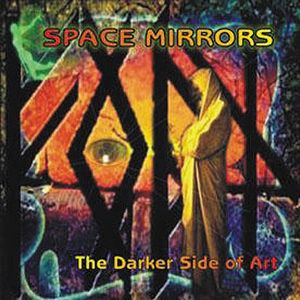 Over to your three albums. Your debut album was The Darker Side Of Art from 2004. Please tell us more about this album. Arjen Lucassen played on this album. How did this come about and how was it to work with him ?
"The Darker Side…" was a very interesting experience that helped me a lot to learn many things about music production and industry. It was a time when internet collaborations between musicians were not as often and regular as now. So we were sort of pioneering the new territory. That was dark space rock music with super heavy guitars provided by Arjen Lucassen on two songs. He also sang on one and did spoken performance on another. Music on the album is rather variable – from ambient structures to heavy metal with some industrial influences of Chrome. It was inspired by sci-fi literature, movies and also by old occult studies. I and Arjen exchanged e-mail messages for some time already; I showed him my music and then invited him to take part on Space Mirrors album. He liked the songs I sent him and agreed. I learned a lot from him, his way of work. And I should say his Electric Castle studio is a very nice place. Many things I know about music production I learned from him. And of course his contribution was vital on that album. I can't imagine "Dark Jedi" epic track without him or "It's Cold Today in Underworld". Michael Blackman played most of other guitars. "TDSOA" was a very successful album, it's sold out now. And we got a track from it on "Eclipsed" magazine compilation which was a good promotion on prog scene.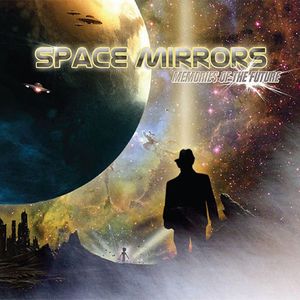 Your second album was Memories Of The Future from 2006. Please tell us more about this album.
"Memories…" album wasn't an easy one. There were numerous setbacks with recording. Something was re-recorded because I didn't like how it turned out. Guest musicians falling out… But then I managed to get it all together and we produced a very solid album of heavy space rock music. Colin Allen, manager of Litmus, really helped at that time. Martin from Litmus recorded a heavy groovy bassline for the epic track "Creatures of the Twilight", Metatron from "The Meads of Asphodel" provided some growl vocals for a couple of songs. And Keith Kniveton (Hawkwind, Starfield) recorded a great minimoog synth solo on a track "Travelling to the Core". By the way, that minimoog has a very interesting history – it was owned and modified by Tim Blake, and before it owned by Mannfred Mann and was used on "Solar Fire". This is really funny, it's like a progressive rock bridge between the different eras. Michael played all the guitars on that album. "Memories…" is regarded by many as a milestone in heavy psych/space rock music of 2000's and for me it was. I knew I would have to create something very different on next album. I'm happy that fans are still writing to me with the praise for this album. It reached #22 in Top 100 albums of 2006 at Gagliarchives (USA Progressive Rock FM radio program) ahead of many famous names, including The Gathering! Lyrics and music was inspired mostly by Ancient Astronaut theories researched by Sitchin and Daniken. Also there were some songs with clear social and political message like "Death Inc." and "Feed the Serpent". Some people wrongly think of Space Mirrors as of pure Sci-Fi band. That's not really correct. Like in good Sci-Fi books a song of Space Mirrors always has some real life message. We just don't throw it straight in the face.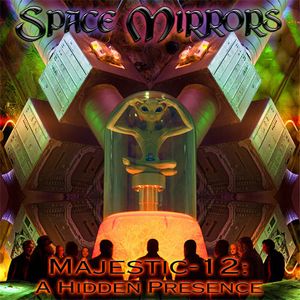 Your third and most recent album was the Majestic-12 - A Hidden Presence album from 2009. Please tell us more about this album. Nik Turner did the saxophone on this album. Again, how did this come about and how was it to work with him ?
Yes, "Majestic-12" album, it was released a year later than supposed. Everything was ready in spring 2008 but label had some difficulties and album was released only in 2009. That messed up the promo campaign I was preparing but it was successful nevertheless. Album was conceived after the thorough research of the UFO and conspiracy subjects. So it's a concept album where every song is dedicated to its own case. From Tunguska to Roswell. There are also some political messages like in a song "New World Order" for example. We focused more on writing actual songs then instrumentals. All the guitars were again played brilliantly by Michael Blackman. On this album new people joined Space Mirrors. One of the most notable was arrival of a singer Martyr Lucifer who did all kinds of vocals – from clean to growl and screaming. He is very talented and diverse singer and I am very happy he became a permanent member. Cyndee Lee Rule joined the band to play violin. She is very well known for her participation in many space and prog rock bands. She added the necessary element for a new Space Mirrors sound. And of course Nik Turner. He recorded saxophone and flute and also did some spoken word. He is truly amazing. His recordings were of the highest quality. We correspond for several years through e-mail and when I started composing Majestic-12 record he was the first person I contacted about making a guest appearance. So I wrote the songs having in mind his future contributions. And the new graphics designer Kevin Sommers joined the ranks too. His visualization of Space Mirrors songs in artwork is incredible. He did a great cover art and booklet for the album underlining all the concept details. Everything combined really well and I was very happy with the result. Space Mirrors moved into new direction and it was the right one.
By the way, recently we were looking through the Majestic-12 sessions files and Martyr suggested to rework one of the songs. So we did. It's called
"Dreams of Area 51"
and will feature for the first time clean vocals by Martyr along with Cyndee's violin and Nik's flute. It will be released on red vinyl as a
split 7'' single w/Acid FM
band from USA by
Monster Fuzz Records
(
http://www.monsterfuzzrecords.com
). This collectible item will be available for pre-order in our webshop very soon! If you are interested you can drop me a line about it to
[email protected]
What have you been up to since the release of Majestic-12 - A Hidden Presence ? What is your plans for this year and beyond ?
I released two albums as Psi Corps on RAIG record label in 2009 and 2010 playing music more experimental than Space Mirrors but close to space rock genre. Also I did sound production for many bands in Russia and abroad. I didn't stop Space Mirrors project and soon I was writing new album. We are in final stages of recording it now.
"In Darkness They Whisper" is a title of new album and it will be the first one in "Cosmic Horror" series. Songs are inspired by the metaphysical, cosmological and occult concepts developed by HP Lovecraft in his books. Music combines elements from heavy and melodic space rock to dark and epic metal while staying true to Space Mirrors style which marked the first three albums. We have many great guitar and synth solos on it! This year Massimo Arke from Opposite Sides replaced Michael Blackman as a guitarist in Space Mirrors and he plays most of the guitars on new album. Martyr Lucifer sings all songs concentrating more on clean vocals this time. Recording of the album takes a long time as always with Space Mirrors. All SM musicians are professionals and have very busy schedule. But we plan to finish it by the end of 2011. Where will it be released? We don't know yet, we are currently looking for a new record label home!
We also got on this record:
John Pack
and
Allen Welty-Green
play guitars and synths accordingly on several tracks,
Alan Davey
(of Hawkwind and Gunslinger fame) recording a powerful bass guitar for 4 parts of the main epic song-suite,
Nik Turner
providing fabulous flute and sax again,
Cyndee
recording violin,
Bjorn Jeppesen
(Nattefrost) played synth solos in one song, we got many guest musicians. That's a wonderful journey this recording. And meanwhile our singer is releasing a debut solo album really soon, check it out – Martyr Lucifer "Farewell to Graveland",
http://martyrlucifer.net
To wrap up this interview, is there anything you want to add to this interview ?
I would like to thank Prog Archives for the interest in our band. And big thanks to all our fans old and new around the world for support, you are the best! Please visit our websites for up-to-date news:
http://www.spacemirrors.com
and
http://www.myspace.com/spacemirrors
In 2012 it will be 10 year anniversary of Space Mirrors and I hope we will celebrate it with a release of an excellent new album!
Thank you to Alisa for this interview

Hopefully, this interview will get this band some well deserved album reviews