Pretty great show last night in the Great Hall of the Washington Pavilion in Sioux Falls, South Dakota with Kansas accompanied by the 80-member Augustana College/Community Orchestra. The Great Hall seats about 2,000 and as near as I could tell the event was a sell-out.
A little trivia: The Washington Pavilion is a community arts/sciences center in Sioux Falls housed in what was once the original Sioux Falls Washington High School circa the early 20th century. Washington High School BTW holds the national record for most state football titles of any U.S. high school (35, including the past two years). All three of my sons attended there although none of them played football. The Augustana College/Community Orchestra is a unique collaborative venture comprised of the college's orchestra and various local musicians including members of the South Dakota Symphony, area high school orchestras and various local musicians.
Kansas was on their game with great playing all around. Phil Ehart was a madman on drums while David Ragsdale was his usual jack-of-trades on electric violin, guitar and vocals. Billy Greer on bass also pretty much filled the MC role and was the only one who spoke to the crowd, chatting it up between songs and offering up tidbits of band and song history. Rich Williams covered both lead and acoustic guitars, something he's done since Steve Morse departed the band back in the latter 80s. And even Steve Walsh seemed to be in a pretty good mood behind his keyboards, even venturing out to the front of the stage a few times to belt out vocals on 'Cheyenne Anthem', 'Dust in the Wind', 'Carry on Wayward Son' and 'Hold On'.
Walsh's voice was pretty good, as it usually is indoors. I've seen the band twice at outdoor shows in the past few years and both times Walsh struggled, but last night he seemed mostly in good form. Greer and Ragsdale picked up a lot of the vocals, especially Greer on some of the high notes, while Walsh owned most of the song parts he's most known for on 'Dust in the Wind', 'Miracles out of Nowhere', 'Carry on Wayward Son', 'Icarus - Borne on Wings of Steel' and the surprising inclusion of 'On the Other Side'. Walsh seems to have become more comfortable with his role as keyboardist and with ceding some of the vocal chores to Greer and Ragsdale, which is good since both of them have great voices and this is an improvement for the band compared to some recent tours when Walsh tried to carry too much of the load himself.
The setlist:
Magnum Opus ('Howling at the Moon')
Musicatto
Point of Know Return
The Wall
On the Other Side
Hold On
Dust in the Wind
Song for America
Cheyenne Anthem
Icarus - Borne on Wings of Steel
Miracles out of Nowhere
Fight Fire With Fire
Carry on my Wayward Son
Nothing too unusual in the song selection although I can't recall ever hearing them play 'On the Other Side' in any of the six concerts I've attended over the past 31 years; and 'Fight Fire With Fire' which is a John Elefante-era Kansas tune but one that Walsh has performed live before. Would have liked to have heard 'Nobody's Home' since that is a great score for an orchestra but overall no complaints. Augustana Orchestra Principal Chair Matt Anderson (a Sioux Falls native) came out front stage during 'Dust in the Wind' for an extended violin duel with Ragsdale, and of course the crowd went nuts over that. Anderson was pretty solid.
The crowd was an interesting mix of older Wheatheads like myself; old hippies; quite a few teenagers who probably attend just about any concert since so few decent artists come to South Dakota; some old stodgy types who were probably there to see the orchestra; and a fair number of people who I think were there just to support the show that was billed as a fundraiser for both college orchestra programs and for Autism Speaks, an organization that promotes awareness and research for autism.
The most amazing part of the evening came after the show when all five members of the band as well as guest conductor Larry Baird came out to the lobby to sign autographs. I got everyone's signatures on a copy of the 'There's Know Place Like Home' DVD as well as a concert poster. Other than Ehart I've never met any of the members of the band despite being a loyal fan for more than thirty years, so that was pretty special. Even got a couple photos with me and my youngest son who I brought with me. Also happy to report he was impressed despite being a rather jaded 14 year old.
Even though this was a fairly restrained evening with a band in the twilight of their long career, I have to say I felt a surge of pride somewhere around the time they launched into 'Song for America'. Whatever the international prog-rock community might think about this band, they are ours. And while the music is undeniably progressive, it is at the same time a ubiquitous part of our culture and is so uniquely Midwestern American that anyone who grew up in these parts can't help but tap their toes and sing along with a smile on their face and great distant memories dancing around in their head. I think maybe you can't get that connection unless you grew up as a part of it.
All in all a special evening and a much more fulfilling experience than the last time
Kansas came to Sioux Falls
. If you have a chance to see them on the 2011 Collegiate Symphony Tour I highly recommend that you do. Well worth it!
Washington Pavilion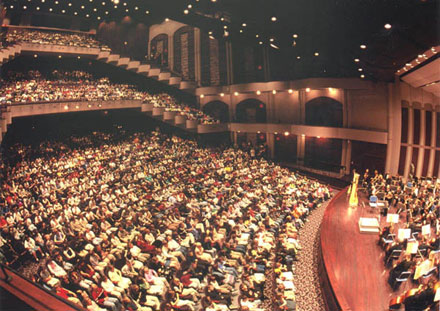 Edited by ClemofNazareth - October 15 2011 at 11:20