Thank You Scientist is a seven-headed rock ensemble from New Jersey. Their debut record, The Perils of Time Travel, was released in January 2011. The music can be best described as progressive rock mixed with jazz and fusion. Not an uncommon trait especially under the crossover banner.They are from New Jersey and have been playing successful live shows to eager audiences for some time now. The abovementioned EP release consists of five tracks and has been warmly received.
I got in touch with the band and Tom Monda answered my questions.
When, where and by whom was your band born ? Did any of you, past and present members, play in any other bands before joining up in your band ? Why did you choose that name and which bands were you influenced by ?
I (tom monda) formed the band somewhere in early 2010. The band went through a few different line-ups before we settled on this current one, which I think really captures that sound I was initially trying to get with the group. The only significance of the name is that it sounds nice and kind of captures the vibe of our music, while not pigeon holing us as a specific type of band. Better than naming our band "Baby Coffin" or something like that...The guys in the band all come from different backgrounds. Orchestras, small chamber ensembles, jazz groups, rock bands etc. Most of us went to music school together.
New Jersey is mostly known as a run down area which gave us Bruce Springsteen and Bon Jovi. But how is the music scene in New Jersey now ?
Not much as changed since the Bon Jovi days, just the hair styles. And there's probably more garbage. And traffic. There are a lot of talented musicians in New Jersey, and it's right by New York City which has some of the most amazing music going on as far as the jazz scene is concerned.
For those of us unknown with your music; how would you describe you music and which bands would you compare yourself with ?
We try to make our music work on the visceral and intellectual level. On the surface, we want to write interesting rock songs that people can enjoy. But we also want people to be able to listen deeply and hear a lot of nuance. We don't want to beat people over the head with 5 million parts, but we also don't want to write in typical song form. We pay special attention to arranging these tunes down to the most minute detail and try to find creative ways to use the different instrumental colors we have (guitar, bass, drums, violin, sax, trumpet) to compliment the vocals and develop the ideas. To contrast the compositional nature of it all, we also include improvised solos. We've heard people compare us to Coheed and Cambria, Zappa, Tool, Mahavishnu Orchestra, Mr. Bungle, old Incubus, and others. Fans of wacky guitar stuff seem to like it also. We've gotten warm responses from very different crowds, so I think if you are at all intrigued you should check it out!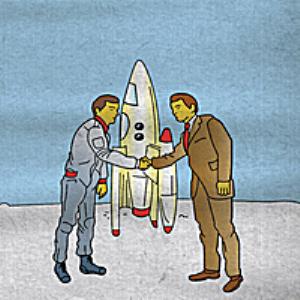 Over to your only release so far. Please tell us more about your The Perils Of Time Travel album from earlier this year.
"Perils" was recorded in my living room and in a basement in Harlem. It doesn't feature the current line up of the band (keyboard player went to medical school so we replaced him with a trumpet player to beef up the horn sound). It's 30 minutes long and features the first 5 tunes we wrote together as a group. We are almost completely sold out of our first pressing, but it's available digitally through cdbaby, itunes, amazon, etc. We were completely surprised by the warm response we received from people all over the world, as we were just a bunch of college kids trying to make something to get gigs with. There's a number of different influences from rock/metal/indie to jazz fusion and classical, but hopefully these elements sound like they make one cohesive thank you scientist sound, rather than a bunch of disparate elements. Our sound has evolved a lot since this recording and I can't wait for people to hear our new material.
What have you been up to since last year, what is your current status and plans for this & next year ?
We have been writing material for a full length record we hope to be released by the summer of 2012. We are about 85% done with the writing and hope to start recording sometime in april or may. We've been gigging a lot and trying to get our music to new ears. We are going to be starting a video diary of our progress towards the new record. You'll be able to see the small amusing episodes on our facebook (
facebook.com/thankyouscientist
). Thanks for dropping us a line. I read prog archives all the time to try to find new music. I can't tell you how much cool stuff I've found via this website!!
Thank you to Tom for this interview