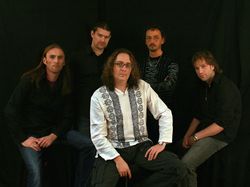 ULYSSES is a progressive metal band from Holland; they were formed in 1998 by the guitar player Sylvester Vogelenzang and keyboard player Ron Mozer. They wanted from the beginning to sound as their favorite bands Dream Theater and Pain of Salvation. Well, this vision to make an album got wings when they contacted another 3 musicians, drummer Rene van Haaren, bass player Rene Schippers and vocalist Raymond Jansem, so the line-up was finished and the first demo album was released in 2001 with the titled "Eclectic". After 2 years, in 2003 they released their first full length album entitled "Symbiosis". Because both releases received good and positive reviews; "Eclectic" and "Symbioses" appeared on many magazines over the world so they decided to play live concerts. After some shows and stage performances; the big event was made in 2005 when they played on Progpassion Festival. After these encouraging concerts Ulysses decided to part ways with their vocalist, Raymond Jansen and tries to find another one instead. They found Michael Hos to be a perfect replacement of Jansen. Also in that period the original bass player Rene Schippers left the band due to personal reasons and was replaced by Casper Kroon. Finally after 5 years the second full length album was released in Europe in September 2008 entitled "The Gift of Tears".
I got in touch with the band and Sylvester Vogelenzang de Jong answered my questions.
######################################################################################
Your biography has been covered in your ProgArchives profile so let's bypass the biography details. But why did you choose that name and which bands were you influenced by ?
Our music style soon became a mix of classic sounding progrock and recent modern (prog)metal, Ulysses is a classic story and also a very modern space probe, send out in space to do research.
Classic and modern, simply is the ingredient of the sound of Ulysses. 7 string metal guitars with Mellotrons.. The influences are a mix of Saga, Yes, IQ, Kansas with Symphony X, Watchtower, Angra, Savatage, Nevermore and Dream Theater.
How was the music scene in your area when you started ?
Then and now (12 years has past) the Dutch scene is not focussed on progressive rock. There were some great bands coming out of the Dutch scene, but had more succes abroad then in their own country. We work together with colleague bands as much as possible, for example Knight Area, with who we often do shows.

Over to your three albums. Your debut album was Eclectic from 2001. Please tell us more about this album.
Infact Eclectic started of as a demo. We never intented to release it as an EP. We recorded and mixed in just one weekend and we intended to use it to send it to bookers and A&R managers. After receiving very good reviews, we had some pressed and put up for sale.

Your second album was Symbioses from 2003. Please tell us more about this album.

Shortly after the EP, we decided it was time for an album. So we wrote some more songs and used some of the tracks that were on Eclectic. We went into the Excess studio to record and mix it with Hans Pieters (After Forever). Shortly after we signed a distribution deal for the album. Sadly enough (for us) the distributing label (labrado'r records) went bankrupt and disappeared of the face of the earth with our money, majority of our commercial stock of the album and also the glassmaster.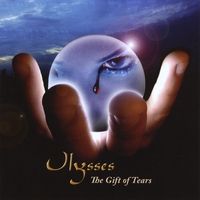 Your third and most recent album was The Gift Of Tears from 2008. Please tell us more about this album.

Shortly after the release of Symbioses, we had to let our singer Raymond go. In the middle of album promotion, and a bankrupt distributor we had to look for a new singer. After we found Michael as a new leadsinger, the bassplayer told us that we should look for a new bassist.. Again we had a setback. Soon, Casper Kroon introduced himself and we were able to do some shows again and work on new material. After being teached a lesson in "doing business" we decided to take it up to a next level. I started my own company "Symbioses Music" and decided to the business side of music myself. Production, release, marketing, distribution etc. all hard work and very intensive, but the result was that "The Gift of Tears" got fantastic reviews worldwide and that we were on top of everything businesswise. Every sale was accounted for and sales were doing o.k. and our fanbase was growing.
You are currently working on your fourth album. What can we expect from this album ?
At this moment we are working on the vocaldemo's and last arrangements. I can say that the new album will be more extreme and maybe more diverse in styles. I would say: less neo prog more prog metal, hahaha.. We even have a blastbeat in one of the tracks!
How is your creative processes from coming up with an idea to finally record it as a song or a piece of music ?
Ulysses is not a band that has a new album every two years. Luckily we have a very patient fanbase! It all has to do with the fact that we all work at the same songs.. So it could take a while before things come together in the correct way.. So far, I contributed most of the ideas and structures of the songs. Together with the band we jam and find out the best arrangements for the songs, and then ofcourse work on the vocallines and backings. W'll also have more backing (orchestration) on the album compared to T.G.O.T.
For those of us unfamiliar with your music; how would you describe you music and which bands would you compare yourself with?
Pfff, difficult question.. I always say that we sometimes sound like an combination of kansas, genttle giant and yes but on metal-steroids, haha.. Some of our songs do remind me of bands like Angra and VandenPlas. Of course style characteristics of Dream Theater can't be forgotten.. We simply like our 7/8 with 3/4's.
Do you find it difficult to get gigs now or is it rather easy for your band to get gigs ?
Trying to get gigs "on your own" is hard. Two years ago I changed our strategy. Instead of "begging" at venues and bands to be the opening act, I simply searched for some upcoming bands and booked them a tour with Ulysses as opener. It is a lot of work, but it has payed of. We did some great shows with Sons of Seasons and later on with Andromeda.
What is the availability of your albums and where can they be purchased from ?

Eclectic and T.G.O.T are still available, Symbioses is sold out, and due to the fact that we don't have a glassmaster, it can't be reprinted. Hard copies can be ordered through most of the known record stores or CD Baby (cdbaby.com). And ofcourse payed downloadsites (except Eclectic).
Besides of the new album, what is your plans for the rest of this year and next year ?
Seen the fact that I have been very busy with my own company, which produces guitar Isolation Cabinets
(www.boxofdoom
), I had to re-adjust the schedule a little bit. A this moment we have plans to start recording in february, so a release will be around summer 2012. Maybe w'll do some shows with Knight Area the next months, we know them very good and we might team up for some shows, it has been over 18 months since we last seen a stage. We also are working on some shows in Venezuela for a while, hopefully we can realize this in 2012, We are very eager to rock!
To wrap up this interview, is there anything you want to add to this interview ?

Keep buying CD's! and keep the recording business alive. No money for the labels = no money for new talent! And for the Ulysses fans out there: next year w'll come up with a fantastic new album.
Thank you to Sylvester for this interview



Edited by toroddfuglesteg - October 25 2011 at 05:31