Seti is a new and promising Chilean progrock band, in fact it is a side-project of the musicians of SUBTERRA, led by the multi-instrumentalist Claudio Momberg. Its name is taken from the famous NASA program: Search for Extra-Terrestrial Intelligence. This scientific experience in radio-astronomy aims to create contact with possible extra-terrestrial life forms.

The music on the debut CD entitled Life Signs (2005) has strong echoes from early MARILLION, especially the strong build-ups and compelling bombastic 'grand finales' featuring bombastic keyboards and howling electric guitar.
I got in touch with Claudio Momberg and here is the Seti story.
###################################################################################
When, where and by whom was your band born ? Did any of you, past and present members, play in any other bands before joining up in your band ? Why did you choose that name and which bands were you influenced by ?
The Seti project came to my mind around 2001, I was playing with my band Subterra (that band very rarely plays these days) in a city located at the south of Chile, called Concepción, that's where the headquarters of independent record label Mylodon Records are located. The head of the label then asked me why wouldn't I make a solo album, at that time that suggestion was almost ridiculous, who on earth would want to hear a solo album by an unknown chilean audio engineer who liked to play music? the time went by and I started to actually consider to bring that idea to reality. by the time the second Subterra album "Cautiverio" was being produced, I started to write more music not in the vein that Subterra was pursueing, and also recycled a couple of songs I had written even before I joined that band. I knew I wanted to handle all keyboards and bass guitar, plus the rhythm guitars, I certainly wouldn't sing lead, so I looked for help from some other musicians. The first and best bet was the great singer Jaime Scalpello, from the chilean band Entrance. We shared a very unusual passion for all eras of the band ASIA, so we clicked immediately and he got onboard. I also talked to my friends from the argentinian band Atempo, they were very interested in participating, but logistical reasons made it impossible at that time, so I invited Subterra's drummer Eduardo Cuesta. I also invited my good friend José Luis Ramos who played bass (and still does) in a marillion tribute band with me, to play on one track. Then I had to find guitarists to play the leads: I wanted a good array of different styles, so I got several ones: Pablo Collarte, a big Malmsteen fan that was in college with me, with no participations on other recordings, Leonardo Basso, who had played with me in Subterra for the first album, Alvaro Graves, from the band Angulart, good friend of mine, and Jorge Sánchez, with whom I played in another cover band before I even approached some big names like Steve Hackett and Guthrie Govan, however they weren't available nor interested. Anyway everything else was sorted, so I wanted to find a name for the project, since I never liked the idea to use my own name. I did chose "SEVEN" because I have some good connections with that number, plus it is indeed a very strong one, however I was a little pissed off when Tony Banks (my main musical influence) decided to call "Seven" to his orchestral album in 2004. that made me decide to change the name, and since I was always very Interested in astronomy and the search for intelligent life beyond our planet, I thought SETI was the perfect name.
The most influential bands and projects to my writing are mainly Genesis and Yes, followed by U.K., Asia (specially the John Payne years), Ayreon, some Emerson Lake & Palmer, plus the most atmospheric edge with people like Michael Stearns, Jean-Michel Jarre and Tangerine Dream
How is it to run a band in Chile these days ?
It is indeed very difficult, in fact it's not possible (or extremely unlikely) to make a living being a prog rock musician, everyone involved in the business in here is doing it as a fact of love, plus, there are so many great prog bands in Chile and there doesn't seem to be an audience for them. Local prog bands are used to play for 50 people on a good evening, so that's why I've got my biggest efforts to get this music known outside Chile, and I've had an amazing response from countries like Germany and France, I even got to think I'd might get at least a few people to see Seti play live over there. Coming back to the subject, it's very hard even to put together an album, I have the very good fortune to own a recording studio, and I don't need to pay for an audio engineer, so that's why I've been able to release 3 albums within the last year, other bands don't have those chances.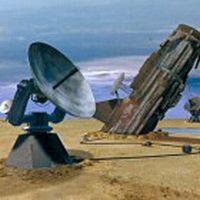 Over to your two albums. Your debut album Life Signs was released back in 2005. Please tell us more about this album.
Well, as an audio engineer and also as a musician, it was always a dream to have an album where all of the decisions and main body of work were taken by myself, at that time I was very very proud of it, I still am, but it is not as strong as "Discoveries" I think, since I was learning to write lyrics, and those 3 songs were my first try. I'm often asked here in chile, why are the lyrics in english, instead of my native spanish language, it's very simple: it's very very hard to write good poetry in spanish, it certainly takes a good poet to do it, and I'm not even a poet! For some reason, at least for a spanish speaker, anything you could possibly write in english sounds at least "natural", so it was a lot easier for me to write lyrics in english, that certainly helped this music to get a chance in Europe or the states. Sadly the album is now out of print, but I've been talking to Mylodon Records and we're discussing the chances to release a remastered version with bonus tracks, so there should be news about it sooner or later.
There was a five years long break. What happened ?
Well, at first I had no desire to play live or even make another Seti album, I'd just come back to Subterra and make more albums with them, however the band stopped making music, and I thought why not make another album, that would even make it easier to put together some sort of live show, so I started writing more music. The constant lack of available time made the project get very annoying delays. Everyone involved (myself included) have day jobs and a schedule and goals to achieve, that delayed the project way more than what I would wanted, for example, with Jaime Scalpello, he was only available to record from monday to friday, and at that time I was working from monday to friday in another city, so I had only weekends available! That made the recording of the lead vocals get delayed for at least a year, and similar episodes made the album get delayed 5 years in the end. I got very frustrated with it so I decided to start work in a related project, but with no additional musicians, and that's how Taurus was born.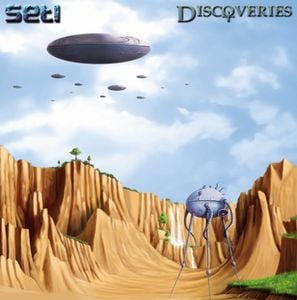 Your second and most recent album Discoveries was released last year. Please tell us more about this album.
Since there was no activity within the Subterra camp, everything I wrote was done with Seti in mind, so that did lead for a heavier album, since during the writing of the first one, all the heavier ideas would end up on the Subterra album. I again tried to get at least one bigger name to boost interest on the album, and I even wrote the song "Ellipse" with Damian Wilson in mind. I sent an email back in 2006 to what I thought it was his official website (and it wasn't! It was just a fan site) and unbeknownst to any of us, the email reached to him, and he loved the idea of participating. Of course the logistics made it very very difficult to make it happen, but it was his interest and effort that made it possible. We even met in England when I travelled over there in 2007 to see the Genesis tour, he was simply great! Of course I can't wait to make more music with him in the future. Advice from my good friend Clive Nolan was also very valuable within this era. I wanted to mantain some kind of unity on both albums, so I mantained the same core of players: Eduardo Cuesta, Pablo Collarte and José Luis Ramos, plus the familiar faces of Álvaro Graves and Leonardo Basso, plus some new faces, Aly Romero from the mexican band "Toccata", and Javier Sepúlveda, who played with Entrance's Jaime Rosas and also is a member of chilean band "Crisalida". I got excellent reviews from this album and also got worldwide distribution through
cdbaby.com
both digital and physical. I'm very pleased with it, and can't wait for the next one! Surely hope it will see the light before 2015!
What have you been up to since the release of this album ?
I've been busy with several projects, the biggest scaled one is the full theatrical version of Clive Nolan's rock opera "She" being put together by the Caamora Theatre Company. We performed the whole thing in Bolivia in January 2010, along with well-known prog names like Alan Reed (ex-Pallas), Christina Booth (Magenta), Hugh McDowell (ex-ELO), Scott Higham (Pendragon) and Mark Westwood (Shadowland/Neo) among others, and I'll be joining them again for four more full theatrical versions to be played in Cheltenham, UK in february 2012, you may check out
www.shethemusical.com
for more information.
Along with that, I've released two albums with my one-man solo project Taurus, that is 100% instrumental (at least for now) with a very strong classical music component, and some classic prog rock here and there. You may find more info about those two albums at
www.setimusic.cl/taurus
Also, I've been working on a live release on both CD and DVD from the one and only live performance Seti has had. The Cd was just released, and it is called "One Giant Leap", and it includes highlights from the live show, plus two bonus studio tracks recorded specially for this package. The DVD should be ready sometime in 2012 and it will include the complete concert, and I'm still thinking about some extras to include, the main ones in my mind are to include full 5.1 mixes of both Seti studio albums, obviously, the live gig will include its own 5.1 audio as well.
For those of us unfamiliar with your music; how would you describe you music and which bands would you compare yourself with ?
Well, I don't consider myself as an innovator, with Seti, my goal has been only to fulfill the desire to express some kind of message from my inside, sometimes from my subconscious. The search for some kind of intelligence that makes you get aware of what is really surrounding you.
In strictly musical terms, Seti is what i could describe as classic prog rock with an edge and a refined sound quality, and a strong accent on atmospheric sounds. Main influences from the keyboard department are Tony Banks, Eddie Jobson, Geoff Downes, Michael Stearns and Rick Wakeman. And as bands, Genesis, Yes, Asia, Ayreon and some Tangerine Dream influences can be felt on both Seti albums.
Taurus is a different story, since its strong classical element i'd say Holst and J.S.Bach are the most significative influences. Along with some of the electronic musicians, like Jobson, Stearns and Jarre.
What is your plans for this year and beyond?
The main objectives this year are the release of the live Cd, already sorted and then next year the live DVD by Seti, that is indeed a huge amount of work. I've also started writing pieces of music for a new Seti album. I also have a few ideas to start another band, I've wanted to make music for a band close to Evanescence, The Gathering with a little bit of Magenta, with female vocals of course, it's only a matter of finding the time to do it. I'm still a part of the marillion tribute band fugazi, and we play in Santiago Chile a few times in the year. I'd surely love to do another Subterra album, however I don't think I could do all of that on my own.
To wrap up this interview, is there anything you want to add to this interview ?
Well, for now I just want to invite all progarchives readers to support this music by visiting the
setimusic.cl
website and ordering the CD's directly!
In general, just a call to all prog fans, please keep supporting the bands by ordering the albums, i don't think that illegal downloads can be stopped at all, but if the people that uploads music adds a note saying "you may support this band ordering the album from their website" with a website link attached, they might be considered as a "promotion" of them. This topic could really get thousands of replies and comments, however, the bottom line is always: if you want that a band Keeps making music and releasing albums, purchase their albums and give them resources to keep making more music!
Thanks for your interest and all the best to Progarchives and its fellow readers!
Thank you to Claudio for this interview