When, where and by whom was Voyager formed ? Did any of you, past and present Voyager members, play in any other bands before joining up in Voyager ? Why did you choose that name ?
I joined the band in 2007. I was also playing in a band called Psychonaut with Simone and the old guitarist Mark at the time, as well as my other Current band Noctis. I'd played in a couple of other alt rock/melodic death metal bands prior to joining Voyager. To date I only play Bass in Voyager and play Bass and lead vocals for Noctis.

How was the music scene in your area when you started ?
The Perth metal scene goes through it's ups and downs but over the years has remained quite strong for the most part. Like any other scene there is always some back-stabbing and less than desirable people within the community but I believe the bands in Perth to be some of the best in the country.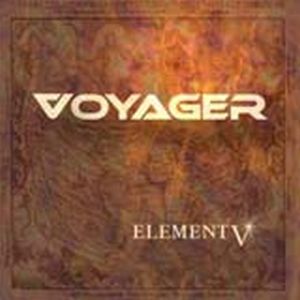 Over to your three albums. Your debut album was Element V from 2003. Please tell us more about this album.
I was still a youngie discovering the metal scene when they released this album. I saw Voyager play at and all ages show in 2003 and loved it. Little did I know 4 yrs later I would be up on stage with them!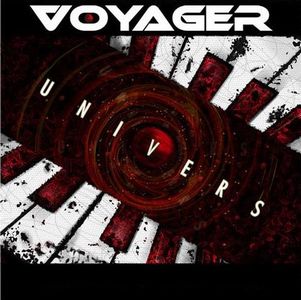 Your second album was Univers from 2007. Please tell us more about this album.

I became friends with the band while they were writing and recording uniVers so I was privy to a lot of the inside dealings at the time. I think this was an obvious advantage to me when the bass player (Melissa Fiocco) left and they invited me to join. I was frothing at the mouth to get in the jam room with the guys (and girl) and played my first REAL show (First gig I played with them was a secret gig at a dive venue in Perth under the name sl*g.OOM.. but that's another story ;p) to over 700 people at the album launch. I think uniVers is a great album and one that I wish I had recorded on.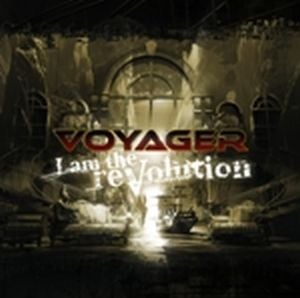 Your third and most recent album was I am the ReVolution from 2009. Please tell us more about this album.
This album represented a new age in the Voyager time-line. The other founding member (Mark De Vattimo) had left the band and we recruited Chris Hanssen to fill his place as guitarist for the band. We wanted to showcase more heaviness and write something more conceptual. This was also a landmark time for the band, our budget for recording had tripled since uniVers and we also engaged Stirling Sound in NYC to do the mastering. After this album was released, Voyager really started to make some waves and gained a lot more fans.

What is the availability of your albums and where can they be purchased from ?
You can purchase them from most stores or online at our webstore. If you're going to download the albums, you can do it for only $10 Australian dollars (with Artwork) from our website and you'll know that you have supported us directly; this really makes a HUGE difference to us!

For those of us unfamiliar with your music; how would you describe you music and which bands would you compare yourself with ?
This always proves to be hard as our sound is quite diverse. Most people say we sound like a metal version of AH-HA - haha! Personally I think there are elements of Muse, Type O Negative and even Symphony X at times. As individuals we also listen to lots of different music so it's hard to say. You tell US!

What have you been up to since 2009, what is your plans for this year and beyond ?
We've been working towards being the first band to play on the Moon. It's proving more difficult than first thought :P. We just came off a phenomenally successful Australian tour with our new buddies Alestorm. In September we're honoured to be playing the PROG POWER USA festival Atlanta and we have another Australian touring venture lined up for the end of this year. VOYAGER are eager as beavers to play everywhere we can and will be trying to get on tour as much as possible after our new album is released. We will also be releasing a new album in September, most probably via a US label! It's going to be HUGE!

What is the advantages and disadvantages of being based in Perth Australia, which is one of the most remote cities in the world one thousand miles from any other big population centre.
The only real disadvantage is that it's at least a 4 hour long plane ride to go ANYWHERE ELSE! haha! We do have a certain disconnect from the rest of the country but with the integration of the internet now days it's really not too much of an issue. Perth is the most isolated capital city in the world, so if anything it makes us appreciate playing other cities A LOT MORE!

To wrap up this interview, is there anything you want to add to this interview ?
Alex: I would just like to thank all our fans for their support - without them we're nothing. I'd like to say that we've got an insanely awesome new album coming out at the end of this year. It's being mixed by sound legend Jens Bogren (opeth, katatonia) and its taken our music to a new level so look out for it. Only other thing I would like to say is BOOMSHANKA ;)
Thank you to Alex for this interview