Your biography has been covered in your ProgArchives profile so let's bypass the biography details. But why did you choose that name and which bands were you influenced by ?
We started using the name 'Ground Zerø' in the mid '80s. It was a fairly obvious choice in those days of anti-nuclear activities. It fitted our sci-fi/spacerock stile and, we liked to think, described the audience experience at our gigs. Remember, this was in the days before sound-level limits and we enjoyed experimenting with 'earth-quake' speakers!
Unfortunately, two other bands in Britain also thought it was a good choice and confusion started causing us problems. We didn't want to stray too far from the name as we were starting to get pretty well known in the Underground scene of the day and that gave us the idea of simply putting 'under' at the front of our name.
How was the music scene in your area when you started ?
The music scene in Norfolk in the late '70s and early '80s was incredible! It seemed that almost everyone was in a group and you had a choice of gigs every night of the week. Many of the pubs and smaller venues started installing PA systems and live music was possibly at its strongest ever. Equipment was becoming more affordable and, most importantly for a lot of us at the time, MUCH LOUDER! Watch 'Spinal Tap' and 'Anvil' to get an (admittedly Americanised) idea of what it was like!
For those of us unfamiliar with your music; how would you describe you music and which bands would you compare yourself with ?
It's always difficult to categorise music but, if we had to, I think we'd say we are a Spacerock or Sci-Fi Rock band. Our music has grown organically over the years. We must have been playing with the same line-up for longer than almost any other band in existence and our personal musical styles – and abilities – have developed together. In the early days we were heavily influenced by the obvious bands; Hawkwind, Pink Floyd, Deep Purple, The Stranglers – and many others. We always wanted to do original music and all had an input into the final sound. So an early song could have had a bass line influenced by Hawkwind, a keyboard part influenced by The Stranglers, guitars by Deep Purple and drums by Genesis... add female vocals to that and you, hopefully, got something a bit strange and interesting!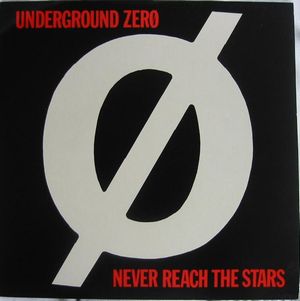 Over to your one album and EP. Your debut release was the Never Reach the Stars album from 1985. Please tell us more about this album.
In 1984 Tony Wilson (Tommy Vance's producer) asked us to record a session at the BBC studios for the BBC Radio One Friday Night Rock Show. We recorded the session over two weekends at the BBC Maida Vale Studios and it was transmitted in August 1984 and again in early 1985.
We were so pleased with the results of the BBC session that we thought it would be a good idea to buy the rights from the BBC and use it as half of an LP. Frenchy, of 'Flicknife Records', who had earlier released the 'Hawkwind, Friends and Relations' record including our track 'Canes Venatici', agreed to press and release it, Tony Wilson agreed and the BBC agreed so we recorded the other half of the LP at Spaceward Studios in Cambridge.
A couple of days later Frenchy 'phoned to say that if we could get the artwork to him by the end of the week and the master tapes by the end of the month we could promote the album while on tour with Hawkwind!
We frantically got the artwork together - the artist/photographer, Jon Morris, finishing it in the back of our van while I tried to delay the last Securicor van that would get it to Frenchy on time – but then the Musicians' Union stepped in and refused to allow us to use the BBC tapes!
Panic broke out!
We managed to get a cancellation at Spaceward and re-recorded the first half of the LP but at the last minute we heard that, although Dave Brock and Frenchy wanted us to do the Hawkwind tour, the organisers wanted a LARGE sum of money from us. All our money had gone into producing the album so we had to back out.
The LP 'Never Reach The Stars' finally came out early in 1985. It never made it onto CD but, many years later, a company called Black Rose released a CD version of it which included a few other tracks too. We had nothing to do with that production, it was down to copyright confusion, but we're happy to have it out there.
The biography in your ProgArchives describes what happened during the next 20 years. During these 20 years, how difficult was it to keep the flame burning and what else were the band members up to ?
The following 20 years for Underground Zerø held some very good and very bad times for us all. Most of us went through serious upheavals in our personal lives and all of us had to make some important career decisions. We kept performing regularly up until about 1997 but, by then, we had scattered across England looking for day-jobs. Eventually it became too hard for us to get together on a regular basis and the performances petered out. However, we always stayed very close friends and kept in touch.
We got involved in various other musical projects... Sean and Jude played folk music for a while under the name of Dodman then Sean and Paul formed the 'black-folk' (my term) group 'Cruel Folk' – which is still going strong. Sean, Jude and I joined with guitarist Adrian Jay to form a comedy rock band 'Bunty' for a while and Jude and I even played in a barn-dance band – which was great fun!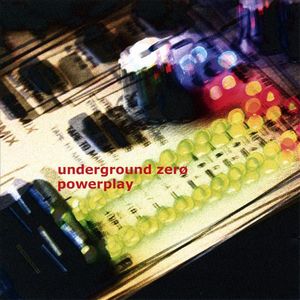 Your second and most recent release was the Powerplay compilation from 2005. This was meant to be the second coming of Underground Zero. But due to relocations and other things, this may not be the case...... What have you been up since 2005, what is your plans for this year and beyond ?
In 2005 we decided to get together for a surprise one-off performance at our manager's 60th birthday party. It was amazing how it all seemed to come together again.
Someone at the party leaked that we were back onto the internet and we started getting offers of gigs.
We had always wanted to re-mix Never Reach the Stars and to add some other tracks and make a new CD so this seemed like the time and 'Powerplay' was released.
In the last few years we have played a number of gigs including Hawkfest, the Sonic Rock Solstice and Jackdaw2. However, most of our activity has been online. The internet had developed in a big way while we were 'away' and now gave us the opportunity to reach audiences much further afield. YouTube, Facebook and iTunes have enabled us to spread around the world and get more of our material to our expanding audience. We now have a number of videos on-line, including a gig recorded by Anglia TV which has never been seen before. The BBC, Tommy Vance session is available for free download from our website and much of our music is available on iTunes.
A new CD, 'Hawklords, Friends and Relations, the 30th Anniversary Volume, a New Dawn', has just (October 2011) been released by Flicknife which includes a previously unreleased track of ours, 'Felice'. It seems to be selling well!
Later this year (2011) we are performing a number of times with Alan Davey's 'Gunslinger' – which should be interesting – and noisy!
What is the availability of your Ep and album ? Where can they be purchased from ?
Our EP is no longer available although it does crop up from time to time on eBay and its tracks are on the 'unofficial' CD by Black Rose.
'Powerplay' can be bought through our website, undergroundzero.co.uk , on-line from CDBaby or from iTunes. There are an increasing number of tracks which can be downloaded free from our website too.
To wrap up this interview, is there anything you want to add to this interview ?
I believe Underground Zerø are a unique band. The most important thing is that we have always been such great friends – almost closer than family. I've been told that this comes across in our performances. I hope that's true and that, in these days of gloom and doom, we can offer our audiences a bit of fun, escapism and happiness – not very rock 'n' roll I know but do I care?
Thank you to Andrew for this interview