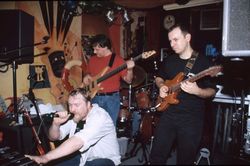 This Cologne-based foursome from the mid-80's plays some fine neo-prog in the best tradition of IQ, JADIS, PENDRAGON, early MARILLION and SAGA, but with a subtle and very pleasant flavour of their own. They went through quite a few line changes and now feature Alex Bisch on drums, brother Björn Bisch on guitars, Peter Kindler on bass, Oliver Strahl on keyboards and Kai Marckwordt on bass, guitar, sax, flute and lead vocals (a cross between Phil Collins and Dave Cousins, his vocals are truly outstanding).

Since the mid 90's, the band released two full-length albums and a maxi CD before the "Man of the Moment" (2002) album.
I got in touch with Bjorn Bisch for the Martigan story.
#######################################################################################
Your biography has been covered in your ProgArchives profile so let's bypass the biography details. But why did you choose that name and which bands were you influenced by ?

The name Martigan origins from the character Mad Martigan who plays a leading role in the fantasy movie Willow. We just found that it sounds cool, matches with our musical style and, as far as we were aware, there was no other band around with this name so we chose it. In our music however Martigan is a time traveller and our lyrics basically tell about his adventures and experiences in different times. So obviously our Martigan character has nothing to do with Mad Martigan from Willow apart from the name.

The musical influences of the musicians in the band are widely spread and cover Progressive Rock, Metal, Rock and Pop Music of all kinds, Jazz, Funk, almost everything thatīs well done...: - ).
We are playing Progressive Rock because to us this is the music where basically everything is allowed and which has the fewest genre limitations. Of course I know that there are a lot of purists around who only want to hear Prog like it was e.g. in the 70s but this is only one out of infinite possibilities what Prog can be and might be in the future. Our version of Progressive Rock is always very much song oriented and we also like our songs to be catchy without being trivial. On the other hand we also like instrumental and solo passages, but they shouldnīt digress too much from the song itself. They should support the song and make it complete in a way.

To finally become concrete here are some bands we are definetely influenced by: Genesis (all periods), Pink Floyd, Marillion, Saga, Pendragon, Dream Theater, Toto.
Apart from those bands for me as a guitar player also Doug Ott from Enchant, Gary Chandler from Jadis and John Mitchell from Arena were important influences.

This is an archive based interview also intended for the fans you get well after both you and I have passed away so let's go straight to your albums. Please give us your long or brief views on your albums, starting with.......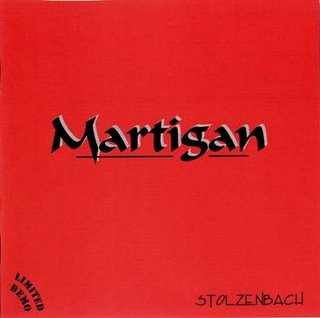 Stolzenbach from 1995

This was the first Martigan release and intended to be a demo CD and accordingly the sound quality is not top notch. Nevertheless it contains some strong tracks which we have re-released in newer versions on later albums (e.g The Pride from Man Of The Moment and Much More from Vision).
But it also contains some weaker material which is never going to be part of our live shows again. Anyway it was the birth of Martigan and thus it will always be an important part of our history.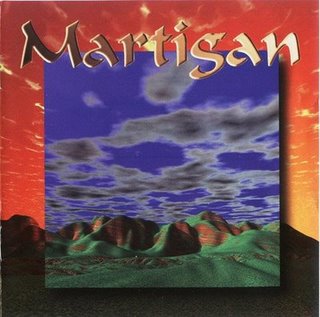 Ciel Ouvert from 1996

The first 'real' release of the band with really good sound and even very good music on it. For some guys in the Prog scene it was a little bit too commercial (from their point of view) but Martigan is still proud of this CD. The songs are quite compact and catchy. With The Trade, Roll The Flobe, When Two Years Collide and Mask&Raven it has some all time classics of Martigan which we still play on stage and probably will as long as the band exists. Unfortunately it is sold out and if somebody should be interested in it, maybe there is an opportunity to get a copy second hand from time to time.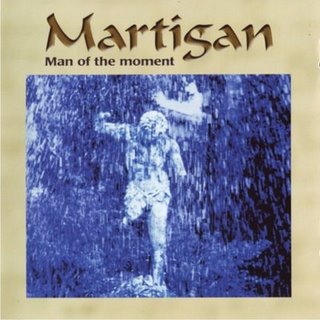 Man Of The Moment from 2002

A true landmark in our history. This album received a lot of positive feedback and reviews and also sold fairly well. With MoM the band found the balance between catchyness and complexity with the amount of professionalism we were searching for with Stolzenbach and Ciel Ouvert. It defined basically the typical Martigan style we are still playing today.
Most of the MoM tracks are regular part of our setlists. I personally think that there are no weak songs on it and that it has passed the test of time (at least for one century). MoM is still available. By the way it was the first album with me playing the guitar as I joined the band in 1998.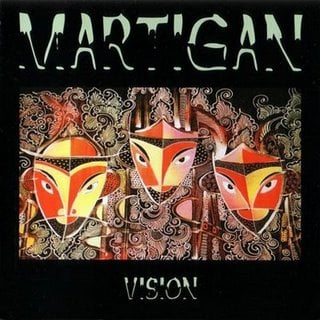 Vision from 2009

We tried to make Vision as perfect as we could - given our limited budget - and following the fantastic reactions and reviews we havenīt completely failed. It consits of a wide variety of atmospheres and moods.

Some of the songs are very epic with a running time beyond 20 minutes, others are very concise. It has definitely been our most elaborated piece of work so far. Additionally it contains some of the best songs we have ever written (e.g. Boatmanīs Vision, Touch In Time and Red & Green) and some of the most complicated in terms of playing difficulty as well (e.g. The Contract).

Vision was produced and financed entirely by ourselves. We had tried to find a label but the few offers we received were completely unacceptable. So we did it on our own and with the support of several talented guys who made a fantastic job in terms of recoding and mixing for the comparatively little money we were able to spend. I think Vision sounds way more expensive than it actually was and can compete in that respect with far bigger productions. We are very satisfied with it and it has set the standard for coming releases.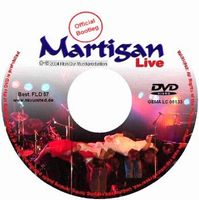 The DVD Live in Koln from 2004

The DVD was intended to be an 'official bootleg' and thatīs exactly what can be expected from it. It shows excerpts of a Martigan gig in Cologne.
The video quality is not on par with professional productions but I think it is acceptable, the sound quality on the other hand is good. It was made for our fans who asked for a video of Martigan on stage, knowing that we are not able to put the amount of money into this DVD which would have been necessary to meet highest quality standards. But the feedback we received was positive and with calibrated expectations it is very enjoyable and gives an impression of a Martigan live performance.

There has been some long breaks between the last three studio albums. What happened ?

The main reason for the long breaks is that we are no professional musicians, except for our drummer, so we cannot put that much time into Martigan as weīd like to. We have to earn our living with regular (and demanding) jobs. With Martigan we - unfortunately - donīt make a lot of money, it is just enough to finance a production without paying on top, thatīs it. Additionally there were some changes in our lineup which slowed the process. And last but not least it is not so easy to create the quality we aim for with the available budget. You have to find recording and mixing options which are affordable, which is not always an easy task.

How would you describe your musical development from Stolzenbach to Vision and how would you describe your music ?

A lot of people state that our music is Neo Prog and in general Iīd agree, but with that unique Martigan flavor and without sounding old fashioned at all. As stated above writing good songs is our top priority. We are trying to find a balanced mixture of being catchy and complex in parallel, the music can be intricated but it shall not sound like this (at least not too much...). If the listener gets the feeling that everything is in the right place, that the song parts flow organically into each other, and if he is finally touched by our music, then we have made it. We always want our music to be melodic without being boring or cheesy. This is not only for the vocals but also for the solo and instrumental parts of the songs.
Thatīs why we in advance donīt care about the lenght of our tracks at all. We just let things develop when we are creating music. If the song needs to be 25 minutes long, thatīs fine. If itīs just 4 minutes thatīs also fine. It depends on what we feel what the song needs, if we have something important or interesting to add or not.
Regarding our development from Stolzenbach to Vision I think the essence is that we have continuously improved in making good Progressive Rock music in the sense I have described before.

You have released four albums and have done some gigs. What is your experiences with the music industry and the gigs promotors ?

It is extremely difficult for a hardly known band like we are to find a big audience, regardless if you are talking about CD releases or live gigs. The truth is that it even becomes worse. If you want to find a label for a CD production, normally you have to finance the production in advance, so that the label can distribute a more or less finished product. Often they are not willing to take over even a part of the production costs. You lose all rights for your music if the label shall distribute it and the band only gets a small share of the profit. Thatīs why we decided to produce our albums on our own. This means strictly limited budget, but we keep 100% control and rights.
Itīs similar with gigs, the promoters donīt want to take any financial risk (and this is unfortunately extremely realistic as a hardy known Prog band canīt expect more than 100 visitors which wonīt be a bad result...), so the main opportunities to play live are festivals. And the number of people being interested in Progressive Rock live experiences - apart from the big bands - is very very limited.
We were the opening act on this yearīs Night Of The Prog festival (Loreley, Germany), which was a great experience, but without any pay at all. And this becomes more and more common practice. Difficult times, but we donīt give up.

What is your current status and what is your plans for this year and beyond ?

Currenty we are working on new material for the next album and we are progressing quite well. A release before 2013 is not realitic though. In December this year we are playing our traditional annual gig in a small club in Bonn, Germany called 'Mausefalle', and for the next year - apart from working on our new album - we hope to get a couple of nice gigs.

To wrap up this interview, is there anything you want to add to this interview ?

To all people being interested in Martigan I recommend to regularly visit our website www.martigan.com

Thank you to Bjorn for this interview

Their PA profile is here and homepage is here



Edited by toroddfuglesteg - October 28 2011 at 14:33