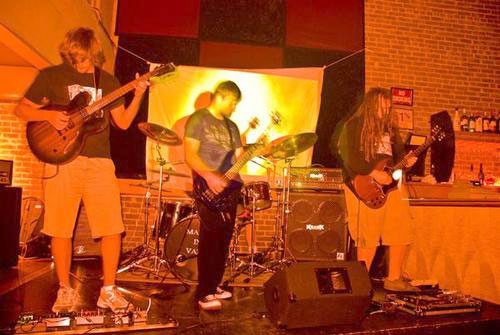 Like a quartet of characters from some undiscovered Dr. Seuss book, Houston-based SMOKING SPORE skips, jumps, waddles, and trips their way through completely improvised psychedelic epics. The band refuses to write, relying only on instinctive short-term memory to weave a different sonic composition every time they play. To solidify the experience, they film bizarre local phenomena and air them via projector during concerts.

Their debut effort 'Conversations In D-Minor' (2009 on Ground Sloth) was recorded in less than two hours. The album contains the entire second jam session, recorded live-in-studio. It melts seventies-inspired acid rock with Southern stoner grooves, infectious guitar melodies, piercing feedback, and modern effect-laden ambience. Since their debut, the band has incorporated a hearty buffet of new effects, an old organ, and some home-made oddities that look like they came from a mid-sixties sci-fi flick.
I got in touch with the band and here is their story.
####################################################################################
When, where and by whom was your band born ? Did any of you, past and present members, play in any other bands before joining up in your band ? Why did you choose that name and which bands were you influenced by ?
Billy Sullivan: Our band was formed by circumstace one night when I came to our rehearsal room to find Brandon, Brendon, and Beau jamming. At the time I was already playing in a thrash/death metal band with Brandon called Made in Vain. I was also playing in an indie/punk rock band called The Missing Files. I am still playing in Made In Vain. I'm not sure how the name Smoking Spore was chosen but when I was asked if I liked it, I loved it.
Brandon Bowers: Billy covered the "by whom" but I'll go ahead and add some details. Much like our music, the existence of Smoking Spore is, for all intents and purposes, improvised. Our first jam was in 2008 at a rehearsal facility in Tomball, Texas. The same warehouse had served as stage-prop storage for touring acts like Bon Jovi in days past, and eventually served as a recording location for myself, Smoking Spore, Made in Vain, and a number of other bands. The place was sold in 2010 and no longer functions in the music business. I knew Billy from Made in Vain. I had played with Brendon Thompson and Beau Jackson in some terrible garage bands when we were in high school, but hadn't played music with them since we all moved away afterwards. Beau had been in a few Baton Rouge bands between our teen years and Smoking Spore, but I don't know enough details to run through them. Circumstances had us all moving back to the Houston area at the same time, so we got together to jam. The night was electric! I wish we had captured the wizardry of that first session on recording. We did, thankfully, record the second jam and that was released as our first album, "Conversations in D-minor". The name Smoking Spore is a reference to the puffball fungi of the family Lycoperdaceae. Our influences are kind of all over the place. We listen to everything from Duke Ellington to Dinosaur Jr. - from Acid Mothers Temple to Axehandle. Our musical tastes differ, but every band member absorbs a wide variety of sounds individually.
How is it to run a band in Texas these days ?
Billy: It's very hard to keep a band going these days but most good things come with struggle.
Brandon: That pretty much sums it up. Although, I don't know if it was ever easy to make money in a completely improvised instrumental band that sounds like Dr. Seuss screaming show tunes in an upside-down submarine, so I'm okay with any success we can get. Texas is a diverse state, so it can be difficult to find the right audience here, but it also has a prominent history in psychedelic rock so there may be hope for us yet.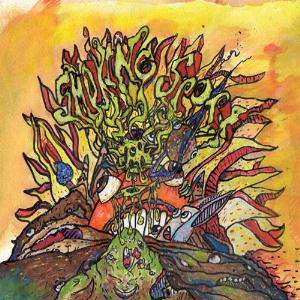 Over to your only album so far. Please tell us more about your Conversations In D-Minor from 2009.
Billy: Conversations in D-Minor was our second jam together as a band. Since we all enjoyed the first jam so much, Brandon decided to use his equipment and knowledge to record the session. That night was one of the most unique and wonderful nights of my life. I feel very lucky that we have it as an album to listen to and share with anybody who wants to hear hit.
Brandon: It was definitely a magical day. We set up to record in the afternoon, then played four improvised jams. We don't write any music. It was all recorded live in one room with very little isolation. We didn't have near the number of effects that we use on tour but we did what we could with what we had. There was a sample rate error about four minutes into the second jam that cut it short, but we ended up leaving it on the record because of the cool sound it made when it died out. The tracks are on the album in the order that we played them. As for the final release, I had wanted to start a completely DIY record label and it served as a great way to start. Beau did the album artwork and we paid to have it manufactured. We didn't have much money left for promotion, but sent it to a few critics and things began to snowball via word-of-mouth. I think Craig Hlavaty and Chris Gray at Houston Press had a big impact on that and we really appreciate it. We knew the album wouldn't be for everyone, but we had so much fun creating it that we figured there had to be a few weirdoes out there who'd understand it. The positive response has been overwhelming.
For those of us unknown with your music; how would you describe you music and which bands would you compare yourself with ?
Billy: I would describe our music as an experimental journey of colour, mood, and release. I think we have a sound that is unique from most bands, but we have so many influeces that people can probably compare us to a lot of great acts.
Brandon: It's music that can go anywhere, so it's tough to describe in words. I'm not really sure what bands to compare it to. There are bands that sometimes sound similar, but their music is usually composed so that places it in a different category. I guess there's Kool & the Gang. Yep; I'm comparing the two right now and it definitely sounds exactly like Kool & the Gang.
What have you been up to since 2009, what is your current status and what are your plans for this year and beyond ?
Billy: Since 2009 I have recorded drums with Brandon for Made In Vain, which released an album in December of 2010. At the same time we did those sessions I recorded drums for Brandon's solo album, "All Graves Must Be Dug By Hand". Brandon and I also wrote and recorded guitars and drums for a project we call Earth and Ocean, which is a metal band blending influences from black metal, death metal, sludge metal and the plight of our planet's struggle with humanity's inhabitation. I recently joined a punk rock band with members of my former band, The Missing Files. We blend influences from traditional punk, harcore punk, Oi, and rockabilly. We are hoping to play shows soon and will definitely record with Brandon. I am very comfortable recording with him. He does great work.
Brandon: Thanks, Billy! He covered a good portion of my exploits since 2009. Smoking Spore toured the Southeastern United States. I engineered and played bass on Made in Vain's "Lies in Ruin" album and released a solo garage folk album with Billy on drums. We tracked most of the Earth and Ocean project but have some wrapping up to do on that. I'm now half of the duet Brandon and Elsje, which you can look up on youtube if you feel inclined. We'll be recording more for that project when Elsje's back in the country. I know I'll soon be recording a new punk project that Billy's working on with Thomas Kojak. I've listened to some new Made in Vain material and really like the direction they're taking. I'm hoping they'll be recording a new E.P. soon. Other than that we're basically messing with gear in preparation for new Smoking Spore experiments. It's difficult to obtain funds to tour or release new albums on an independent label budget, but you can definitely expect more from Smoking Spore soon.
To wrap up this interview, is there anything you want to add to this interview ?
Billy: I don't really have anything else to add except thank you for your interest in our band.
Brandon: I should probably add a URL. You can find out more about our wacky activities at www.SmokingSpore.com. Thanks for taking the time to read about our band and for supporting independent artists and musicians everywhere.
Thank you to Billy and Brandon for this interview

Their PA profile is here and their homepage is here