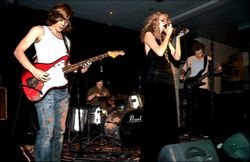 FREQUENCY DRIFT were formed in 2006 by some musicians living around Bayreuth/Germany. They soon began to develop a unique conception inspired by movies like 'Blade Runner, 'Lost' und 'Ghost In The Shell' and keyboard player Andreas Hack is mainly responsible for the composing part.
The band's debut album 'Personal Effects (part one)' from 2008 was released by the French MUSEA Records label telling the story of a girl named River living in 2046 and having problems with an imaginary association named 'Diomedeidae'.
I got in touch with the band and this is their story.
#################################################################################
Your biography has been covered in your ProgArchives profile so let's bypass the biography details. But which bands were you influenced by and why did you choose that name?
The name is taken from the song "Joyride" by the band White Willow. Jacob, the bandleader of White Willow, even played a guitar solo on our second album "Personal Effects. Part Two". This is something I am very proud of. Many bands and musicians influenced our music. I'll start with the less obvious influences. Bear McCreary's "Battlestar Galactica" soundtracks were a major influence on the music. The way he combined musical styles is something I haven't heard before. I think I should also mention Yoko Kanno's soundtracks and the early Vangelis works. Three other bands I really like are Man on Fire, Quidam and Riverside.
Everything Peter Gabriel does is fantastic. I love the "New Blood" album. Furthermore I have listened to Marillion's "Brave" so often that it probably has become an integral part of my musical DNA. Dream Theater's "Images and Words" was a true revelation to me when it was released, nowadays I am not too sure about their music anymore. The last two main influences I should probably mention are of course Yes and King Crimson. I have been a fan of Porcupine Tree since "Stupid Dream", but at the moment so many bands try to imitate their sound, so we consciously try not to sound like them, although they are a truly great band. I try not to limit my musical taste to one genre, so I could go on and on ...
You are from Bavaria (Bayern for the non-anglofied world) in the south of Germany. How is the music scene there now ?
This is a tricky question. I don't think you can speak of "a music scene" in general, it is rather fragmented. There is, however, no real progressive rock scene that I know of. There are bands like RPWL, Dante and Relocator. I really like their music and have their CDs, but I don't know whether they know about Frequency Drift.
Relocator organized the Generation Prog Festival this year which was quite great, so maybe something is happening, but I am not too sure. A few days ago, however, I met Martin Schnella of Flaming Row, which was quite nice. I really hope we can work together in some way in the future. I am always open to collaborations, so if anyone who reads this is interested, feel free to contact me!
This is an archive based interview also intended for the fans you get well after both you and I have passed away so let's go straight to your albums. Please tell us more about.....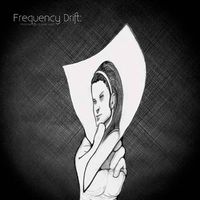 Personal Effects (Part One) from 2008
It was our first album. Before we started recording, we tried to find a style that would suit us on the one hand and on the hand wouldn't just be a repetition of what has been there before. So we came up with the term "Cinematic Progressive Rock". We set out to create some music for an imaginary film. I wrote a science fiction story, divided it into scenes and then tried to convey the mood of these individual "scenes" with the songs. Then we included some sequences with sound effects to improve the cinematic experience. We deliberately decided not to include the lyrics in the booklet, but instead we asked a very talented friend of the band, Christian Rebmann, to draw pictures for each song, so that the listener can get an impression of what the songs might be about, but still is not too limited in the interpretation. There are some of my favorite Frequency Drift songs on the album, soundwise I think there was still room for improvement.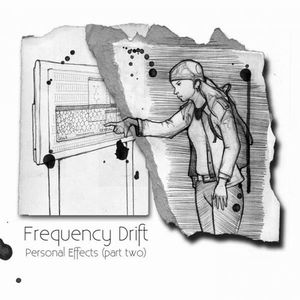 Personal Effects (Part Two) from 2010

After half of the recording of the first album, it became clear that the story wouldn't fit on one CD, so we decided to split it. While the first half of the story took place in one night, the second half continued after daybreak. We decided to use two different singers for the two main characters River and Romance. We also wanted to broaden the sound of the album, so we invited some friends to play on the CD. I think the album really benefited from that. As I have mentioned before, I am especially proud of Jacob's solo. I think we refined the musical style of the first CD. I also really like the beautiful pictures that were made for this album. Christian Rebmann brought in some other painters, so we have a broader range of pictures in the booklet. I still would like to play the whole story live, but until now we haven't had the opportunity.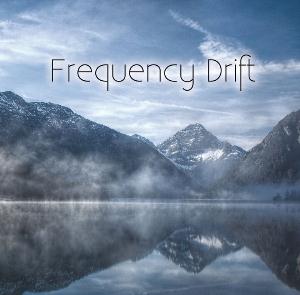 Ghosts from 2011
After concluding the futuristic story of the "Personal Effects" albums we wanted to do something else, so we wouldn't repeat ourselves. I wanted to change the sound to become more organic, so we included more acoustic instruments. Frank's violin solos are in my opinion one of the highlights of the CD. We were fortunate enough to be able to include a very beautiful harp piece, and the guitars are now featured more prominently, too. So we now have some really heavy parts as well as some jazzy parts that are new to our music. I have always been fascinated by ghost stories, but I was afraid that the subject would be too corny, so the lyrics now are about everything that haunts us, be it guilt, loss or the occasional literal ghost ;-). The cover picture, which was taken by Christoph Schmidt, a very good friend of mine, perfectly represents what the music on this album sounds like. We are very happy with the outcome of the album because for us it is a really big step forward.
Your two first albums seem to be related. What is the Personal Effects concept and idea?
As I said before, it is a two part SciFi story about two sisters called River and Romance. Originally I wanted to use the term "Personal Effects" in two ways. I wanted to split the albums musically. The first one was to become the "Personal" album with rather dark songs, while the second one was supposed to be the "Effects" album which was to feature more up beat positive songs. But in the end I don't think this idea really worked because I changed the order of the songs to make both albums more interesting. The second way in which I interpreted the term "Personal Effects" was in the sense of personal baggage that everyone has, about the experiences that form a person. The musical motifs of the piece "Personal Effects" are included in most of the songs of the album, so that they become a coherent musical unit.
What are the lyrical topics on your albums ?
We are more interested in the darker aspects of life, they make better topics for lyrics. We are also influenced by British poets like Dante Gabriel and Christina Rossetti. You can also find quite a lot of quotes from Elizabethan and Victorian poetry in our songs.
For those of us unfamiliar with your music; how would you describe your music and which bands would you compare yourself with ?
We describe our music as "Cinematic Progressive Rock". We are more interested in conveying an atmosphere by creating memorable melodies and interesting arrangements than in incredible shredding. Although we also play some quite intricate parts, it always depends on what a song demands. We are also interested in contrasts which surprise the listener. It is always difficult to compare one's own music to other bands, I think everyone should make up their own mind about this.
What have you been up to since the release of the Ghosts album, what is your current status and what are your plans for this year and beyond?
We want to play live and so we started rehearsing. We hope to play our first gigs in 2012. We are also working on our next album, which will be called "… laid to rest." The demos of the songs are more or less finished and we have already started recording the proper album. Some of the guests from the last album will return, but we also hope to have some new and exciting collaborations. The album will be finished in summer 2012.
To wrap up this interview, is there anything you want to add to this interview ?
Thank you very much for this interview! If you want to be kept up to date with what we do, please like us on facebook or go to our homepage
Thank you to the band for this interview
Their PA profile is here